Quilava Pokédex Information
Quilava is a Fire type Pokémon that first appeared in the games Pokémon Gold and Silver which were released in Japan in November 1999. It evolves from Quilava and is the final evolution of Cyndaquil.
Quilava is a two-legged mammal that is thought to be based on a stoat or an echidna. It has a predominantly cream-coloured body but is dark blue along its back and back of its head. Its head is relatively small in proportion to its body, featuring sharp, piercing eyes. The most striking feature however, is the fiery orange / red tufts of fur on the back of its head and that form its tail. Quilava keeps its foes at bay with the intensity of its flames and gusts of superheated air. This Pokémon applies its outstanding nimbleness to dodge attacks even while scorching the foe with flames.
Contents
Quilava Pokédex Facts
Evolutions
Quilava Pokédex Entries
TCG Cards
Quilava Pokédex Facts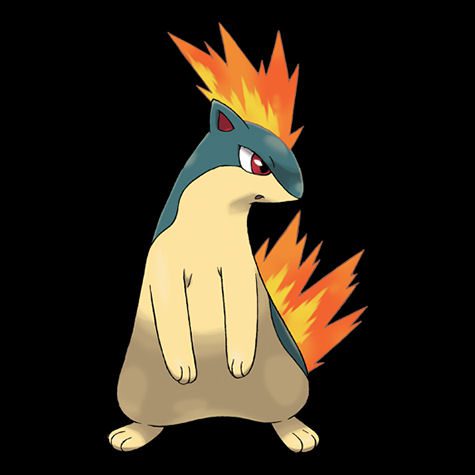 English Name – Quilava
Japanese Name – Magumarashi
First Appearance – 1999 (Pokémon Gold and Silver)
Generation – II
Based on – Stoat / Echidna
Pokédex Number – 0156
Category – Volcano
Height – 0.9 m
Weight – 19 kg
Gender – Male, Female 
Type – Fire
Weakness – Ground, Rock, Water
Special Abilities – Blaze
Quilava Evolutions
Evolution – Cyndaquil evolves to Quilava (Level 14); evolves to Typhlosion (Level 30)
| | | |
| --- | --- | --- |
| Cyndaquil | Level 14 | Quilava |
| Level 36 | Typhlosion | |
Quilava Pokédex Entries / Games
Gold and Silver  1999
Pokémon Crystal 2000
Pokémon Stadium 2 2000
Ruby and Sapphire  2002
Pokémon Emerald  2004
FireRed and LeafGreen  2005
Diamond and Pearl  2006
Platinum  2008
HeartGold and SoulSilver  2009
Pokémon Black and White  2011
Black 2 and White 2  2012 
Pokémon X and Y  2013
Omega Ruby, Alpha Sapphire  2015  
Brilliant Diamond, Shining Pearl  2021
Pokémon Legends Arceus
Quilava Card List – (scroll to bottom for gallery view)
Neo Genesis 2000

Stage – 1
HP – 60
Level – 28
Card Number – 46/111
Stage – 1
HP – 70
Level – 35
Card Number – 47/111
Neo Destiny 2002


Stage – 1
HP – 60
Level – 27
Card Number – 39/105
Expedition Base Set 2002


Stage – 1
HP – 70
Speciality – None
Card Number – 91/165
EX Sandstorm 2003


Stage – 1
HP – 80
Speciality – None
Card Number – 51/100
EX Unseen Forces 2005


Stage – 1
HP – 70
Speciality – None
Card Number – 45/115
EX Dragon Frontiers 2006

Stage – 1
HP – 70
Speciality – None
Card Number – 36/101
DP Mysterious Treasures 2007

Stage – 1
HP – 80
Level – 25
Card Number – 60/123
HeartGold SoulSilver 2010

Stage – 1
HP – 80
Speciality – None
Card Numbers – 49/123
HGSS Call of Legends 2011

Stage – 1
HP – 80
Speciality – None
Card Numbers – 49/95
XY BREAKThrough 2015

Stage – 1
HP – 80
Speciality – None
Card Numbers – 19/162
SM Lost Thunder 2018

Stage – 1
HP – 90
Speciality – None
Card Numbers – 41/214
SWSH Astral Radiance 2022

Stage – 1
HP – 90
Speciality – None
Card Numbers – 024/189
Gallery