Relicanth Pokédex Information
Relicanth first appeared in the game Pokémon Ruby and Sapphire which released in Japan on November 21st 2002. 
This Pokémon is made up of dark brown and light brown scales and is based on a fish. It has a red hexagonal spot on each side which looks like a nut. Rock-hard scales and oil-filled swim bladders allow this Pokémon to survive the intense water pressure of the deep sea.
Contents
Relicanth Pokédex Facts
Evolutions
Relicanth Pokédex Entries
TCG Cards
Relicanth Pokédex Facts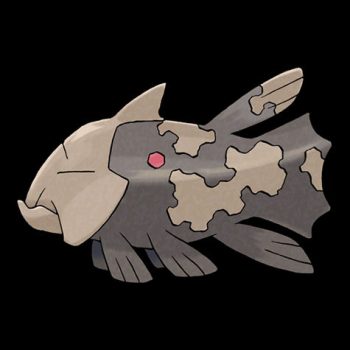 English Name – Relicanth
Japanese Name – Jīransu
First Appearance – 2002 (Pokémon Ruby and Sapphire)
Based on – Fish
Generation – III
Pokédex Number – 369
Category – Longevity
Height – 1.0 m
Weight – 23.4 kg
Gender – Male and Female
Primary Type – Water
Secondary Type – Rock
Weaknesses – Electric, Fighting, Grass, Ground
Special Abilities – Rock Head, Swift Swim
Relicanth Evolutions
Evolution – Relicanth does not evolve
Relicanth Pokédex Entries / Games
Ruby and Sapphire  2002
FireRed, LeafGreen  2004
Pokémon Emerald  2004
Diamond and Pearl  2006
Platinum  2008
HeartGold and SoulSilver  2009
Pokémon Black and White  2011
Black 2 and White 2  2012
Pokémon X and Y  2014   
Omega Ruby, Alpha Sapphire  2015  
Sun and Moon  2016
Ultra Sun and Moon  2017
Sword and Shield  2019
Brilliant Diamond, Shining Pearl  2021
Relicanth Card List – (scroll to bottom for gallery view)
EX Hidden Legends  2004

Stage – Basic
HP – 60
Speciality – None
Card Number – 24/101
EX Emerald  2005

Stage – Basic
HP – 60
Speciality – None
Card Number – 18/106
EX Holon Phantoms 2006

Stage – Basic
HP – 70
Speciality – None
Card Number – 30/110
DP Great Encounters 2008

Stage – Basic
HP – 70
Level – 31
Card Number – 51/106
Platinum Supreme Victors 2009

Stage – Basic
HP – 80
Level -36
Card Number – 79/127

Stage – Basic
HP – 80
Level -39
Card Number – SH8
HGSS Call of Legends 2011

Stage – Basic
HP – 80
Speciality – None
Card Number – 69/95
BW Plasma Blast 2013

Stage – Basic
HP – 90
Speciality – None
Card Number – 24/101
XY Ancient Origins 2015

Stage – Basic
HP – 90
Speciality – None
Card Number – 23/98
SM Unified Minds 2019

Stage – Basic
HP – 90
Speciality – None
Card Number – 111/236
SWSH Darkness Ablaze 2020


Stage – Basic
HP – 90
Speciality – None
Card Number – 040/189
SWSH Lost Origin 2022


Stage – Basic
HP – 90
Speciality – None
Card Number – 101/196
SWSH Silver Tempest 2022


Stage – Basic
HP – 90
Speciality – None
Card Number – 044/195
Gallery