Riolu Pokédex Information
Riolu is a Fighting type Pokémon that first appeared in the game Pokémon Diamond and Pearl which released in Japan on September 28th 2006. 
This Pokémon is a two-legged creature that is based on a dog. It colouring is blue and grey. The black colouring around its eyes resembles a mask. Riolu has black, floppy ears and two small bumps on its head. They communicate with one another using their auras. They are able to run all through the night.
Contents
Riolu Pokédex Facts
Evolutions
Riolu Pokédex Entries
TCG Cards
Riolu Pokédex Facts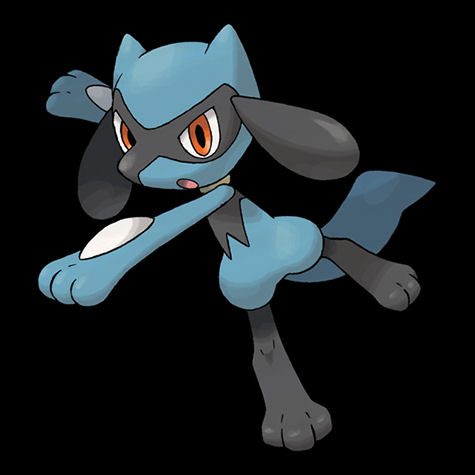 English Name – Riolu
Japanese Name -Rioru
First Appearance – 2006 (Pokémon Diamond and Pearl)
Generation – IV
Pokédex Number – 0447
Based on – Dog
Category – Emanation
Height – 0.7 m
Weight – 20.2 kg
Gender – Male, Female
Type – Fighting
Weakness – Fairy, Flying, Psychic
Special Abilities – Inner Focus, Steadfast
Riolu Evolutions
Evolution – Riolu evolves to Lucario (friendship)
Riolu Pokédex Entries / Games
Diamond and Pearl  2006
Platinum  2008
HeartGold and SoulSilver  2009
Pokémon Black and White  2011
Black 2 and White 2  2012
Pokémon X and Y  2014   
Omega Ruby, Alpha Sapphire  2015  
Sun and Moon  2016
Ultra Sun and Ultra Moon  2017
Sword and Shield  2019
Brilliant Diamond, Shining Pearl  2021
Legends Arceus  2022
Scarlet and Violet 2022
Riolu Card List – (scroll to bottom for gallery view)
Diamond and Pearl Base Set 2007

Stage – Basic
HP – 60
Level – 7
Card Number – 61/130
POP Series 6  2007

Stage – Basic
HP – 60
Level – 7
Card Number – 8/17
DP Legends Awakened 2008

Stage – Basic
HP – 60
Level – 11
Card Number – 117/146
POP Series 8  2008


Stage – Basic
HP – 50
Level – 6
Card Number – 16/17
Platinum Base Set  2009


Stage – Basic
HP – 60
Level – 15
Card Number – 91/127
HGSS Unleashed  2010


Stage – Basic
HP – 60
Speciality – None
Card Number – 60/95
HGSS Call of Legends  2011

Stage – Basic
HP – 90
Speciality – None
Card Number – 50/95
Black and White Promo Cards 2012 – 2014

Stage – Basic
HP – 60
Speciality – None
Card Number – BW33
BW Next Destinies 2012

Stage – Basic
HP – 70
Speciality – None
Card Number – 63/99
BW Plasma Storm 2013

Stage – Basic
HP – 60
Speciality – None
Card Number – 75/135
Stage – Basic
HP – 70
Speciality – None
Card Number – 76/135
BW Legendary Treasures 2013


Stage – Basic
HP – 70
Speciality – None
Card Number – 79/113
XY Fates Collide 2016

Stage – Basic
HP – 70
Speciality – None
Card Number – 45/124
Stage – Basic
HP – 60
Speciality – None
Card Number – 46/124
SM Burning Shadows 2017


Stage – Basic
HP – 70
Speciality – None
Card Number – 70/147
SM Ultra Prism 2018


Stage – Basic
HP – 70
Speciality – None
Card Number – 66/156
SM Unbroken Bonds 2019

Stage – Basic
HP – 70
Speciality – None
Card Number – 102/214
SM Unified Minds 2019

Stage – Basic
HP – 60
Speciality – None
Card Number – 115/236
Stage – Basic
HP – 60
Speciality – None
Card Number – 116/236
SM Hidden Fates 2019


Stage – Basic
HP – 70
Speciality – None
Card Number – SV21/SV94
SWSH Vivid Voltage 2020

Stage – Basic
HP – 70
Speciality – None
Card Number – 090/185
SWSH Brilliant Stars 2022

Stage – Basic
HP – 60
Speciality – None
Card Number – 078/172
SWSH Crown Zenith 2023

Stage – Basic
HP – 60
Speciality – None
Card Number – 071/159

Stage – Basic
HP – 60
Speciality – None
Card Number – GG26/GG70
Scarlet and Violet Base Set 2023

Stage – Basic
HP – 70
Speciality – None
Card Number – 112/198
Stage – Basic
HP – 70
Speciality – None
Card Number – 113/198
Stage – Basic
HP – 70
Speciality – None
Card Number – 215/198
Gallery