Silcoon Pokédex Information
Silcoon first appeared in the game Pokémon Ruby and Sapphire which released in Japan on November 21st 2002. 
Silcoon is an oval shaped character that is based on a silkworm cocoon. Its body is a white oval with spikes protruding from its body. It has two red eyes. Silcoon tethers itself to a tree branch using silk to keep from falling. There, this Pokémon hangs quietly while it awaits evolution. It peers out of the silk cocoon through a small hole.
Contents
Silcoon Pokédex Facts
Evolutions
Silcoon Pokédex Entries
TCG Cards
Silcoon Pokédex Facts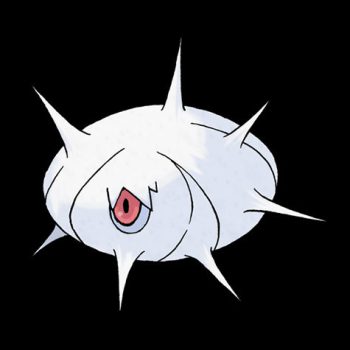 English Name – Silcoon
Japanese Name – Karasarisu
First Appearance – 2003 (Pokémon Ruby and Sapphire)
Based on – Silkworm Cocoon
Generation – III
Pokédex Number – 266
Category – Cocoon
Height – 0.6 m
Weight – 10 kg
Gender – Male, Female
Type –  Bug
Weakness – Fire, Flying, Rock
Special Abilities – Shed Skin
Silcoon Evolutions
Evolution – Wurmple evolves to Silcoon (Level 7); evolves to Beautifly (Level 10)
| | | |
| --- | --- | --- |
| Wurmple | Level 7 | Silcoon |
| Level 10 | Beautifly | |
Silcoon Pokédex Entries / Games
Ruby and Sapphire  2002
Pokémon Emerald  2004
FireRed and LeafGreen  2005
Diamond and Pearl  2006
Platinum  2008
HeartGold and SoulSilver  2009
Pokémon Black and White  2011
Black 2 and White 2  2012
Pokémon X and Y  2014   
Omega Ruby, Alpha Sapphire  2015  
Brilliant Diamond, Shining Pearl  2021
Legends Arceus 2022
Silcoon Card List – (scroll to bottom for gallery view)
EX Ruby and Sapphire 2003


Stage – 1
HP –  60
Speciality – None
Card Number – 43/109
EX Deoxys 2005


Stage – 1
HP –  80
Speciality – None
Card Number – 46/107
Diamond and Pearl Base Set 2007


Stage – 1
HP –  80
Level – 8
Card Number – 63/130
Platinum Base Set 2009


Stage – 1
HP –  80
Level – 10
Card Number – 63/127
BW Dragons Exalted 2012

Stage – 1
HP –  80
Speciality – None
Card Number – 7/124
XY Roaring Skies 2015

Stage – 1
HP –  80
Speciality – None
Card Number – 4/108
SM Lost Thunder 2018


Stage – 1
HP –  80
Speciality – None
Card Number – 25/214
SWSH Lost Origin 2022


Stage – 1
HP –  80
Speciality – None
Card Number – 007/196
Gallery