Spearow Pokédex Information
Spearow is an Normal / Flying type Pokémon that first appeared in the games Pokémon Red and Blue which were released in Japan in September 1998. It evolves to Fearow.
Spearow is a two-legged bird that is based on a sparrow. It has a white body with red wings and tail feathers. It has large feet with sharp talons. Its head is covered with dense, brown plumage. Spearow is inept at flying high. However, it can fly around very fast to protect its territory.
Contents
Spearow Pokédex Facts
Evolutions
Spearow Pokédex Entries
TCG Cards
Spearow Pokédex Facts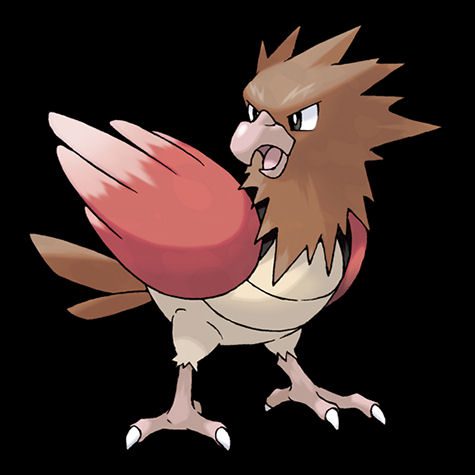 English Name – Spearow
Japanese Name – Onisuzume
First Appearance – 1996 (Pokémon Red and Blue)
Generation – I
Based on – Bird / Sparrow
Pokédex Number – 0021
Category – Tiny Bird
Height – 0.3 m
Weight – 2.0 kg
Gender – Male or Female
Type – Normal, Flying
Weakness – Electric, Ice, Rock
Special Features – Keen Eye
Spearow Evolutions
Evolution – Spearow evolves to Fearow (Level 20)
Spearow Pokédex Entries / Games
Pokémon Red and Blue  1999
Pokémon Stadium  2000
Pokémon Yellow  2000
Pokémon Gold and Silver  2001
Pokémon Crystal  2001
Pokémon Stadium 2  2001
Pokémon Ruby and Sapphire  2003
FireRed and LeafGreen  2004
Pokémon Emerald  2005
Diamond and Pearl  2007
Pokémon Platinum  2009
HeartGold and SoulSilver  2010
Black and White  2011
Black and White 2  2012
Pokémon X and Y  2013
Omega Ruby, Alpha Sapphire  2014
Sun and Moon  2016
Ultra Sun and Ultra Moon  2017
Let's Go Pikachu and Let's Go Eevee  2018
Brilliant Diamond, Shining Pearl  2021
Spearow Card List – (scroll to bottom for gallery view)
Jungle 1999

Stage Basic
HP – 50
Level 13
Card Number – 62/64
Base Set 2 2000

Stage Basic
HP – 
Level 13
Card Number – 92/130
Gym Heroes 2000


Lt Surge's Spearow
Stage Basic
Level 21
Card Number – 52/132
Legendary Collection 2002

Stage Basic
HP – 50
Level 13
Card Number – 94/110
Expedition Base 2002

Stage Basic
HP – 40
Speciality – None
Card Number – 130/165
EX Sandstorm 2003

Stage Basic
HP – 40
Speciality – None
Card Number – 81/100
EX Fire Red and Leaf Green 2004


Stage Basic
HP – 50
Speciality – None
Card Number – 81/112
EX Crystal Guardians 2006

Stage Basic
HP – 40
Speciality – None
Card Number – 61/100
DP Majestic Dawn 2008

Stage Basic
HP – 50
Level 10
Card Number – 74/100
HGSS Unleashed 2010

Stage Basic
HP – 50
Speciality – None
Card Number – 62/95
XY Phantom Forces  2014


Stage Basic
HP – 60
Speciality – None
Card Number – 78/119
XY Roaring Skies 2015

Stage Basic
HP – 60
Speciality – None
Card Number – 65/108
Sun & Moon  Base Set 2017


Stage Basic
HP – 60
Speciality – None
Card Number – 97/149
SM Unbroken Bonds 2019


Stage 1
HP – 60
Speciality – None
Card Number – 145/214
SWSH Battle Styles 2021


Stage Basic
HP – 50
Speciality – None
Card Number – 111/163
SV 151 2023


Stage – Basic
HP – 50
Speciality – None
Card Number – 021/165
Gallery