Thwackey Pokédex Information
Thwackey first appeared in the game Pokémon Sword and Shield which released Worldwide on November 15th 2019. 
Thwackey is a two-legged character loosely based on a monkey. It has a pale green body head and legs, while its arms, ears and tail are dark brown. It keeps two drumsticks on its head. The faster a Thwackey can beat out a rhythm with its two sticks, the more respect it wins from its peers.
Contents
Thwackey Pokédex Facts
Evolutions
Thwackey Pokédex Entries
TCG Cards
Thwackey Pokédex Facts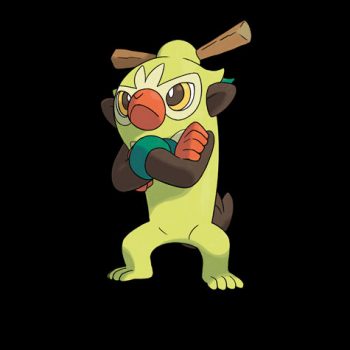 English Name – Thwackey
Japanese Name – Bachinkī
First Appearance – 2019 (Pokémon Sword and Shield)
Based on – Monkey
Generation – VIII
Pokédex Number – 811
Category – Beat
Height – 0.7 m
Weight – 14 kg
Gender – Male or Female
Type – Grass
Weakness – Bug, Fire, Flying, Ice, Poison
Special Ability – Overgrow

Thwackey Evolution
Evolution – Grookey evolves to Thwackey (level 16); evolves to Rillaboom (level 32)
| | | |
| --- | --- | --- |
| Grookey | Level 16 | Thwackey |
| Level 32 | Rillaboom | |
Thwackey Pokédex Entries / Games
Pokémon Sword and Shield 2019
Thwackey Card List – (scroll to bottom for gallery view)
Sword and Shield Base Set 2020

Stage – 1
HP – 100
Speciality – None
Card Numbers – 012/202
Stage – 1
HP – 100
Speciality – None
Card Numbers – 013/202
SWSH Shining Fates 2021


Stage – 1
HP – 90
Speciality – None
Card Number – 012/072 

Stage – 1
HP – 90
Speciality – None
Card Number – SV005/SV122 
SWSH Chilling Reign 2021

Stage – 1
HP – 100
Speciality – None
Form – Rapid Strike
Card Numbers – 017/198
Gallery