Rillaboom Pokédex Information
Rillaboom is a Grass type Pokémon that first appeared in the games Sword and Shield which released Worldwide on November 15th 2019. It evolves from Thwackey and is the final evolution of Grookey.
Rillaboom is a two-legged character based on a gorilla. It is predominantly brown with grey markings. It has a mane of green leaves on its head and around its wrists. It carries a drum made from a tree stump and by drumming, it taps into the power of its special tree stump. The roots of the stump follow its direction in battle.
In Gigantamax form, Rillaboom is fused with a central drum on a wooden stand and two large trees. Gigantamax energy has caused Rillaboom's stump to grow into a drum set that resembles a forest.
Contents
Rillaboom Pokédex Facts
Evolutions
Rillaboom Pokédex Entries
TCG Cards
Rillaboom Pokédex Facts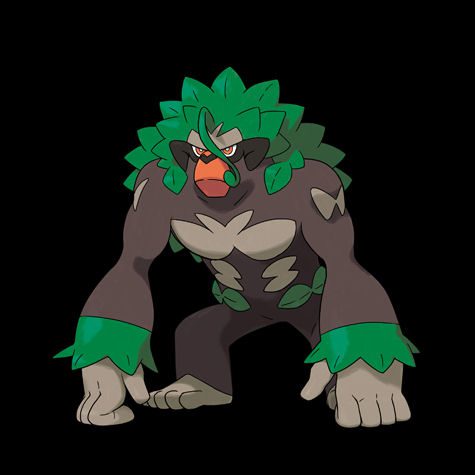 English Name – Rillaboom
Japanese Name – Gorirandā
First Appearance – 2019 (Pokémon Sword and Shield)
Based on – Gorilla
Generation – VIII
Pokédex Number – 0812
Normal Form
Category – Drummer
Height – 2.1 m
Weight – 90 kg
Gender – Male or Female
Type – Grass
Weakness – Bug, Fire, Flying, Ice, Poison
Special Ability – Overgrow

Gigantamax Form
Category – Drummer
Height – >28 m
Weight – Unknown
Gender – Male or Female
Type – Grass
Weakness – Bug, Fire, Flying, Ice, Poison
Special Ability – Overgrow
Rillaboom Evolution
Evolution – Grookey evolves to Thwackey (level 16); evolves to Rillaboom (level 32)
| | | |
| --- | --- | --- |
| Grookey | Level 16 | Thwackey |
| Level 32 | Rillaboom | |
Rillaboom Pokédex Entries / Games
Pokémon Sword and Shield 2019
Rillaboom Card List – (scroll to bottom for gallery view)
Sword and Shield Promo Cards 2020 – 


Stage – 2
HP – 170
Speciality – None
Card Numbers – SWSH006

Stage – Basic
HP – 220
Speciality – V
Card Numbers – SWSH014

Stage – 2
HP – 180
Speciality – None
Form – Rapid Strike
Card Numbers – SWSH277
Sword and Shield Base Set 2020

Stage – 2
HP – 170
Speciality – None
Card Numbers – 014/202
Stage – 2
HP – 190
Speciality – None
Card Numbers – 015/202
SWSH Rebel Clash 2020

Stage – Basic
HP – 220
Speciality – V
Card Number – 017/192
Stage – Basic
HP – 220
Speciality – V
Card Number – 175/192
Stage – VMAX
HP – 330
Speciality – VMAX
Card Number – 018/192
Stage – VMAX
HP – 330
Speciality – VMAX
Card Number – 193/192
SWSH Darkness Ablaze 2020

Stage – 2
HP – 170
Speciality – None
Card Number – 197/189
SWSH Shining Fates 2021

Stage – 2
HP – 170
Speciality – None
Card Number – 013/072
Stage – 2
HP – 170
Speciality – None
Card Number – SV006/SV122 
Stage – Basic
HP – 220
Speciality – V
Card Number – SV105/SV122

Stage – VMAX
HP – 330
Speciality – VMAX
Card Number – SV106/SV122
SWSH Chilling Reign 2021


Stage – 2
HP – 180
Speciality – None
Form – Rapid Strike
Card Numbers – 018/198
SWSH Fusion Strike 2021


Stage – Basic
HP – 220
Speciality – V
Form – Rapid Strike
Card Numbers – 022/264
Stage – Basic
HP – 330
Speciality – V
Form – Rapid Strike
Card Numbers – 023/264
Gallery