Zacian Pokédex Information
Zacian is a Fairy type Pokémon that first appeared in the game Pokémon Sword and Shield which released Worldwide on 15th November 2019. It does not evolve.
Zacian is a four-legged character that is based on a wolf. In Hero of Many Battles Form it has a cream body covered in blue shaggy fur and bears many battle scars. It has a brown tail with plaited braids running either side from its tail to its ear. Known as a legendary hero, this Pokémon absorbs metal particles, transforming them into a weapon it uses to battle.
In Crowned Sword Form, Zacian carries a jewelled sword, that may be based on the legendary sword Excalibar, in its mouth. It now has gold-coloured armour that resembles wings and a gold helmet. The plaited braids have now become flowing streamers. Now armed with a weapon it used in ancient times, this Pokémon needs only a single strike to fell even Gigantamax Pokémon.
Contents
Zacian Pokédex Facts
Evolutions
Zacian Pokédex Entries
TCG Cards
Zacian Pokédex Facts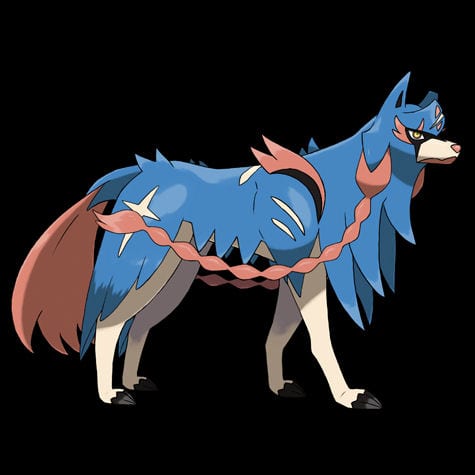 English Name – Zacian
Japanese Name – Zashian
First Appearance – 2020 (Pokémon Sword and Shield)
Based on – Wolf
Generation – VIII
Pokédex Number – 0888
Hero of Many Battles Form
Category – Warrior
Height – 2.8 m
Weight – 110.0 kg
Gender – not known
Type – Fairy
Weakness – Poison, Steel
Special Ability – Intrepid Sword
Crowned Sword Form
Category – Warrior
Height – 2.8 m
Weight – 355.0 kg
Gender – not known
Primary Type – Fairy
Secondary Type – Steel
Weakness – Poison, Steel
Special Ability – Intrepid Sword
Zacian Evolution
Evolution – Zacian does not evolve
Zacian Pokédex Entries / Games
Pokémon Sword and Shield 2020
Zacian Card List – (scroll to bottom for gallery view)
Sword and Shield Promos 2020 – 2023

Stage – Basic
HP – 130
Speciality – None
Card Number – SWSH033

Stage – Basic
HP – 220
Speciality – V
Card Number – SWSH018

Stage – Basic
HP – 220
Speciality – V
Card Number – SWSH076

Stage – Level Up
HP – 160
Speciality – LV.X
Card Number – SWSH135
Stage – V-Union
HP – 320
Speciality – V-Union
Card Number – SWSH163
Stage – V-Union
HP – 320
Speciality – V-Union
Card Number – SWSH164

Stage – V-Union
HP – 320
Speciality – V-Union
Card Number – SWSH165

Stage – V-Union
HP – 320
Speciality – V-Union
Card Number – SWSH166

Stage – Basic
HP – 220
Speciality – V
Card Number – SWSH292
Sword and Shield Base 2020


Stage – Basic
HP – 220
Speciality – V
Card Number – 138/202

Stage – Basic
HP – 220
Speciality – V
Card Number – 195/202
Stage – Basic
HP – 220
Speciality – V
Card Number – 211/202
SWSH Rebel Clash 2020

Stage – Basic
HP – 120
Speciality – None
Card Number – 139/192 (Holo and Cracked Ice Holo versions)
SWSH Vivid Voltage 2020

Stage – Basic
HP – 110
Speciality – None
Card Number – 082/185 (Amazing Rare)
Celebrations 25th Anniversary Set 2021

Stage – Basic
HP – 220
Speciality – V
Card Number – 016/025 
SWSH Astral Radiance 2022


Stage – Basic
HP – 220
Speciality – V
Card Number – TG21/TG30
SWSH Crown Zenith 2023

Stage – Basic
HP – 130
Speciality – None
Card Number – 094/159
Stage – Basic
HP – 220
Speciality – V
Card Number – 095/159
Stage – VSTAR
HP – 270
Speciality – VSTAR
Card Number – 096/159
SV Paradox Rift 2023


Stage – Basic
HP –  120
Speciality – None
Card Number – 136/182
Gallery