Arceus Pokédex Information
Arceus is a Normal type Pokémon that first appeared in the game Pokémon Diamond and Pearl which released in Japan on September 28th 2006. It is a Legendary Pokémon and does not evolve.
This Pokémon is a large four-legged creature that resembles a horse. It is predominantly white and silver with gold hooves . It has a gold circle attached to its body from which radiate spokes joined by an arc of gold. Jewels can be found at the points where the spokes cross the arc.
According to the legends of Sinnoh, this Pokémon emerged from an egg and shaped all there is in this world.
Contents
Arceus Pokédex Facts
Evolutions
Arceus Pokédex Entries
TCG Cards
Arceus Pokédex Facts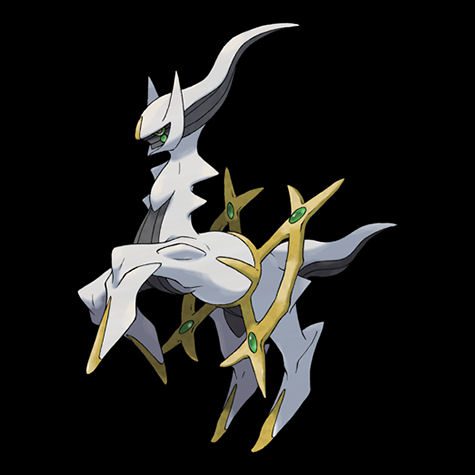 English Name – Arceus
Japanese Name – Arkoos
First Appearance – 2010 (Pokémon Black and White)
Generation – IV
Pokédex Number – 0493
Category – Alpha
Height – 3.2 m
Weight – 320 kg
Gender – Unknown
Type –  Normal
Weakness – Fighting
Special Ability – Multitype
Arceus Evolutions
Evolution – Arceus does not evolve
Arceus Pokédex Entries / Games
Diamond and Pearl  2006
Platinum  2008
HeartGold and SoulSilver  2009
Pokémon Black and White  2011
Black 2 and White 2  2012
Pokémon X and Y  2014   
Omega Ruby, Alpha Sapphire  2015  
Brilliant Diamond, Shining Pearl  2021
Legends Arceus  2022
Arceus Card List – (scroll to bottom for gallery view)
Diamond and Pearl Promo Cards 2007 – 2010


Stage – Basic
HP –  90
Level – 100
Speciality – None
Card Number – DP50
Stage – Level Up
HP –  90
Speciality – LV.X
Card Number – DP53

Stage – Level Up
HP –  120
Speciality – Lv.X
Card Number – DP56
Platinum Arceus 2009


Stage – Level Up
HP –  120
Speciality – Lv.X
Card Number – 94/99

Stage – Level Up
HP –  120
Speciality – Lv.X
Card Number – 95/99

Stage – Level Up
HP –  120
Speciality – Lv.X
Card Number – 96/99

Stage – Basic
HP –  70
Level – 100
Speciality – None
Card Number – AR1
Stage – Basic
HP –  90
Level – 100
Speciality – None
Card Number – AR2

Stage – Basic
HP –  80
Level – 100
Speciality – None
Card Number – AR3

Stage – Basic
HP –  90
Level – 100
Speciality – None
Card Number – AR4

Stage – Basic
HP –  80
Level – 100
Speciality – None
Card Number – AR5
Stage – Basic
HP –  70
Level – 100
Speciality – None
Card Number – AR6
Stage – Basic
HP –  80
Level – 100
Speciality – None
Card Number – AR7
Stage – Basic
HP –  80
Level – 100
Speciality – None
Card Number – AR8

Stage – Basic
HP –  90
Level – 100
Speciality – None
Card Number – AR9
XY Promo Cards 2013 – 2015


Stage – Basic
HP –  120
Speciality – None
Card Number – XY83
Stage – Basic
HP –  130
Speciality – None
Card Number – XY116

Stage – Basic
HP –  130
Speciality – None
Card Number – XY197
SM Shining Legends 2017

Shining Arceus
Stage – Basic
HP –  130
Speciality – None
Card Number – 57/73
SM Forbidden Light 2018

Stage – Basic
HP –  160
Speciality – Prism Star
Card Number – 96/131
SM Cosmic Eclipse 2019

Arceus, Dialga, Palkia Tag Team
Stage – Basic
HP –  280
Speciality – GX
Card Number – 156/236

Arceus, Dialga, Palkia Tag Team
Stage – Basic
HP –  280
Speciality – GX
Card Number – 220/236

Arceus, Dialga, Palkia Tag Team
Stage – Basic
HP –  280
Speciality – GX
Card Number – 221/236
Arceus, Dialga, Palkia Tag Team
Stage – Basic
HP –  280
Speciality – GX
Card Number – 258/236
Sword and Shield Promo Cards 2020 – 2022

Stage – Basic
HP –  220
Speciality – V
Card Number – SWSH204
Stage – Basic
HP –  220
Speciality – V
Card Number – SWSH306
Stage – VSTAR
HP –  280
Speciality – VSTAR
Card Number – SWSH307
SWSH Brilliant Stars 2022

Stage – Basic
HP –  220
Speciality – V
Card Number – 122/172

Stage – VSTAR
HP –  280
Speciality – VSTAR
Card Number – 123/172

Stage – Basic
HP –  220
Speciality – V
Card Number – 165/172

Stage – Basic
HP –  220
Speciality – VSTAR
Card Number – 166/172
Stage – VSTAR
HP –  280
Speciality – VSTAR
Card Number – 176/172
Stage – VSTAR
HP –  280
Speciality – VSTAR
Card Number – 184/172
SWSH Crown Zenith 2023

Stage – VSTAR
HP –  280
Speciality – VSTAR
Card Number – GG70/GG70
Gallery