Victini Pokédex Information
Victini first appeared in the game Pokémon Black and White which released in Japan on September 18th 2010. 
This Pokémon is a two-legged creature that resembles a rabbit. It is predominantly cream with an orange head, hands and feet. It has two large bulbous blue eyes and two sharp fangs at each side of its mouth. This Pokémon brings victory. It is said that Trainers with Victini always win, regardless of the type of encounter.
Contents
Victini Pokédex Facts
Evolutions
Victini Pokédex Entries
TCG Cards
Victini Pokédex Facts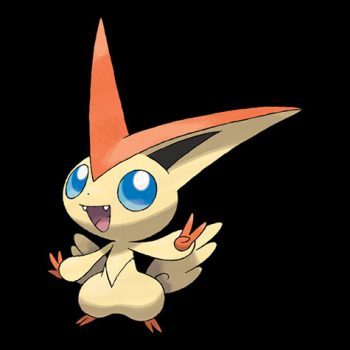 English Name – Victini
Japanese Name – Bikutini
First Appearance – 2010 (Pokémon Black and White)
Based on – Rabbit
Generation – V
Pokédex Number – 494
Category – Victory
Height – 0.4 m
Weight – 4 kg
Gender – Unknown
Primary Type –  Psychic
Secondary Type – Fire
Weakness – Dark, Ghost, Ground, Rock, Water
Special Ability – Victory Star
Victini Evolutions
Evolution – Victini does not evolve
Victini Pokédex Entries / Games
Pokémon Black and White  2011
Black 2 and White 2  2012
Pokémon X and Y  2014   
Omega Ruby, Alpha Sapphire  2015  
Victini Card List – (scroll to bottom for gallery view)
Black and White Promo Cards 2011 – 2013

Stage – Basic
HP –  60
Speciality – None
Card Number – BW32
BW Noble Victories 2011

Stage – Basic
HP –  60
Speciality – None
Card Number – 14/101
Stage – Basic
HP –  70
Speciality – None
Card Number – 15/101
Stage – Basic
HP –  60
Speciality – None
Card Number – 43/101
Stage – Basic
HP –  60
Speciality – None
Card Number – 98/101
BW Boundaries Crossed 2012

Stage – Basic
HP –  60
Speciality – None
Card Number – 23/149
BW Plasma Storm 2013


Stage – Basic
HP –  110
Speciality – EX
Card Number – 18/135
Stage – Basic
HP –  110
Speciality – EX
Card Number – 131/135
BW Legendary Treasures 2013


Stage – Basic
HP –  60
Speciality – None
Card Number – 23/113
Stage – Basic
HP –  110
Speciality – EX
Card Number – 24/113
XY Promo Cards 2014 – 2016

Stage – Basic
HP –  70
Speciality – None
Card Number – XY117
Stage – Basic
HP –  70
Speciality – None
Card Number – XY189
XY Roaring Skies 2015


Stage – Basic
HP –  70
Speciality – None
Card Number – 13/108
Sun and Moon Promo Cards 2016 – 2019


Stage – Basic
HP –  70
Speciality – None
Card Number – SM225
SM Guardians Rising 2017

Stage – Basic
HP –  70
Speciality – None
Card Number – 10/145
SM Dragon Majesty 2018

Stage – Basic
HP –  90
Speciality – None
Forme – Prism Star
Card Number – 7/70
SM Lost Thunder 2018

Stage – Basic
HP –  70
Speciality – None
Card Number – 49/214
SM Unified Minds 2019


Stage – Basic
HP –  70
Speciality – None
Card Number – 26/236
SM Cosmic Eclipse 2019


Stage – Basic
HP –  70
Speciality – None
Card Number – 30/236
Sword and Shield Promo Cards 2020 – 2022

Stage – Basic
HP –  190
Speciality – V
Card Number – SWSH104
SWSH Base Set 2020

Stage – Basic
HP –  190
Speciality – V
Card Number – 025/202
SWSH Champion's Path 2020

Stage – Basic
HP –  190
Speciality – None
Card Number – 007/073
SWSH Battle Styles 2021

Stage – Basic
HP –  190
Speciality – V
Card Number – 021/163
Stage – VMAX
HP –  190
Speciality – VMAX
Card Number – 022/163
Stage – Basic
HP –  190
Speciality – V
Card Number – 144/163
Stage – VMAX
HP –  310
Speciality – VMAX
Card Number – 165/163
SWSH Evolving Skies 2021


Stage – Basic
HP –  60
Speciality – None
Card Number – 020/203
SWSH Fusion Strike 2021

Stage – Basic
HP –  80
Speciality – None
Card Number – 036/264
SWSH Silver Tempest 2022

Stage – Basic
HP –  70
Speciality – None
Card Number – 023/195
Gallery