Shaymin Pokédex Information
Shaymin first appeared in the game Pokémon Diamond and Pearl which released in Japan on September 28th 2006. 
This Pokémon is a large four-legged creature that resembles a hedgehog. In land forme it has a white body with a green grassy back and a pink flower with leaves either side of its head. In sky forme  it resembles a reindeer with a white body and antlers and green lower legs. 
In both formes it can dissolve toxins in the air to instantly transform ruined land into a lush field of flowers.
Contents
Shaymin Pokédex Facts
Evolutions
Shaymin Pokédex Entries
TCG Cards
Shaymin Pokédex Facts
English Name – Shaymin
Japanese Name – Sheimi
First Appearance – 2010 (Pokémon Black and White)
Generation – IV
Pokédex Number – 492
Land Forme
Based on – Hedgehog
Category – Gratitude
Height – 0.2 m
Weight – 2.1 kg
Gender – Unknown
Type –  Grass
Weakness – Bug, Fire, Flying, Ice, Poison
Special Ability – Natural Cure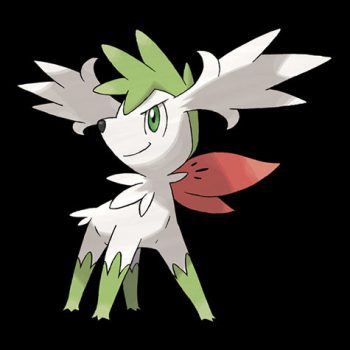 Sky Forme
Based on – Reindeer
Category – Gratitude
Height – 0.4 m
Weight – 5.2 kg
Gender – Unknown
Primary Type –  Grass
Secondary Type – Flying
Weakness – Fire, Flying, Ice, Poison, Rock
Special Ability – Serene Grace
Shaymin Evolutions
Evolution – Shaymin does not evolve
Shaymin Pokédex Entries / Games
Diamond and Pearl  2006
Platinum  2008
HeartGold and SoulSilver  2009
Pokémon Black and White  2011
Black 2 and White 2  2012
Pokémon X and Y  2014   
Omega Ruby, Alpha Sapphire  2015  
Brilliant Diamond, Shining Pearl  2021
Legends Arceus  2022
Shaymin Card List – (scroll to bottom for gallery view)
Diamond and Pearl Promo Cards 2007 – 2010

Stage – Level Up
HP –  110
Speciality – Lv.X
Card Number – DP39
Platinum Base Set 2009

Stage – Basic
HP –  70
Level – 42
Card Number – 14/127

Stage – Basic
HP –  80
Level – 56
Card Number – 15/127
Stage – Basic
HP –  80
Level – 44
Card Number – 38/127
Stage – Level Up
HP –  100
Speciality – Lv.X
Card Number – 126/127

Stage – Level Up
HP –  110
Speciality – Lv.X
Card Number – 127/127
HGSS Unleashed 2010

Stage – Basic
HP –  70
Speciality – None
Card Number – 8/95
BW Next Destinies 2012

Stage – Basic
HP –  110
Speciality – EX
Card Number – 5/99
Stage – Basic
HP –  110
Speciality – EX
Card Number – 94/99
BW Boundaries Crossed 2012


Stage – Basic
HP –  70
Speciality – None
Card Number – 10/149
BW Radiant Collection 2013


Stage – Basic
HP –  110
Speciality – None
Card Number – RC21/RC25
XY Promo Cards 2013 – 2015


Stage – Basic
HP –  70
Speciality – None
Card Number – XY115
Stage – Basic
HP –  110
Speciality – EX
Card Number – XY148
Stage – Basic
HP –  130
Speciality – None
Card Number – XY188
XY Roaring Skies 2015


Stage – Basic
HP –  110
Speciality – EX
Card Number – 77/108
Stage – Basic
HP –  110
Speciality – EX
Card Number – 77a/108

Stage – Basic
HP –  110
Speciality – EX
Card Number – 106/108
SM Shining Legends 2017

Stage – Basic
HP –  70
Speciality – None
Card Number – 7/73
SM Ultra Prism 2018

Stage – Basic
HP –  80
Speciality – None
Card Number – 15/156
Stage – Basic
HP –  70
Speciality – None
Card Number – 111/156
SM Lost Thunder 2018


Stage – Basic
HP –  70
Speciality – None
Card Number – 33/214
SM Team Up 2019

Stage – Basic
HP –  80
Speciality – None
Card Number – 10/181
SWSH Vivid Voltage 2020

Stage – Basic
HP –  70
Speciality – None
Card Number – 015/185
SWSH Chilling Reign 2021


Stage – Basic
HP –  70
Speciality – None
Card Number – 123/198
SWSH Brilliant Stars 2022


Stage – Basic
HP –  190
Speciality – V
Card Number – 013/172
Stage – VSTAR
HP –  250
Speciality – VSTAR
Card Number – 014/172

Stage – Basic
HP –  190
Speciality – V
Card Number – 152/172
Stage – VSTAR
HP –  250
Speciality – VSTAR
Card Number – 173/172
SWSH Astral Radiance 2022


Stage – Basic
HP –  70
Speciality – None
Card Number – 014/189
SWSH Crown Zenith 2023

Stage – Basic
HP –  70
Speciality – None
Card Number – 115/159
Gallery