Blipbug Pokédex Information
Blipbug is a Bug type Pokémon that first appeared in the games Pokémon Sword and Shield which were released Worldwide in November 2019. It evolves to Dottler which evolves to Orbeetle.
Blipbug is a small purple and yellow Pokémon that is based on a caterpillar or the larvae of a ladybug. It has a large head that is purple at the top and yellow underneath with two big eyes. It has three V shaped projections protruding from its head and one at the end of its tail. Its body is short in comparison to its head and it has four short stubby feet. It has two yellow V shaped markings at its neck which resemble a bow-tie. A constant collector of information, this Pokémon is very smart. Very strong is what it isn't.
Contents
Blipbug Pokédex Facts
Evolutions
Blipbug Pokédex Entries
TCG Cards
Blipbug Pokédex Facts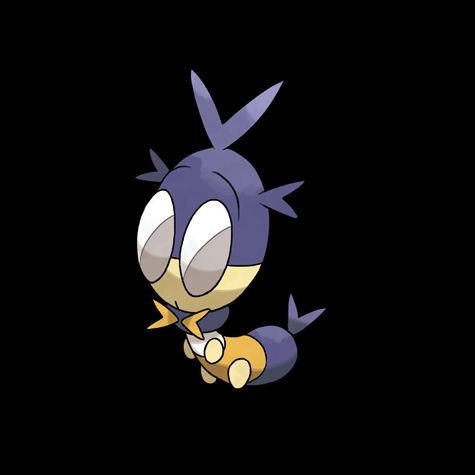 English Name – Blipbug
Japanese Name – Satchimushi
First Appearance – 2019 (Pokémon Sword and Shield)
Generation – VIII
Based on – Caterpillar / Ladybird Larva
Pokédex Number – 0824
Category – Larva
Height – 0.4 m
Weight – 8 kg
Gender – Male or Female
Type – Bug
Weakness – Fire, Flying, Rock
Special Ability – Compound Eyes, Swarm
Blipbug Evolutions
Evolution – Blipbug evolves to Dottler (Level 10); evolves to Orbeetle (Level 30)
| | | |
| --- | --- | --- |
| Blipbug | Level 10 | Dottler |
| Level 30 | Orbeetle | |
Blipbug Pokédex Entries / Games
Pokémon Sword and Shield 2019
Blipbug Card List – (scroll to bottom for gallery view)
Sword and Shield Base Set 2020


Stage – Basic
HP – 50
Speciality – None
Card Numbers – 016/202
Stage – Basic
HP – 40
Speciality – None
Card Numbers – 017/202
SWSH Shining Fates 2021

Stage – Basic
HP – 50
Speciality – None
Card Numbers – SV007/SV122 
SWSH Battle Styles 2021

Stage – Basic
HP – 50
Speciality – None
Card Numbers – 017/163
SWSH Lost Origin 2022

Stage – Basic
HP – 50
Speciality – None
Card Numbers – 018/196
SV Paradox Rift 2023


Stage – Basic
HP – 50
Speciality – None
Card Numbers – 010/182
Gallery