Orbeetle Pokédex Information
Orbeetle is a Bug / Psychic type Pokémon that first appeared in the games Pokémon Sword and Shield which were released Worldwide in November 2019. It evolves from Dottler and is the final evolution of Blipbug.
Orbeetle is a two-legged Pokémon that is based on a ladybird and a beetle. Its brown body is small and thin and it has two thin arms each with two small claws, and two legs that each have large yellow claw at the end. Its head is disproportionately large in comparison to its body and resembles a ladybird. Its face is at the front while the rest of its head is red with seven blue spots. It's famous for its high level of intelligence, and the large size of its brain is proof that it also possesses immense psychic power. 
Orbeetle can evolve to Gigantamax form with the Dynamax Band. In this form it is bigger and heavier. Its head has grown enormously to a flat dome that resembles a flying saucer. The top of the dome is red with pale blue circles with white markings, while the underside is brown with a central blue dome surrounded by five yellow domes. Its brain has grown to a gargantuan size, as has the rest of its body. This Pokémon's intellect and psychic abilities are overpowering.
Contents
Orbeetle Pokédex Facts
Evolutions
Orbeetle Pokédex Entries
TCG Cards
Orbeetle Pokédex Facts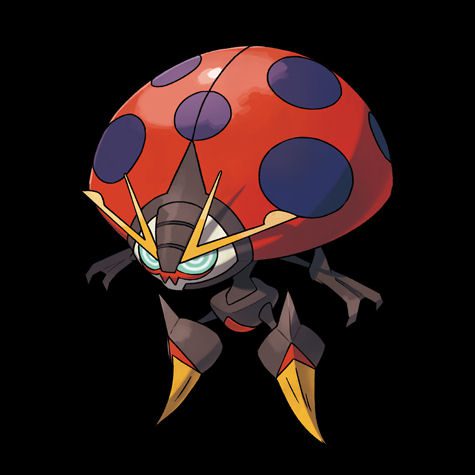 English Name – Orbeetle
Japanese Name – Iorubu
First Appearance – 2019 (Pokémon Sword and Shield)
Generation – VIII
Based on – Beetle / Ladybird
Pokédex Number – 0826
Regular Form
Category – Seven Spot
Height – 0.4 m
Weight – 40.8 kg
Gender – Male or Female
Primary Type – Bug
Secondary Type – Psychic
Weakness – Bug, Dark, Fire, Flying, Ghost, Rock
Special Ability – Swarm, Frisk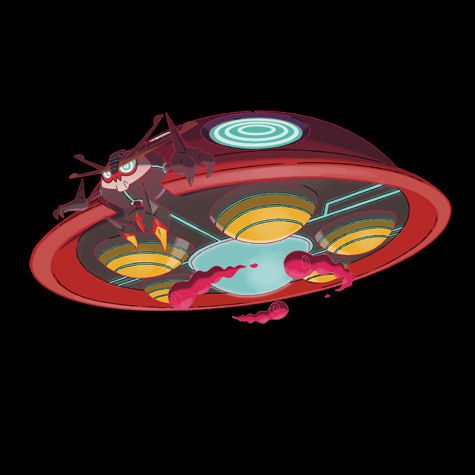 Gigantamax Form
Category – Seven Spot
Height – >14 m
Weight – Unknown
Gender – Male or Female
Primary Type – Bug
Secondary Type – Psychic
Weakness – Bug, Dark, Fire, Flying, Ghost, Rock
Special Ability – Swarm, Frisk
Orbeetle Evolutions
Evolution – Blipbug evolves to Dottler (Level 10); evolves to Orbeetle (Level 30)
| | | |
| --- | --- | --- |
| Blipbug | Level 10 | Dottler |
| Level 30 | Orbeetle | |
Orbeetle Pokédex Entries / Games
Pokémon Sword and Shield 2019
Orbeetle Card List – (scroll to bottom for gallery view)
Sword and Shield Promo Cards 2020 – 2023


Stage – Basic
HP – 180
Speciality – V
Card Number – SWSH078
Sword and Shield Base Set 2020


Stage – 2
HP – 130
Speciality – None
Card Number – 019/202
SWSH Vivid Voltage 2020


Stage – Basic
HP – 180
Speciality – V
Card Numbers – 020/185

Stage – Basic
HP – 180
Speciality – V
Card Numbers – 166/185

Stage – VMAX
HP – 310
Speciality – VMAX
Card Numbers – 021/185

Stage – VMAX
HP – 310
Speciality – VMAX
Card Numbers – 186/185
SWSH Shining Fates 2021


Stage – 2
HP – 130
Speciality – None
Card Numbers – SV009/SV122 
SWSH Battle Styles 2021

Stage – 2
HP – 110
Speciality – None
Card Numbers – 065/163
SWSH Lost Origin 2022

Stage – 2
HP – 110
Speciality – None
Card Numbers – 020/196

Stage – Basic
HP – 180
Speciality – V
Card Numbers – TG12/TG30
Stage – VMAX
HP – 310
Speciality – VMAX
Card Numbers – TG13/TG30
SV Paradox Rift 2023


Stage – 2
HP – 130
Speciality – None
Card Numbers – 012/182
Gallery