Calyrex Pokédex Information
Calyrex is a Psychic / Grass type Pokémon that first appeared in the Crown Tundra expansion of the games Pokémon Sword and Shield which released in November 2019. It does not evolve.
Calyrex is a two-legged character that may be based on an arctic hare, a rabbit or a deer. It has a light grey body with several oval shaped protrusions radiating from its back. Its legs are white and very long and thin. It has four antlers growing from the top of its head that support a large green bulb. Calyrex is a merciful Pokémon, capable of providing healing and blessings. It reigned over the Galar region in times of yore. 
Calyrex can merge with Galastrier and Spectrier to form Ice Rider Calyrex and Shadow Rider Calyrex. In Ice Rider form the structures on its back have enlarged to resemble wings. According to lore, this Pokémon showed no mercy to those who got in its way, yet it would heal its opponents' wounds after battle. In Shadow Rider form it is darker in colour and it's said that Calyrex and a Pokémon that had bonded with it ran all across the Galar region to bring green to the wastelands.
Contents
Calyrex Pokédex Facts
Evolutions
Calyrex Pokédex Entries
TCG Cards
Calyrex Pokédex Facts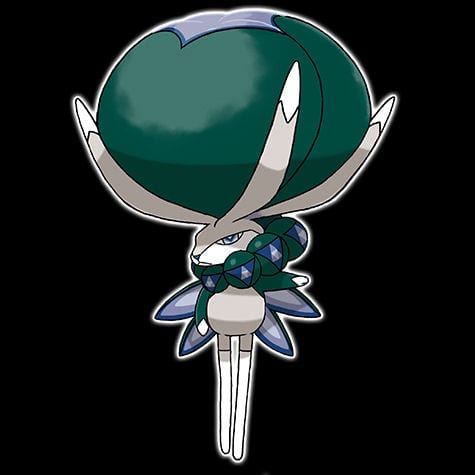 English Name – Calyrex
Japanese Name – Badorekkusu
First Appearance – 2020 (Pokémon Sword and Shield, Crown Tundra expansion)
Generation – VIII
Pokédex Number – 0898
Based on – Arctic Hare / Deer / Rabbit
Category – King
Height – 1.1 m
Weight – 7.7 kg
Gender – not known
Primary Type – Psychic
Secondary Type – Grass
Weakness – Bug, Dark, Fire, Flying, Ghost, Ice, Poison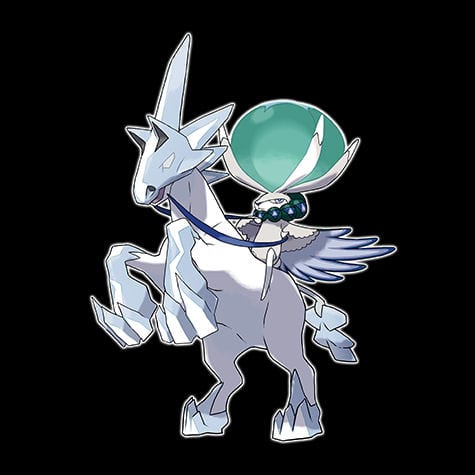 Ice Rider Calyrex
Formed  – Rides on Glastrier
Category – High King
Height – 2.4 m
Weight – 809.1 kg
Gender – not known
Primary Type – Psychic
Secondary Type – Ice
Weakness – Bug, Dark, Fire, Ghost, Rock, Steel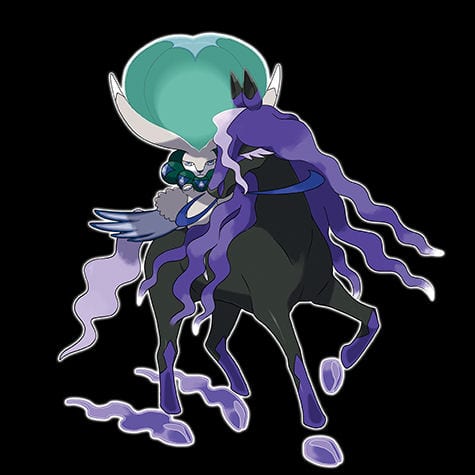 Shadow Rider Calyrex
Formed  – Rides on Spectrier
Category – High King
Height – 2.4 m
Weight – 53.6 kg
Gender – not known
Primary Type – Psychic
Secondary Type – Ghost
Weakness – Dark, Ghost
Calyrex Evolutions
Evolution – Calyrex does not evolve
Calyrex Pokédex Entries / Games
Pokémon Sword and Shield 2019 
Calyrex Card List – (scroll to bottom for gallery view)
Sword and Shield Promo Cards 2020 – 2023


Stage – Basic
HP – 210
Speciality – V
Form – Ice Rider
Card Number – SWSH130

Stage – Basic
HP – 210
Speciality – V
Form – Shadow Rider
Card Number – SWSH131
SWSH Chilling Reign 2021


Stage – Basic
HP – 210
Speciality – V
Form – Ice Rider
Card Number – 045/198

Stage – Basic
HP – 210
Speciality – V
Form – Ice Rider
Card Number – 163/198
Stage – Basic
HP – 210
Speciality – V
Form – Ice Rider
Card Number – 164/198

Stage – Basic
HP – 210
Speciality – V
Form – Shadow Rider
Card Number – 074/198

Stage – Basic
HP – 210
Speciality – V
Form – Shadow Rider
Card Number – 171/198

Stage – Basic
HP – 210
Speciality – V
Form – Shadow Rider
Card Number – 172/198
Stage – VMAX
HP – 320
Speciality – VMAX
Form – Ice Rider
Card Number – 046/198
Stage – VMAX
HP – 320
Speciality – VMAX
Form – Ice Rider
Card Number – 202/198

Stage – VMAX
HP – 320
Speciality – VMAX
Form – Ice Rider
Card Number – 203/198

Stage – VMAX
HP – 320
Speciality – VMAX
Form – Shadow Rider
Card Number – 075/198
Stage – VMAX
HP – 320
Speciality – VMAX
Form – Shadow Rider
Card Number – 204/198
Stage – VMAX
HP – 320
Speciality – VMAX
Form – Shadow Rider
Card Number – 205/198
SWSH Astral Radiance 2022


Stage – Basic
HP – 210
Speciality – V
Forme – Ice Rider
Card Number – TG14/TG30
Stage – VMAX
HP – 320
Speciality – VMAX
Forme – Ice Rider
Card Number – TG15/TG30

Stage – Basic
HP – 210
Speciality – V
Forme – Shadow Rider
Card Number – TG17/TG30

Stage – VMAX
HP – 320
Speciality – VMAX
Forme – Shadow Rider
Card Number – TG18/TG30

Stage – VMAX
HP – 320
Speciality – VMAX
Forme – Ice Rider
Card Number – TG29/TG30

Stage – VMAX
HP – 320
Speciality – VMAX
Forme – Shadow Rider
Card Number – TG30/TG30
SWSH Crown Zenith 2023


Stage – Basic
HP – 110
Speciality – None
Card Number – 017/159
Gallery