Glastrier Pokédex Information
Glastrier is an Ice type Legendary Pokémon that first appeared in the Crown Tundra expansion of the games Pokémon Sword and Shield, which released in October 2020. It does not evolve.
Glastrier is a four-legged character that resembles a horse. It has a white body with lilac / grey icicles on its head, tail and hooves. Glastrier emits intense cold from its hooves. It's also a belligerent Pokémon – anything it wants, it takes by force. Glastrier merges with Calyrex to form Ice Rider Calyrex. 
Contents
Glastrier Pokédex Facts
Evolutions
Glastrier Pokédex Entries
TCG Cards
Glastrier Pokédex Facts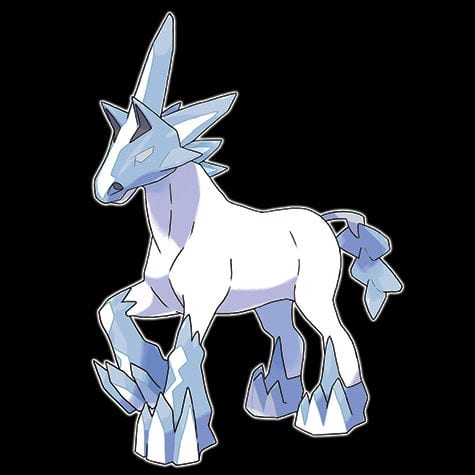 English Name – Glastrier
Japanese Name – Burizaposu
First Appearance – 2020 (Pokémon Sword and Shield, Crown Tundra expansion)
Generation – VIII
Based on – Horse
Pokédex Number – 0896
Category – Wild Horse
Height – 2.2 m
Weight – 800.0 kg
Gender – not known
Type – Ice
Weakness – Fighting, Fire, Rock, Steel
Special Ability – Chilling neigh
Glastrier Evolutions
Evolution – Glastrier does not evolve
Glastrier Pokédex Entries / Games
Pokémon Sword and Shield 2019 
Glastrier Card List – (scroll to bottom for gallery view)
SWSH Lost Origin 2022


Stage – Basic
HP – 130
Speciality – None
Card Number – 051/196
Gallery