Regidrago Pokédex Information
Regidrago is a Dragon type Pokémon that first appeared in the games Sword and Shield which released Worldwide on November 15th 2019. It does not evolve.
This Pokémon is based on a mythical golem but has dragon-like features. It is a two-legged character with a red body and black feet. Its body has seven blue dots arranged in a pattern. It has two black structures either side of its body that form its arms. The left one resembles a head and upper jaw while the left resembles a lower jaw. An academic theory proposes that Regidrago's arms were once the head of an ancient dragon Pokémon. The theory remains unproven.
Contents
Regidrago Pokédex Facts
Evolutions
Regidrago Pokédex Entries
TCG Cards
Regidrago Pokédex Facts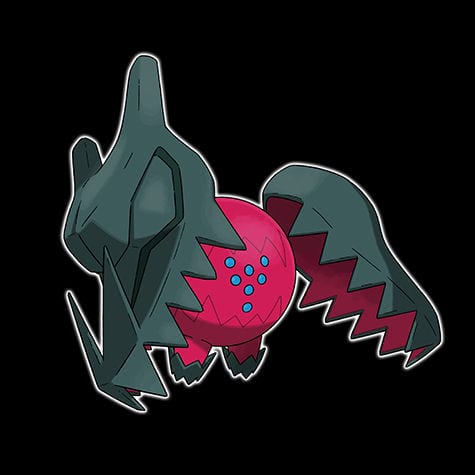 English Name – Regidrago
Japanese Name – Rejidorago
First Appearance – 2019 (Pokémon Sword and Shield)
Based on – Golem
Generation – VIII
Pokédex Number – 895
Category – Dragon Orb
Height – 2.1 m
Weight – 200.0 kg
Gender – not known
Type – Dragon
Weakness – Dragon, Fairy, Ice
Special Ability – Dragon's Maw
Regidrago Evolutions
Evolution – Regidrago does not evolve
Regidrago Pokédex Entries / Games
Pokémon Sword and Shield  2019  
Regidrago Card List – (scroll to bottom for gallery view)
Sword and Shield Promo Cards 2020 – 2023


Stage – Basic
HP – 220
Speciality – V
Card Number – SWSH281
SWSH Evolving Skies 2021

Stage – Basic
HP – 130
Speciality – None
Card Number – 124/203
SWSH Astral Radiance 2022

Stage – Basic
HP – 130
Speciality – None
Card Number – 118/189
SWSH Silver Tempest 2022


Stage – VSTAR
HP – 280
Speciality – VSTAR
Card Number – 136/195

Stage – Basic
HP – 220
Speciality – V
Card Number – 183/195

Stage – Basic
HP – 220
Speciality – V
Card Number – 184/195

Stage – VSTAR
HP – 280
Speciality – VSTAR
Card Number – 201/195
Gallery