Chikorita Pokédex Information
Chikorita is a Grass type Pokémon that first appeared in the games Pokémon Gold and Silver which were released in Japan in November 1999. It evolves to Bayleef which then evolves to Meganium.
Chikorita is a four-legged character that resembles a young sauropod dinosaur. It is green in colour with a bulbous head and a short tail. Its four legs are short and end with a single claw. Around its neck garland of green buds and a large leaf is attached to its forehead. In battle, Chikorita waves its leaf around to keep the foe at bay. However, a sweet fragrance also wafts from the leaf, becalming the battling Pokémon and creating a cozy, friendly atmosphere all around.
Contents
Chikorita Pokédex Facts
Evolutions
Chikorita Pokédex Entries
TCG Cards
Chikorita Pokédex Facts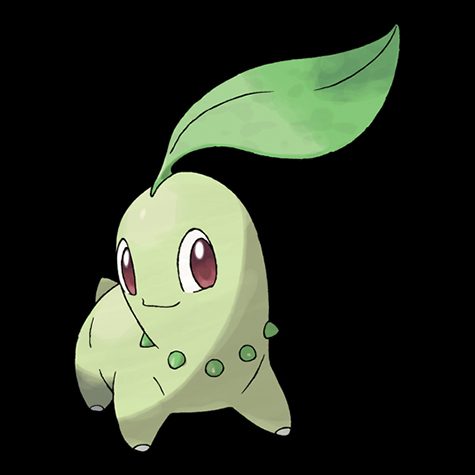 English Name – Chikorita
Japanese Name – Chikorita
First Appearance – 1999 (Pokémon Gold and Silver)
Generation – II
Based on – Dinosaur / Plant
Pokédex Number – 0152
Category – Leaf
Height – 0.9 m
Weight – 6.4 kg
Gender – Male, Female 
Type – Grass
Weakness – Bug, Fire, Flying, Ice Poison
Special Abilities – Overgrow
Chikorita Evolutions
Evolution – Chikorita evolves to Bayleef (Level 16); evolves to Meganium (Level 32)
| | | |
| --- | --- | --- |
| Chikorita | Level 16 | Bayleef |
| Level 32 | Meganium | |
Chikorita Pokédex Entries / Games
Gold and Silver  1999
Pokémon Crystal 2000
Pokémon Stadium 2 2000
Ruby and Sapphire  2002
Pokémon Emerald  2004
FireRed and LeafGreen  2005
Diamond and Pearl  2006
Platinum  2008
HeartGold and SoulSilver  2009
Pokémon Black and White  2011
Black 2 and White 2  2012 
Pokémon X and Y  2013
Omega Ruby, Alpha Sapphire  2015  
Brilliant Diamond, Shining Pearl  2021
Chikorita Card List – (scroll to bottom for gallery view)
Neo Genesis 2000

Stage – Basic
HP – 40
Level – 12
Card Number – 53/111
Stage – Basic
HP – 50
Level – 19
Card Number – 54/111
Expedition Base Set 2002


Stage – Basic
HP – 70
Speciality – None
Card Number – 99/165
Stage – Basic
HP – 50
Speciality – None
Card Number – 100/165
EX Hidden Legends 2004

Stage – Basic
HP – 50
Speciality – None
Card Number – 55/101
EX Unseen Forces 2005


Stage – Basic
HP – 50
Speciality – None
Card Number – 51/115
EX Dragon Frontiers 2006

Stage – Basic
HP – 40
Speciality – None
Card Number – 44/101
DP Mysterious Treasures 2007


Stage – Basic
HP – 50
Level – 10
Card Number – 77/123
HeartGold SoulSilver 2010

Stage – Basic
HP – 60
Speciality – None
Card Numbers – 59/123
HGSS Call of Legends 2011

Stage – Basic
HP – 50
Speciality – None
Card Numbers – 53/95
XY BREAKPoint 2016

Stage – Basic
HP – 60
Speciality – None
Card Numbers – 1/122
XY Generations 2016


Stage – Basic
HP – 50
Speciality – None
Card Numbers – RC1/RC32
SM Lost Thunder 2018

Stage – Basic
HP – 60
Speciality – None
Card Numbers – 5/214
Stage – Basic
HP – 70
Speciality – None
Card Numbers – 6/214
McDonald's 25th Anniversary Collection 2021

Stage – Basic
HP – 70
Speciality – None
Card Numbers – 2/25
Gallery