Mew Pokédex Information
Mew is a Psychic type Pokémon that first appeared in the games Pokémon Red and Blue which were released in the United States and Australia in1998 and Europe in 1999. It does not evolve.
Mew is a pink, two-legged character that resembles a cat. It has powerful legs and long feet while its arms are short and stubby. Its blue eyes are big and bright and it has a long, thin tail that widens at the end. It is believed to have the DNA of every Pokémon meaning that it can learn any attack. When viewed through a microscope, this Pokémon's short, fine, delicate hair can be seen.
Contents
Mew Pokédex Facts
Evolutions
Mew Pokédex Entries
TCG Cards
Mew Pokédex Facts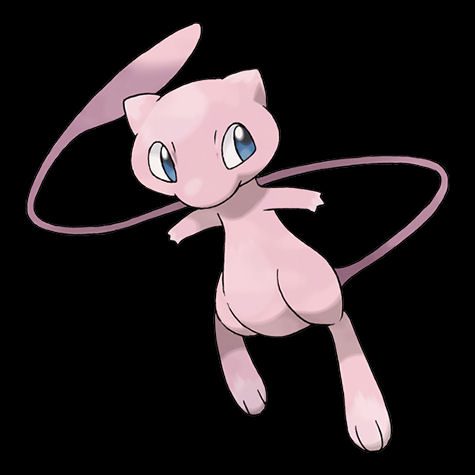 English Name – Mew
Japanese Name – Myū
First Appearance – 1998 (Pokémon Red and Blue)
Generation – I
Based on – Cat
Pokédex Number – 0151
Category – New Species
Height – 0.4 m
Weight – 4 kg
Gender – Unknown
Type – Psychic
Weakness – Bug, Dark, Ghost
Special Abilities – Synchronize
Mew Evolutions
Evolution – Mew does not evolve.
Mew Pokédex Entries / Games
Red and Blue  1998
Pokémon Yellow  1998
Pokémon Stadium 1999
Gold and Silver  1999
Pokémon Crystal 2000
Pokémon Stadium 2 2000
Ruby and Sapphire  2002
Pokémon Emerald  2004
FireRed and LeafGreen  2005
Diamond and Pearl  2006
Platinum  2008
HeartGold and SoulSilver  2009
Pokémon Black and White  2011
Black 2 and White 2  2012 
Pokémon X and Y  2013
Omega Ruby, Alpha Sapphire  2015  
Let's Go Pikachu, Let's Go Eevee  2018
Sword and Shield 2019
Brilliant Diamond, Shining Pearl  2021
Mew Card List – (scroll to bottom for gallery view)
Wizards of the Coast Promo Cards 1999 – 2003

Stage – Basic
HP – 50
Level – 23
Card Number – 8

Stage – Basic
HP – 50
Level – 23
Card Number – 9

Stage – Basic
HP – 40
Level – 8
Card Number – 47
Southern Islands 2001

Stage – Basic
HP – 30
Level – 5
Card Number – 1/18
Expedition Base Set 2002

Stage – Basic
HP – 50
Speciality – None
Card Number – 19/165
Stage – Basic
HP – 50
Speciality – None
Card Number – 55/165
Nintendo Promo Cards 2003

Stage – Basic
HP – 50
Speciality – None
Card Number – 040
EX Legend Maker 2006

Stage – Basic
HP – 70
Speciality – None
Card Number – 10/92

Stage – Basic
HP – 90
Speciality – ex
Card Number – 88/92
EX Holon Phantoms 2006

Stage – Basic
HP – 90
Speciality – ex
Card Number – 100/110
Stage – Basic
HP – 50
Speciality – None
Card Number – 111/110
POP Series 4 2006


Stage – Basic
HP – 70
Speciality – None
Card Number – 4/17
EX Dragon Frontiers 2006

Stage – Basic
HP – 70
Speciality – None
Card Number – 101/101
POP Series 5 2007

Stage – Basic
HP – 60
Speciality – None
Card Number – 3/17
DP Secret Wonders 2007


Stage – Basic
HP – 60
Level – 40
Card Number – 15/132
Pokémon Rumble 2009

Stage – Basic
HP – 60
Level – 39
Card Number – 10/16
HGSS Triumphant 2010

Stage – Basic
HP – 60
Speciality – None
Card Numbers – 97/102
Black and White Promo Cards 2011 – 2013


Stage – Basic
HP – 60
Speciality – None
Card Numbers – BW98
BW Dragons Exalted 2012


Stage – Basic
HP – 120
Speciality – EX
Card Numbers – 46/124
Stage – Basic
HP – 120
Speciality – EX
Card Numbers – 120/124
BW Legendary Treasures 2013


Stage – Basic
HP – 120
Speciality – EX
Card Numbers – RC24/RC25
XY Promo Cards 2014 – 2016


Stage – Basic
HP – 70
Speciality – None
Card Numbers – XY110
Stage – Basic
HP – 120
Speciality – EX
Card Numbers – XY126
Stage – Basic
HP – 70
Speciality – None
Card Numbers – XY192
XY Fates Collide 2016


Stage – Basic
HP – 50
Speciality – None
Card Numbers – 29/124
XY Evolutions 2016

Stage – Basic
HP – 40
Speciality – None
Card Numbers – 53/108
Sun and Moon Promo Cards 2017 – 2019

Mewtwo & Mew GX Tag Team
Stage – Basic
HP – 270
Speciality – GX
Card Numbers – SM191

Stage – Basic
HP – 60
Speciality – None
Card Numbers – SM215
SM Shining Legends 2017


Stage – Basic
HP – 30
Speciality – None
Card Numbers – 40/73
SM Unbroken Bonds 2019


Stage – Basic
HP – 60
Speciality – None
Card Numbers – 76/214
SM Unified Minds 2019

Mewtwo & Mew GX Tag Team
Stage – Basic
HP – 270
Speciality – GX
Card Numbers – 71/236
Mewtwo & Mew GX Tag Team
Stage – Basic
HP – 270
Speciality – GX
Card Numbers – 222/236
Mewtwo & Mew GX Tag Team
Stage – Basic
HP – 270
Speciality – GX
Card Numbers – 242/236
SM Hidden Fates 2019

Stage – Basic
HP – 80
Speciality – None
Card Numbers – 32/68
SWSH Darkness Ablaze 2020

Stage – Basic
HP – 180
Speciality – V
Card Numbers – 069/189
SWSH Celebrations 2021

Stage – Basic
HP – 60
Speciality – None
Card Numbers – 011/025
Stage – Basic
HP – 60
Speciality – None
Card Numbers – 025/025

Stage – Basic
HP – 90
Speciality – ex
Card Numbers – 88/92
SWSH Fusion Strike 2021

Stage – Basic
HP – 180
Speciality – V
Form – Fusion Strike
Card Numbers – 113/264

Stage – VMAX
HP – 310
Speciality – VMAX
Form – Fusion Strike
Card Numbers – 114/264
Stage – Basic
HP – 180
Speciality – V
Form – Fusion Strike
Card Numbers – 250/264
Stage – Basic
HP – 180
Speciality – V
Form – Fusion Strike
Card Numbers – 251/264

Stage – VMAX
HP – 310
Speciality – VMAX
Form – Fusion Strike
Card Numbers – 268/264
Stage – VMAX
HP – 310
Speciality – VMAX
Form – Fusion Strike
Card Numbers – 269/264
SWSH Lost Origin 2022


Stage – VMAX
HP – 310
Speciality – VMAX
Form – Fusion Strike
Card Numbers – TG30/TG30
SWSH Crown Zenith 2023

Stage – Basic
HP – 180
Speciality – V
Form – Fusion Strike
Card Numbers – 060/159

Stage – Basic
HP – 60
Speciality – None
Card Numbers – GG10/GG70
Scarlet and Violet Promo Cards 2023 –


Stage – Basic
HP – 180
Speciality – ex
Card Numbers – SVP053
SV 151 2023

Stage – Basic
HP – 180
Speciality – ex
Card Numbers – 151/165
Stage – Basic
HP – 180
Speciality – ex
Card Numbers – 193/165

Stage – Basic
HP – 180
Speciality – ex
Card Numbers – 205/165
Gallery