Chinchou Pokédex Information
Chinchou is a Water / Electric type Pokémon that first appeared in the games Pokémon Gold and Silver which were released in Japan in November 1999. It evolves to Lanturn.
This Pokémon is a fish that is thought to be based on the Anglerfish. Its body is a purple disc with two fins and a tail. Its two black eyes are ringed with yellow. Two long, thin, purple antennae with yellow bulbs at the end, extend from its body. Its antennae, which evolved from a fin, have both positive and negative charges flowing through them.
Contents
Chinchou Pokédex Facts
Evolutions
Chinchou Pokédex Entries
TCG Cards
Chinchou Pokédex Facts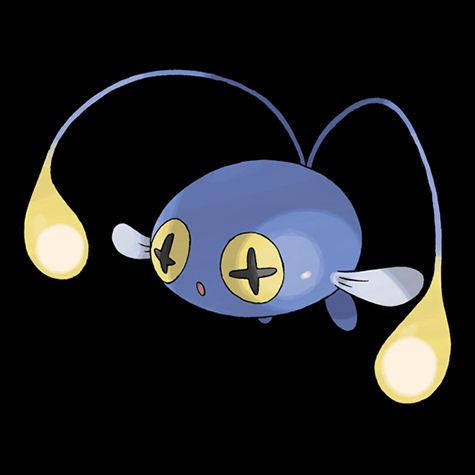 English Name – Chinchou
Japanese Name – Chonchī
First Appearance – 1999 (Pokémon Gold and Silver)
Generation – II
Based on – Fish
Pokédex Number – 0170
Category – Angler
Height – 0.5 m
Weight – 12 kg
Gender – Male, Female 
Primary Type – Water
Secondary Type – Electric
Weakness – Grass, Ground
Special Abilities – Illuminate, Volt Absorb
Chinchou Evolutions
Evolution – Chinchou evolves to Lanturn (Level 27)
| | | |
| --- | --- | --- |
| Chinchou | Level 27 | Lanturn |
Chinchou Pokédex Entries / Games
Gold and Silver  1999
Pokémon Crystal 2000
Pokémon Stadium 2 2000
Ruby and Sapphire  2002
Pokémon Emerald  2004
FireRed and LeafGreen  2005
Diamond and Pearl  2006
Platinum  2008
HeartGold and SoulSilver  2009
Pokémon Black and White  2011
Black 2 and White 2  2012 
Pokémon X and Y  2013
Omega Ruby, Alpha Sapphire  2015  
Sun and Moon 2016
Ultra Sun and Ultra Moon 2017
Sword and Shield 2019
Brilliant Diamond, Shining Pearl  2021
Chinchou Card List – (scroll to bottom for gallery view)
Neo Genesis 2000


Stage – Basic
HP – 50
Level – 12
Card Number – 55/111
Neo Revelation 2001

Stage – Basic
HP – 50
Level – 13
Card Number – 42/64
Aquapolis 2003

Stage – Basic
HP – 50
Speciality – None
Card Number – 70/147
Stage – Basic
HP – 50
Speciality – None
Card Number – 71/147
EX Team Magma vs Team Aqua 2003


Stage – Basic
HP – 50
Speciality – None
Card Number – 49/95
EX Hidden Legends 2004

Stage – Basic
HP – 50
Speciality – None
Card Number – 56/101
Stage – Basic
HP – 50
Speciality – None
Card Number – 57/101
EX Unseen Forces 2005

Stage – Basic
HP – 50
Speciality – None
Card Number – 52/115
EX Legend Maker 2006

Stage – Basic
HP – 50
Speciality – None
Card Number – 50/92
EX Power Keepers 2007


Stage – Basic
HP – 50
Speciality – None
Card Number – 49/108
DP Legends Awakened 2008


Stage – Basic
HP – 60
Level – 15
Card Number – 87/146
Stage – Basic
HP – 50
Level – 13
Card Number – 88/146
HGSS Unleashed 2010

Stage – Basic
HP – 60
Speciality – None
Card Numbers – 48/95
BW Boundaries Crossed 2012

Stage – Basic
HP – 60
Speciality – None
Card Numbers – 55/149
BW Plasma Freeze 2013


Stage – Basic
HP – 70
Speciality – None
Card Numbers – 35/116
XY Primal Clash 2015

Stage – Basic
HP – 70
Speciality – None
Card Numbers – 57/160
Sun and Moon Base Set 2017

Stage – Base
HP – 70
Speciality – None
Card Numbers – 49/149
SM Celestial Storm 2018


Stage – Basic
HP – 60
Speciality – None
Card Numbers – 49/168
SM Lost Thunder 2018


Stage – Basic
HP – 60
Speciality – None
Card Numbers – 73/214
SM Cosmic Eclipse 2019


Stage – Basic
HP – 60
Speciality – None
Card Numbers – 71/236
Sword and Shield Base Set 2020


Stage – Basic
HP – 70
Speciality – None
Card Numbers – 067/202

Stage – Basic
HP – 60
Speciality – None
Card Numbers – 068/202
SWSH Evolving Skies 2021

Stage – Basic
HP – 70
Speciality – None
Card Numbers – 052/203
McDonald's Collection 2022

Stage – Basic
HP – 70
Speciality – None
Card Numbers – 8/15
SWSH Silver Tempest 2022


Stage – Basic
HP – 60
Speciality – None
Card Numbers – 051/195
Gallery