Delibird Pokédex Information
Delibird is an Ice / Flying type Pokémon that first appeared in the games Pokémon Gold and Silver which were released in Japan in November 1999. It does not evolve.
This Pokémon is a two-legged bird that resembles a penguin. It is predominantly red but has a mass of white feathers covering its face and bib. Its eyes are black with white pupils and its feet are yellow with three toes each. It has two red wings and a large, bushy white tail that resembles a bag. Delibird is known for its ability to store and deliver items in its tail, and it often carries presents, mail or food. There are tales about lost people who were saved by the food it had.
Contents
Delibird Pokédex Facts
Evolutions
Delibird Pokédex Entries
TCG Cards
Delibird Pokédex Facts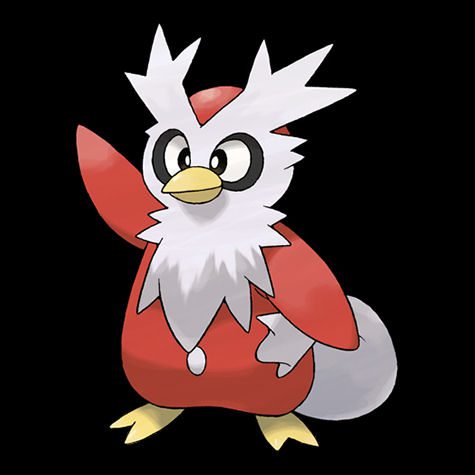 English Name – Delibird
Japanese Name – Deribādo
First Appearance – 1999 (Pokémon Gold and Silver)
Based on – Bird / Penguin
Generation – II
Pokédex Number – 0225
Category – Delivery
Height – 0.9 m
Weight – 16 kg
Gender – Male, Female
Primary Type –  Ice
Secondary Type – Flying
Weakness – Electric, Fire, Rock, Steel
Special Abilities – Hustle, Vital Spirit
Delibird Evolutions
Evolution – Delibird does not evolve.
Delibird Pokédex Entries / Games
Gold and Silver  1999
Pokémon Crystal 2000
Pokémon Stadium 2 2000
Ruby and Sapphire  2002
Pokémon Emerald  2004
FireRed and LeafGreen  2005
Diamond and Pearl  2006
Platinum  2008
HeartGold and SoulSilver  2009
Pokémon Black and White  2011
Black 2 and White 2  2012 
Pokémon X and Y  2013
Omega Ruby, Alpha Sapphire  2015  
Pokémon Sun and Moon 2016
Ultra Sun and Ultra Moon 2017
Sword and Shield 2019
Brilliant Diamond, Shining Pearl  2021
Scarlet and Violet 2022
Delibird Card List – (scroll to bottom for gallery view)
Neo Revelation 2001


Stage – Basic
HP –  60
Speciality – None
Card Number – 5/64
Pokémon Skyridge 2003

Stage – Basic
HP –  50
Speciality – None
Card Number – 49/144
EX Team Rocket Returns 2004


Stage – Basic
HP – 70
Speciality – None
Card Number – 21/109
DP Great Encounters 2008


Stage – Basic
HP – 70
Level – 26
Card Number – 36/106
POP Series 7 2008

Stage – Basic
HP – 70
Level – 26
Card Number – 6/17
HeartGold SoulSilver Base Set 2010


Stage – Basic
HP – 70
Speciality – None
Card Number – 39/123
BW Boundaries Crossed 2012

Stage – Basic
HP – 80
Speciality – None
Card Number – 38/149
SM Guardians Rising 2017

Stage – Basic
HP –  90
Speciality – None
Card Number – 26/145
SM Lost Thunder 2018


Stage – Basic
HP –  90
Speciality – None
Card Number – 57/214
SWSH Chilling Reign 2021


Stage – Basic
HP –  110
Speciality – None
Card Number – 032/198
SV Paldea Evolved 2023

Stage – Basic
HP –  90
Speciality – None
Card Number – 046/193
Gallery