Mantine Pokédex Information
Mantine is a Water / Flying type Pokémon that first appeared in the games Pokémon Gold and Silver which were released in Japan in November 1999. 
This Pokémon is a large fish that resembles a Manta Ray. It has a blue upper body and a white underbody with two large wing-like fins on either side of its body and a long flowing tail. If it builds up enough speed swimming, it can jump out above the waves and glide for over 300 feet.
Contents
Mantine Pokédex Facts
Evolutions
Mantine Pokédex Entries
TCG Cards
Mantine Pokédex Facts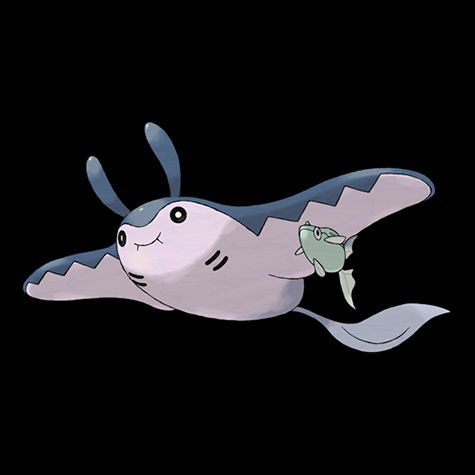 English Name – Mantine
Japanese Name – Mantain
First Appearance – 1999 (Pokémon Gold and Silver)
Based on – Fish
Generation – II
Pokédex Number – 0226
Category – Kite
Height – 2.1 m
Weight – 220 kg
Gender – Male, Female
Primary Type –  Water
Secondary Type – Flying
Weakness – Electric, Rock
Special Abilities – Swift Swim, Water Absorb
Mantine Evolutions
Evolution – Mantyke evolves to Mantine (Level up with Remoraid)
| | | |
| --- | --- | --- |
| Mantyke | Level up with Remoraid | Mantine |
Mantine Pokédex Entries / Games
Gold and Silver  1999
Pokémon Crystal 2000
Pokémon Stadium 2 2000
Ruby and Sapphire  2002
Pokémon Emerald  2004
FireRed and LeafGreen  2005
Diamond and Pearl  2006
Platinum  2008
HeartGold and SoulSilver  2009
Pokémon Black and White  2011
Black 2 and White 2  2012 
Pokémon X and Y  2013
Omega Ruby, Alpha Sapphire  2015  
Ultra Sun and Ultra Moon 2017
Brilliant Diamond, Shining Pearl  2021
Legends Arceus 2022
Mantine Card List – (scroll to bottom for gallery view)
Neo Genesis 2000

Stage – Basic
HP –  60
Speciality – None
Card Number – 64/111
Neo Destiny 2002

Stage – Basic
HP –  60
Speciality – None
Card Number – 74/105
Pokémon Skyridge 2003

Stage – Basic
HP –  60
Speciality – None
Card Number – 77/144
EX Team Rocket Returns 2004


Stage – Basic
HP – 70
Speciality – None
Card Number – 45/109
EX Dragon Frontiers 2006


Stage – Basic
HP – 50
Speciality – None
Card Number – 20/101
DP Mysterious Treasures 2007


Stage – Basic
HP – 80
Speciality – None
Card Number – 29/123
HeartGold SoulSilver Base Set 2010


Stage – Basic
HP – 80
Speciality – None
Card Number – 45/123
XY Steam Siege 2016


Stage – Basic
HP –  100
Speciality – None
Card Number – 27/114
SM Lost Thunder 2018

Stage – Basic
HP –  120
Speciality – None
Card Number – 58/214
Sword and Shield Promo Cards 2020 – 2023


Stage – Basic
HP –  110
Speciality – None
Card Number – SWSH026
Sword and Shield Base Set 2020


Stage – Basic
HP –  110
Speciality – None
Card Number – 052/202
SWSH Fusion Strike 2021


Stage – Basic
HP –  110
Speciality – None
Card Number – 061/264

SWSH Astral Radiance 2022

Stage – Basic
HP –  110
Speciality – None
Card Number – 034/189
Gallery