Skarmory Pokédex Information
Skarmory is a Steel / Flying type Pokémon that first appeared in the games Pokémon Gold and Silver which were released in Japan in November 1999. It does not evolve.
This Pokémon has a bird-like appearance with a metallic grey body covered in hard, sharp feathers. Its wing feathers are long and narrow, with four on each wing. Its two metal legs end in sharp talons. Its face is narrow, with a sharp beak, yellow eyes, and a helmet-like crest on its head. The pointed feathers of these Pokémon are sharper than swords. Skarmory and Corviknight fight viciously over territory.
Contents
Skarmory Pokédex Facts
Evolutions
Skarmory Pokédex Entries
TCG Cards
Skarmory Pokédex Facts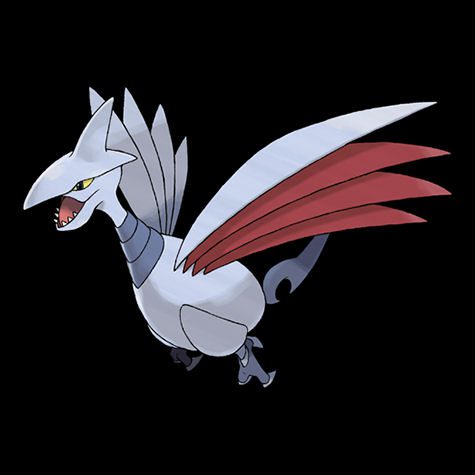 English Name – Skarmory
Japanese Name – Eāmudo
First Appearance – 1999 (Pokémon Gold and Silver)
Based on – Bird
Generation – II
Pokédex Number – 0227
Category – Armor Bird
Height – 1.7 m
Weight – 50.5 kg
Gender – Male, Female
Primary Type –  Steel
Secondary Type – Flying
Weakness – Electric, Fire
Special Abilities – Keen Eye, Sturdy
Skarmory Evolutions
Evolution – Skarmory does not evolve.
Skarmory Pokédex Entries / Games
Gold and Silver  1999
Pokémon Crystal 2000
Pokémon Stadium 2 2000
Ruby and Sapphire  2002
Pokémon Emerald  2004
FireRed and LeafGreen  2005
Diamond and Pearl  2006
Platinum  2008
HeartGold and SoulSilver  2009
Pokémon Black and White  2011
Black 2 and White 2  2012 
Pokémon X and Y  2013
Omega Ruby, Alpha Sapphire  2015  
Sun and Moon 2016
Ultra Sun and Ultra Moon 2017
Sword and Shield 2019
Brilliant Diamond, Shining Pearl  2021
Skarmory Card List – (scroll to bottom for gallery view)
Neo Genesis 2000


Stage – Basic
HP –  60
Speciality – None
Card Number – 13/111
Neo Revelation 2001

Stage – Basic
HP –  60
Speciality – None
Card Number – 23/64
Expedition Base Set 2002


Stage – Basic
HP –  60
Speciality – None
Card Number – 27/165
Stage – Basic
HP –  60
Speciality – None
Card Number – 63/165
Pokémon Skyridge 2003

Stage – Basic
HP –  60
Speciality – None
Card Number – 97/144
EX Dragon 2003


Stage – Basic
HP – 70
Speciality – None
Card Number – 21/97
EX Deoxys 2005


Stage – Basic
HP – 70
Speciality – None
Card Number – 26/107
EX Delta Species 2005


Stage – Basic
HP – 70
Speciality – None
Card Number – 55/113
EX Power Keepers 2007


Stage – Basic
HP – 100
Speciality – ex
Card Number – 98/108
DP Great Encounters 2008

Stage – Basic
HP – 70
Level – 31
Card Number – 53/106
DP Stormfront 2008

Stage – Basic
HP – 80
Level – 34
Card Number – 51/100
Platinum Supreme Victors 2009

Stage – Basic
HP – 80
Level- 50
Card Number – 83/147
HGSS Undaunted 2010

Stage – Basic
HP –  80
Speciality – None
Card Number – 21/90
HGSS Call of Legends 2011


Stage – Basic
HP –  80
Speciality – None
Card Number – 31/95
BW Boundaries Crossed 2012


Stage – Basic
HP –  80
Speciality – None
Card Number – 95/149

Stage – Basic
HP –  100
Speciality – None
Card Number – 96/149
BW Plasma Storm 2013


Stage – Basic
HP –  90
Speciality – None
Card Number – 87/135
XY Base Set 2014


Stage – Basic
HP –  170
Speciality – EX
Card Number – 80/146
Stage – Basic
HP –  170
Speciality – EX
Card Number – 145/146
XY Phantom Forces 2014

Stage – Basic
HP –  100
Speciality – None
Card Number – 59/119
XY Roaring Skies 2015


Stage – Basic
HP –  100
Speciality – None
Card Number – 69/108
Sun and Moon Base Set 2017

Stage – Basic
HP –  110
Speciality – None
Card Number – 88/149
SM Team Up 2019


Stage – Basic
HP –  110
Speciality – None
Card Number – 98/181
SWSH Darkness Ablaze 2020

Stage – Basic
HP –  120
Speciality – None
Card Number – 120/189
SWSH Fusion Strike 2021

Stage – Basic
HP –  120
Speciality – None
Form – Single Strike
Card Number – 182/264

SV Obsidian Flames 2023

Stage – Basic
HP – 120
Speciality – None
Card Number – 142/197
Gallery