Dodrio Pokédex Information
Dodrio is a Normal / Flying type Pokémon that first appeared in the games Pokémon Red and Blue which released in Japan on 12th September 1999. It evolves from Doduo.
Dodrio is a large three-headed Pokémon that is based on a dodo or an ostrich. It has a rounded black body with brown feathers on the top half. Its legs are pale brown, long and thin with large feet. Its three necks are pale brown and its heads are spherical and covered with short brown feathers and two large black feathers. Its beaks are long and sharp. It has a single tail comprised of three pink feathers, but does not have wings and cannot fly. One of Doduo's two heads splits to form a unique species. It runs close to 40 mph in prairies.
Contents
Dodrio Pokédex Facts
Evolutions
Dodrio Pokédex Entries
TCG Cards
Dodrio Pokédex Facts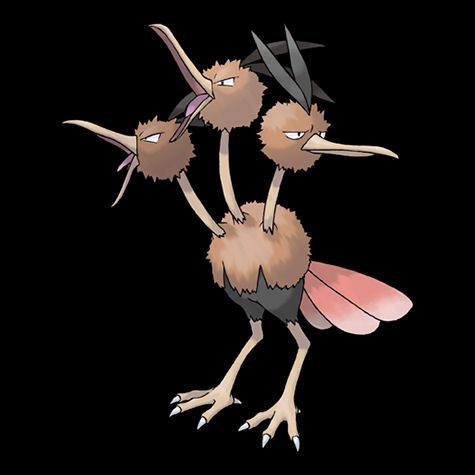 English Name – Dodrio
Japanese Name – Dōdorio
First Appearance – 1999 (Pokémon Red and Blue)
Based on – Dodo / Ostrich
Generation – I
Pokédex Number – 0085
Category – Triple Bird
Height – 1.8 m
Weight – 85.2 kg
Gender – Male, Female
Primary Type – Normal
Secondary Type – Flying
Weakness – Electric, Ice, Rock
Special Abilities – Early Bird, Run Away
Dodrio Evolutions
Evolution – Doduo evolves to Dodrio (Level 31)
Dodrio Pokédex Entries / Games
Pokémon Red and Blue 1999
Pokémon Yellow  2000
Pokémon Stadium  2000
Gold and Silver  1999
Pokémon Crystal 2000
Pokémon Stadium 2 2000
Ruby and Sapphire  2002
Pokémon Emerald  2004
FireRed and LeafGreen  2005
Diamond and Pearl  2006
Platinum  2008
HeartGold and SoulSilver  2009
Pokémon Black and White  2011
Black 2 and White 2  2012 
Pokémon X and Y  2013
Omega Ruby, Alpha Sapphire  2015  
Ultra Sun and Ultra Moon 2017
Let's Go Pikachu, Let's Go Eevee 2018
Brilliant Diamond, Shining Pearl  2021
Dodrio Card List – (scroll to bottom for gallery view)
Pokémon Jungle 1999

Stage – 1
HP – 70
Level – 28
Card Number – 34/64
Pokémon Base Set 2 2000

Stage – 1
HP – 70
Level – 28
Card Number – 37/130
Pokémon Gym Challenge 2000


Stage – 1
HP – 70
Level – 26
Card Number – 32/132
Pokémon Legendary Collection 2002


Stage – 1
HP – 70
Level – 28
Card Number – 41/110
Pokémon Aquapolis 2003


Stage – 1
HP – 70
Speciality – None
Card Number – 46/147
EX Hidden Legends 2004

Stage – 1
HP – 80
Speciality – None
Card Number – 33/101
EX FireRed, LeafGreen 2004


Stage – 1
HP – 70
Speciality – None
Card Number – 21/112
EX Emerald 2005


Stage – 1
HP – 70
Speciality – None
Card Number – 26/106
DP Mysterious Treasures 2007


Stage – 1
HP – 80
Level – 34
Card Number – 46/123
Platinum Supreme Victors 2009


Stage – 1
HP – 80
Level – 32
Card Number – 25/147
HGSS Undaunted 2010

Stage – 1
HP – 80
Speciality – None
Card Number – 11/90
BW Plasma Storm 2013

Stage – 1
HP – 90
Speciality – None
Card Number – 100/135
XY Base Set 2014


Stage – 1
HP – 90
Speciality – None
Card Number – 99/146
XY BREAKThrough 2015


Stage – 1
HP – 90
Speciality – None
Card Number – 117/162
XY Generations 2016


Stage – 1
HP – 90
Speciality – None
Card Number – 56/83
SM Unbroken Bonds 2019


Stage – 1
HP –  100
Speciality – None
Card Number – 151/214
SWSH Fusion Strike 2021


Stage – Basic
HP –  200
Speciality – V
Form – Rapid Strike
Card Number – 201/264
SV 151 2023


Stage – 1
HP –  100
Speciality – None
Card Number – 085/165
Gallery