Duraludon Pokédex Information
Duraludon first appeared in the games Pokémon Sword and Shield which released in Worldwide on November 15th 2019. It evolves to Archaludon.
This Pokémon is a large Steel / Dragon type that appears to be based on The Shard building in London. It is silver / grey with dark blue hands and feet. Its body resembles polished metal, and it's both lightweight and strong. The only drawback is that it rusts easily.
In Gigantamax form it is much bigger and more colourful. The bottom section, between its legs is blue with silver criss-cross that resembles scaffolding. Further up there are bands of blue that look like windows. Its hands are much bigger and stick out horizontally from its body. It's grown to resemble a skyscraper. Parts of its towering body glow due to a profusion of energy.
Contents
Duraludon Pokédex Facts
Evolutions
Duraludon Pokédex Entries
TCG Cards
Duraludon Pokédex Facts
English Name – Duraludon
Japanese Name – Jurarudon
First Appearance – 2020 (Pokémon Sword and Shield)
Based on – Building (The Shard)
Generation – VIII
Pokédex Number – 0884
Normal Form
Category – Alloy
Height – 1.8 m
Weight – 40.0 kg
Gender – Male or Female
Primary Type – Steel
Secondary Type – Dragon
Weakness – Fighting, Ground
Special Ability – Light Metal, Heavy Metal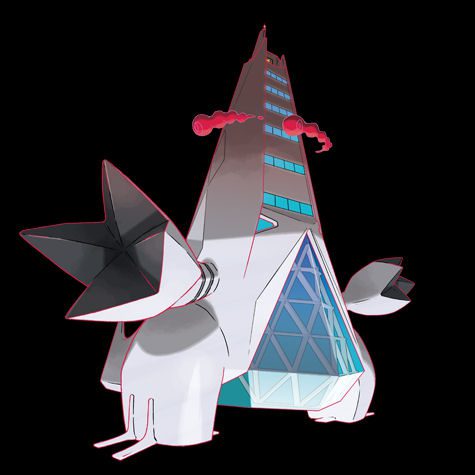 Gigantamax Form
Category – Alloy
Height – > 43 m
Weight – Unknown
Gender – Male or Female
Primary Type – Steel
Secondary Type – Dragon
Weakness – Fighting, Ground
Special Ability – Light Metal, Heavy Metal
Duraludon Evolutions
Evolution – Duraludon evolves to Archaludon (conditions not yet known)
| | | |
| --- | --- | --- |
| Duraludon | Not yet known | Archaludon |
Duraludon Pokédex Entries / Games
Pokémon Sword and Shield 2020
Duraludon Card List – (scroll to bottom for gallery view)
Sword and Shield Promo Cards 2020 – 


Stage – Basic
HP – 130
Speciality – None
Card Number – SWSH028
Stage – Basic
HP – 130
Speciality – None
Card Number – SWSH060
SWSH Rebel Clash 2020


Stage – Basic
HP – 130
Speciality – None
Card Number – 138/192
SWSH Champion's Path 2020


Stage – Basic
HP – 220
Speciality – V
Card Number – 047/073
SWSH Vivid Voltage 2020


Stage – Basic
HP – 130
Speciality – None
Card Number – 129/185
SWSH Shining Fates 2021


Stage – Basic
HP – 130
Speciality – None
Card Number – SV092/SV122
SWSH Evolving Skies 2021


Stage – Basic
HP – 220
Speciality – V
Form – Single Strike
Card Number – 122/203
Stage – Basic
HP – 220
Speciality – V
Form – Single Strike
Card Number – 197/203

Stage – Basic
HP – 220
Speciality – V
Form – Single Strike
Card Number – 198/203

Stage – VMAX
HP – 330
Speciality – VMAX
Form – Single Strike
Card Number – 123/203
Stage – VMAX
HP – 330
Speciality – VMAX
Form – Single Strike
Card Number – 219/203
Stage – VMAX
HP – 330
Speciality – VMAX
Form – Single Strike
Card Number – 220/203
SWSH Silver Tempest 2022

Stage – VMAX
HP – 330
Speciality – VMAX
Form – Single Strike
Card Number – TG21/TG30

Stage – VMAX
HP – 330
Speciality – VMAX
Form – Single Strike
Card Number – TG30/TG30
SWSH Crown Zenith 2023

Stage – Basic
HP – 220
Speciality – V
Form – Single Strike
Card Number – 103/159

Stage – VMAX
HP – 330
Speciality – VMAX
Form – Single Strike
Card Number – 104/159
Gallery