Exeggcute Pokédex Information
Exeggcute is a Grass / Psychic type Pokémon that first appeared in the games Pokémon Red and Blue which released in Japan on 12th September 1999. It evolves to Exeggutor.
Exeggcute resembles six eggs but is said to be based on plant seeds. One of the eggs is broken revealing a yellow inside. The other five eggs have an intact pink shell, but some have cracks. The five intact eggs each have two eyes and a mouth. Though it may look like it's just a bunch of eggs, it's a proper Pokémon. Exeggcute communicates with others of its kind via telepathy, apparently.
Contents
Exeggcute Pokédex Facts
Evolutions
Exeggcute Pokédex Entries
TCG Cards
Exeggcute Pokédex Facts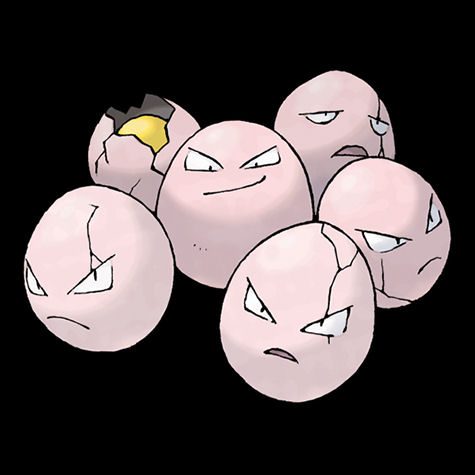 English Name – Exeggcute
Japanese Name – Tamatama
First Appearance – 1999 (Pokémon Red and Blue)
Based on – Seed / Egg
Generation – I
Pokédex Number – 0102
Category – Egg
Height – 0.4 m
Weight – 2.5 kg
Gender – Male, Female
Primary Type – Grass
Secondary Type – Psychic
Weakness – Bug, Dark, Fire, Flying, Ghost, Ice, Poison
Special Abilities – Chlorophyll
Exeggcute Evolutions
Evolution – Exeggcute evolves to Exeggutor (with Leaf Stone)
| | | |
| --- | --- | --- |
| Exeggcute | Leaf Stone | Exeggutor |
Exeggcute Pokédex Entries / Games
Pokémon Red and Blue  1999
Pokémon Yellow  2000
Pokémon Stadium  2000
Gold and Silver  1999
Pokémon Crystal 2000
Pokémon Stadium 2 2000
Ruby and Sapphire  2002
Pokémon Emerald  2004
FireRed and LeafGreen  2005
Diamond and Pearl  2006
Platinum  2008
HeartGold and SoulSilver  2009
Pokémon Black and White  2011
Black 2 and White 2  2012 
Pokémon X and Y  2013
Omega Ruby, Alpha Sapphire  2015  
Pokémon Sun and Moon 2016
Ultra Sun and Ultra Moon 2017
Let's Go Pikachu, Let's Go Eevee 2018
Sword and Shield 2019
Brilliant Diamond, Shining Pearl  2021
Exeggcute Card List – (scroll to bottom for gallery view)
Pokémon Jungle 1999


Stage – Basic
HP – 50
Level – 14
Card Number – 52/64
Pokémon Base Set 2 2000


Stage – Basic
HP – 50
Level – 14
Card Number – 74/130
Gym Heroes 2000


Stage – Basic
HP – 50
Level – 15
Card Number – 43/132
Stage – Basic
HP – 40
Level – 12
Card Number – 77/132
Neo Destiny 2002


Stage – Basic
HP – 40
Level – 12
Card Number – 64/105
Legendary Collection 2002


Stage – Basic
HP – 50
Level – 14
Card Number – 75/110
Pokémon Aquapolis 2003


Stage – Basic
HP – 40
Speciality – None
Card Number – 76/147

Stage – Basic
HP – 50
Speciality – None
Card Number – 77/147
EX FireRed, LeafGreen 2004


Stage – Basic
HP – 50
Speciality – None
Card Number – 33/112
EX Holon Phantoms 2006


Stage – Basic
HP – 50
Speciality – None
Card Number – 65/110
DP Mysterious Treasures 2007


Stage – Basic
HP – 60
Level – 12
Card Number – 82/123
DP Legends Awakened 2008


Stage – Basic
HP – 50
Level- 11
Card Number – 93/146
HeartGold, SoulSilver 2010

Stage – Basic
HP – 50
Speciality – None
Card Number – 63/123
BW Plasma Freeze 2013


Stage – Basic
HP – 30
Speciality – None
Card Number – 4/116
BW Plasma Blast 2013

Stage – Basic
HP – 30
Speciality – None
Card Number – 102/101
XY Roaring Skies 2015

Stage – Basic
HP –  40
Speciality – None
Card Number – 1/108
Sun and Moon Promo Cards 2017-2019


Stage – Basic
HP –  50
Speciality – None
Card Number – SM119
SM Crimson Invasion 2017


Stage – Basic
HP –  50
Speciality – None
Card Number – 4/111
SM Ultra Prism 2018

Stage – Basic
HP –  50
Speciality – None
Card Number – 1/156
SM Forbidden Light 2018


Stage – Basic
HP –  40
Speciality – None
Card Number – 1/131
SM Team Up 2019

Stage – Basic
HP –  50
Speciality – None
Card Number – 8/181
SM Unified Minds 2019

Stage – Basic
HP – 50
Speciality – None
Card Number – 73/236
SWSH Vivid Voltage 2020

Stage – Basic
HP –  60
Speciality – None
Card Number – 004/185
SWSH Brilliant Stars 2022


Stage – Basic
HP –  50
Speciality – None
Card Number – 001/172
SWSH Crown Zenith 2023


Stage – Basic
HP –  60
Speciality – None
Card Number – 057/159
SV 151 2023

Stage – 1
HP –  60
Speciality – None
Card Number – 102/165
Gallery