Exeggutor Pokédex Information
Exeggutor is a Grass / Psychic type Pokémon that first appeared in the games Pokémon Red and Blue which released in Japan on 12th September 1999. It evolves from Exeggcute.
Exeggutor is a two legged Pokémon that appears to be based on a coconut palm tree. Its legs and body are brown and segmented. Each foot is cream coloured underneath and has two white, sharp claws. It has no upper limbs but has three spherical cream coloured heads surrounded by a mass of green leaves. Each of Exeggutor's three heads is thinking different thoughts. The three don't seem to be very interested in one another.
When found in the Alola region, it takes on a different form. Alolan Exeggutor is a Grass / Dragon type Pokémon that has a very long neck giving it a 10 metre height. It is thought to be inspired by the Dragon Palm tree that grows in Hawaii. In this form its brown colouring is darker and in addition to its three heads, it has a fourth at the end of its tail. Blazing sunlight has brought out the true form and powers of this Pokémon.
Contents
Exeggutor Pokédex Facts
Evolutions
Exeggutor Pokédex Entries
TCG Cards
Exeggutor Pokédex Facts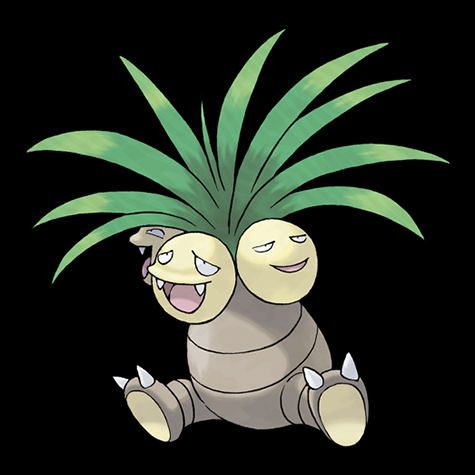 English Name – Exeggutor
Japanese Name – Nasshī
First Appearance – 1999 (Pokémon Red and Blue)
Based on – Coconut
Generation – I
Pokédex Number – 0103
Regular Form
Category – Coconut
Height – 2 m
Weight – 120 kg
Gender – Male, Female
Primary Type – Grass
Secondary Type – Psychic
Weakness – Bug, Dark, Fire, Flying, Ghost, Ice, Poison
Special Abilities – Chlorophyll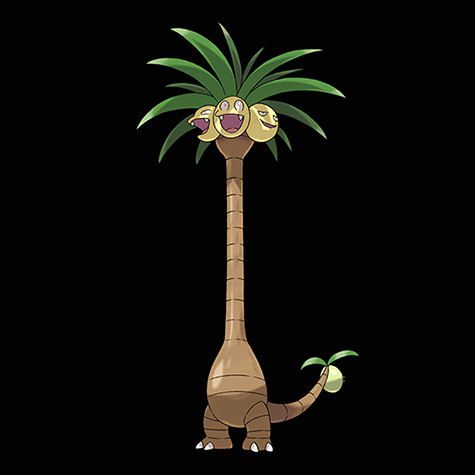 Alolan Form
Category – Coconut
Height – 10.9 m
Weight – 415.6 kg
Gender – Male, Female
Primary Type – Grass
Secondary Type – Dragon
Weakness – Bug, Dragon, Fairy, Flying, Ice, Poison
Special Abilities – Frisk
Exeggutor Evolutions
Evolution – Exeggcute evolves to Exeggutor (with Leaf Stone)
| | | |
| --- | --- | --- |
| Exeggcute | Leaf Stone | Exeggutor |
Exeggutor Pokédex Entries / Games
Pokémon Red and Blue  1999
Pokémon Yellow  2000
Pokémon Stadium  2000
Gold and Silver  1999
Pokémon Crystal 2000
Pokémon Stadium 2 2000
Ruby and Sapphire  2002
Pokémon Emerald  2004
FireRed and LeafGreen  2005
Diamond and Pearl  2006
Platinum  2008
HeartGold and SoulSilver  2009
Pokémon Black and White  2011
Black 2 and White 2  2012 
Pokémon X and Y  2013
Omega Ruby, Alpha Sapphire  2015  
Pokémon Sun and Moon 2016
Ultra Sun and Ultra Moon 2017
Let's Go Pikachu, Let's Go Eevee 2018
Sword and Shield 2019
Brilliant Diamond, Shining Pearl  2021
Exeggutor Card List – (scroll to bottom for gallery view)
Pokémon Jungle 1999

Stage – 1
HP – 80
Level – 35
Card Number – 35/64
Pokémon Base Set 2 2000


Stage – 1
HP – 80
Level – 35
Card Number – 39/130
Gym Heroes 2000

Stage – 1
HP – 70
Level – 31
Card Number – 44/132
Southern Islands 2001

Stage – 1
HP – 70
Level – 27
Card Number – 13/18
Neo Destiny 2002


Stage – 1
HP – 60
Level – 25
Card Number – 33/105
Legendary Collection 2002

Stage – 1
HP – 80
Level – 35
Card Number – 23/110
Pokémon Aquapolis 2003


Stage – 1
HP – 80
Speciality – None
Card Number – 12/147

Stage – 1
HP – 80
Speciality – None
Card Number – 13/147

Stage – 1
HP – 80
Speciality – None
Card Number – H10/H32
EX FireRed, LeafGreen 2004


Stage – 1
HP – 80
Speciality – None
Card Number – 5/112
EX Holon Phantoms 2006


Stage – 1
HP – 80
Speciality – None
Card Number – 41/110
DP Mysterious Treasures 2007

Stage – 1
HP – 90
Level – 46
Card Number – 24/123
DP Legends Awakened 2008


Stage – 1
HP – 80
Level- 43
Card Number – 54/146
HeartGold, SoulSilver 2010

Stage – 1
HP – 90
Speciality – None
Card Number – 18/123
BW Plasma Freeze 2013

Stage – 1
HP – 100
Speciality – None
Card Number – 5/116
XY Roaring Skies 2015


Stage – 1
HP –  120
Speciality – None
Card Number – 2/108
XY Evolutions 2016


Stage – 1
HP –  80
Speciality – None
Card Number – 109/108
SM Crimson Invasion 2017

Stage – 1
HP –  220
Speciality – GX
Form – Alolan
Card Number – 74/111
Stage – 1
HP –  220
Speciality – GX
Form – Alolan
Card Number – 107/111

Stage – 1
HP –  220
Speciality – GX
Form – Alolan
Card Number – 118/111
SM Ultra Prism 2018


Stage – 1
HP –  130
Speciality – None
Form – Alolan
Card Number – 95/156
SM Forbidden Light 2018


Stage – 1
HP –  160
Speciality – None
Form – Alolan
Card Number – 2/131
Stage – 1
HP –  160
Speciality – None
Form – Alolan
Card Number – 2a/131
SM Team Up 2019

Stage – 1
HP –  160
Speciality – None
Form – Alolan
Card Number – 114/181

Stage – 1
HP –  160
Speciality – None
Form – Alolan
Card Number – 115/181
SM Unified Minds 2019

Stage – 1
HP – 270
Speciality – GX
Form – Alolan
Card Number – 1/236

Stage – 1
HP – 140
Speciality – None
Form – None
Card Number – 74/236

Stage – 1
HP – 270
Speciality – GX
Form – Alolan
Card Number – 214/236
Stage – 1
HP – 270
Speciality – GX
Form – Alolan
Card Number – 215/236
Stage – 1
HP – 270
Speciality – GX
Form – Alolan
Card Number – 237/236
McDonald's Collection 2019

Stage – 1
HP –  160
Speciality – None
Form – Alolan
Card Number – 2/12
Sword and Shield Promo Cards 2020 – 2023

Stage – 1
HP –  240
Speciality – None
Form – Alolan
Card Number – SWSH225
SWSH Vivid Voltage 2020


Stage – 1
HP –  140
Speciality – None
Card Number – 005/185
SWSH Brilliant Stars 2022

Stage – 1
HP –  140
Speciality – None
Card Number – 002/172
SWSH Pokémon Go 2022

Stage – 1
HP –  240
Speciality – V
Form – Alolan
Card Number – 005/078
Stage – 1
HP –  240
Speciality – V
Form – Alolan
Card Number – 071/078
SWSH Crown Zenith 2023

Stage – 1
HP –  130
Speciality – None
Card Number – 058/159
SV 151 2023

Stage – 1
HP –  140
Speciality – None
Card Number – 103/165
Gallery