What are Fairy Energy Cards?
Fairy Energy Cards are one of the nine Basic Energy Cards that are used in the Pokémon Trading Card Game (TCG). They were first introduced in November 2013 with the release of the Kalos Starter Set. They could be found in some Special Collection Sets throughout the XY Series and the first year of the Sword and Shield Series. Fairy Energy Cards have only been included in booster packs in the Sun and Moon Series. 
See also: What are Basic Energy Cards?
Although there have been design changes over the years, Fairy Energy Cards are always predominantly pink and always feature the Fairy symbol of a black four-pointed star above two symmetrical leaf-like shapes on a pink circle. (Scroll to bottom for timeline and gallery of all designs to date).
Fairy Energy corresponds to Fairy type Pokémon and their cards always include the Fairy Energy symbol in the top right hand corner. In order to use an Attack Move of a Fairy type Pokémon, the player will need to attach the specified number of Fairy and/or Colorless Energy Cards. The numbers required are indicated by the symbols to the left of the Attack Move.
A Fairy Energy Card can also be used when the Colorless Energy symbol appears because Colorless Energy can be any type of Energy.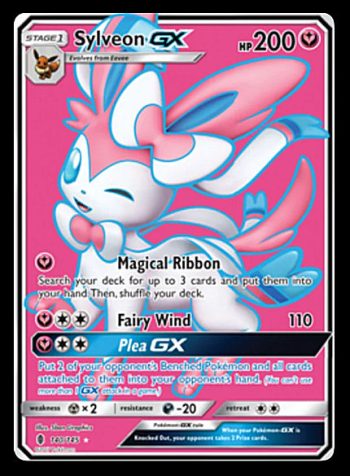 The Sylveon GX card from Guardian's Rising has three Moves. To use Magical Ribbon the player must attach one Fairy Energy. To use Fairy Wind and Plea GX one Fairy and two Colorless Energy are required.
Timeline of Fairy Energy Cards:
There have been 8 different designs of Fairy Energy Cards. Energy Cards were given numbers up to the release of the Sun and Moon series in 2017. The only Basic Energy cards to be given numbers from 2017 onwards are those that are released as Secret Rares.

Kalos Starter Set
First Released 2013
Card Number –
no number

XY Base Set
First Released 2014
Card Number –
140/146 
XY Generations
First Released 2016
Card Number –
83/83 

XY Evolutions
First Released 2016
Card Number –
99/108

Sun and Moon
First Released 2017
Card Number –
no number
SM Burning Shadows
First Released 2017
Card Number –
169/147
SM Team Up
First Released 2019
Card Number –
no number

Sword and Shield
First Released 2020
Card Number –
no number
Gallery