Furret Pokédex Information
Furret is a Normal type Pokémon that first appeared in the games Pokémon Gold and Silver which were released in Japan in November 1999. It evolves from Sentret.
Furret is a two-legged character that is based on a Ferret. Its long body is striped with brown and cream rings. Its long neck and head are brown on the upperside and cream underneath. Its legs and arms are short and stubby and although it stands on two legs it often runs on all fours. Furret has a very slim build. When under attack, it can slickly squirm through narrow spaces and get away. In spite of its short limbs, this Pokémon is very nimble and fleet.
Contents
Furret Pokédex Facts
Evolutions
Furret Pokédex Entries
TCG Cards
Furret Pokédex Facts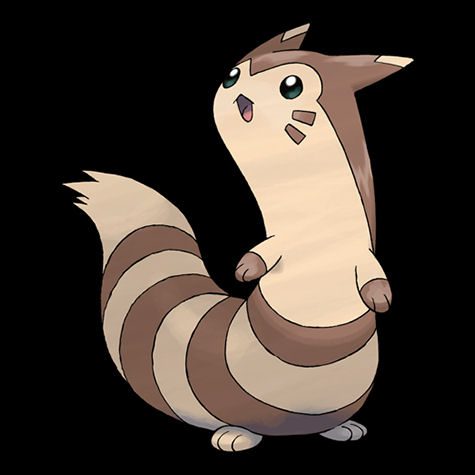 English Name – Furret
Japanese Name – Ōtachi
First Appearance – 1999 (Pokémon Gold and Silver)
Generation – II
Based on – Ferret
Pokédex Number – 0162
Category – Long Body
Height – 1.8 m
Weight – 32.5 kg
Gender – Male, Female 
Type – Normal
Weakness – Fighting
Special Abilities – Keen Eye, Run Away
Furret Evolutions
Evolution – Sentret evolves to Furret (Level 15)
Furret Pokédex Entries / Games
Gold and Silver  1999
Pokémon Crystal 2000
Pokémon Stadium 2 2000
Ruby and Sapphire  2002
Pokémon Emerald  2004
FireRed and LeafGreen  2005
Diamond and Pearl  2006
Platinum  2008
HeartGold and SoulSilver  2009
Pokémon Black and White  2011
Black 2 and White 2  2012 
Pokémon X and Y  2013
Omega Ruby, Alpha Sapphire  2015  
Brilliant Diamond, Shining Pearl  2021
Furret Card List – (scroll to bottom for gallery view)
Neo Genesis 2000


Stage – 1
HP – 60
Level – 27
Card Number – 35/111
Aquapolis 2003

Stage – 1
HP – 70
Speciality – None
Card Number – 48/147
EX Team Rocket Returns 2004


Stage – 1
HP – 80
Speciality – None
Card Number – 22/109
EX Legend Maker 2006


Stage – 1
HP – 80
Speciality – None
Card Number – 33/92
DP Secret Wonders 2007

Stage – 1
HP – 90
Level – 35
Card Number – 27/132
HeartGold SoulSilver 2010


Stage – 1
HP – 80
Speciality – None
Card Numbers – 21/123
XY Flashfire 2014

Stage – 1
HP – 90
Speciality – None
Card Numbers – 82/106
SWSH Darkness Ablaze 2020


Stage – 1
HP – 110
Speciality – None
Card Numbers – 136/189
Gallery