Hoothoot Pokédex Information
Hoothoot is a Normal / Flying type Pokémon that first appeared in the games Pokémon Gold and Silver which were released in Japan in November 1999. It evolves to Noctowl.
Hoothoot is a rotund owl that has a light brown head body with a cream area on its belly. It has black markings around its large red eyes which extend upwards above its head and end in two pointed arrow heads. It always stands on one foot. It changes feet so fast, the movement can rarely be seen.
Contents
Hoothoot Pokédex Facts
Evolutions
Hoothoot Pokédex Entries
TCG Cards
Hoothoot Pokédex Facts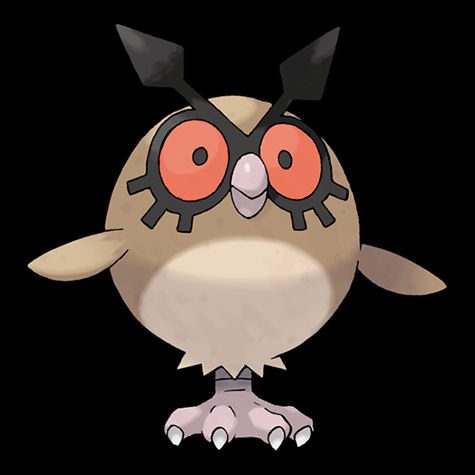 English Name – Hoothoot
Japanese Name – Hōhō
First Appearance – 1999 (Pokémon Gold and Silver)
Generation – II
Based on – Owl
Pokédex Number – 0163
Category – Owl
Height – 0.7 m
Weight – 21.2 kg
Gender – Male, Female 
Primary Type – Normal
Secondary Type – Flying
Weakness – Electric, Ice, Rock
Special Abilities – Insomnia, Keen Eye
Hoothoot Evolutions
Evolution – Hoothoot evolves to Noctowl (Level 20)
| | | |
| --- | --- | --- |
| Hoothoot | Level 20 | Noctowl |
Hoothoot Pokédex Entries / Games
Gold and Silver  1999
Pokémon Crystal 2000
Pokémon Stadium 2 2000
Ruby and Sapphire  2002
Pokémon Emerald  2004
FireRed and LeafGreen  2005
Diamond and Pearl  2006
Platinum  2008
HeartGold and SoulSilver  2009
Pokémon Black and White  2011
Black 2 and White 2  2012 
Pokémon X and Y  2013
Omega Ruby, Alpha Sapphire  2015  
Ultra Sun and Ultra Moon 2017
Sword and Shield 2019
Brilliant Diamond, Shining Pearl  2021
Hoothoot Card List – (scroll to bottom for gallery view)
Neo Genesis 2000

Stage – Basic
HP – 50
Level – 17
Card Number – 60/111
Skyridge 2003

Stage – Basic
HP – 40
Speciality – None
Card Number – 65/144
EX Unseen Forces 2005

Stage – Basic
HP – 50
Speciality – None
Card Number – 59/115
Diamond and Pearl Base Set 2007

Stage – Basic
HP – 50
Level – 7
Card Number – 85/130

HeartGold SoulSilver Promo Cards 2010

Stage – Basic
HP – 50
Speciality – None
Card Numbers – HGSS05

HeartGold SoulSilver 2010

Stage – Basic
HP – 50
Speciality – None
Card Numbers – 66/123
BW Plasma Freeze 2013


Stage – Basic
HP – 60
Speciality – None
Card Numbers – 91/116
XY BREAKThrough 2015

Stage – Basic
HP – 60
Speciality – None
Card Numbers – 119/162
SM Burning Shadows 2017

Stage – Basic
HP – 60
Speciality – None
Card Numbers – 106/147
SM Unified Minds 2019

Stage – Basic
HP – 60
Speciality – None
Card Numbers – 165/236
Sword and Shield Base Set 2020

Stage – Basic
HP – 70
Speciality – None
Card Numbers – 143/202
SWSH Astral Radiance 2022


Stage – Basic
HP – 50
Speciality – None
Card Numbers – 120/189

Stage – Basic
HP – 50
Speciality – None
Card Numbers – TG12/TG30
Gallery