What is an Elite Trainer Box?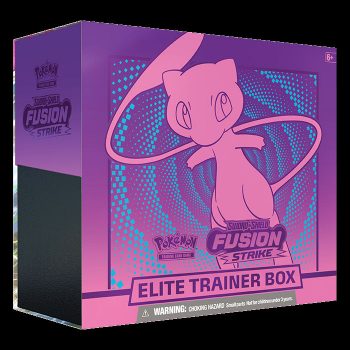 An Elite Trainer Box (ETB) is a special set of cards and accessories that includes everything necessary to play the Pokémon Trading Card game.
Fusion Strike sees a return to just one Elite Trainer Box being produced rather than the two we have seen from Battle Styles through Evolving Skies. 
The Fusion Strike Elite Trainer Box is scheduled to be released on the set launch date – 12th November 2021.
The box artwork features Mew set against a background of blue and pink/purple concentric circles.
The box is sealed with thin plastic shrink wrap.
What is in a Fusion Strike Elite Trainer Box?
Like all Elite Trainer Boxes, the outer sleeve covering can be slid off to reveal an inner box and a Player's Guide. The inside of the outer sleeve generally features an image which can be used for display purposes or as a backdrop to your game.
The inner box holds the main contents of the box and is designed to function as a card holder once the products inside have been removed.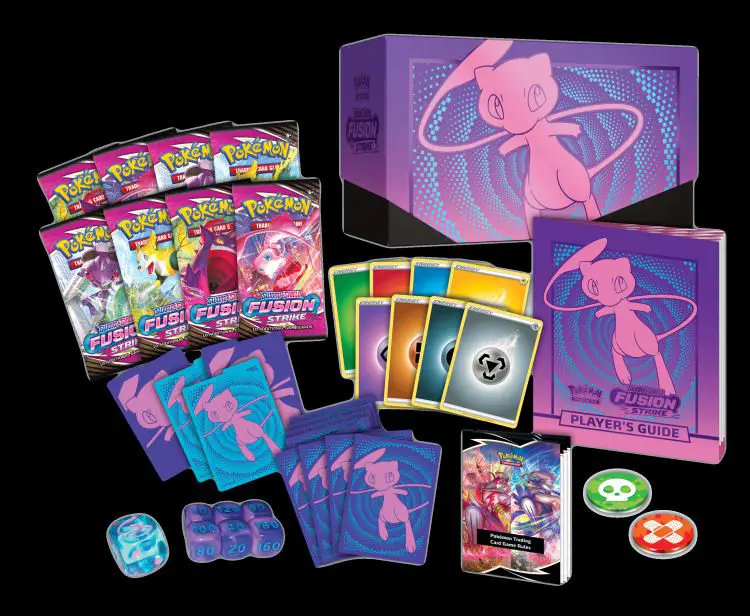 The contents of the inner box are:
8 Fusion Strike sealed booster packs
A sealed pack of assorted energy cards
4 dividers for the card holder box with two different Mew designs
A sealed pack of 65 card sleeves with Mew artwork
A sealed pack of dice and a sealed pack containing 2 markers.
A book of the Pokémon Trading Card game rules and a code card tor the online game.