Garganacl Pokédex Information
Garganacl first appeared in the games Pokémon Scarlet and Violet which released in November 2002. 
Garganacl is a two-legged Pokémon that is based on Rock Salt. Its name incorporates the chemical formula for salt NaCl. It is made up of blocks of salt and layered rock. Garganacl will rub its fingertips together and sprinkle injured Pokémon with salt. Even severe wounds will promptly heal afterward.
Contents
Garganacl Pokédex Facts
Evolutions
Garganacl Pokédex Entries
TCG Cards
Garganacl Pokédex Facts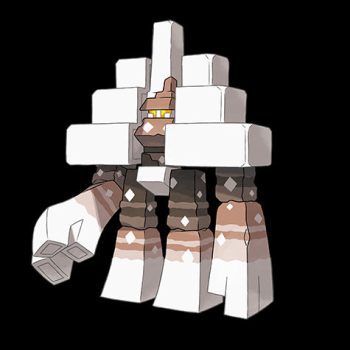 English Name – Garganacl
Japanese Name – Kyojiōn
First Appearance – 2022 (Pokémon Scarlet and Violet)
Generation – IX
Pokédex Number – 0934
Based on – Rock Salt
Category – Rock Salt
Height – 2.3 m
Weight – 240 kg
Gender – Male, Female
Type – Rock
Weakness – Fighting, Grass, Ground, Steel, Water
Special Ability – Purifying Salt, Sturdy
Garganacl Evolutions
Evolution – Nacli evolves to Naclstack (level 24); evolves to Garganacl (level 38)
| | | |
| --- | --- | --- |
| Nacli | Level 24 | White Plumage |
| Level 38 | Garganacl | |
Garganacl Pokédex Entries / Games
Pokémon Scarlet and Violet  2022
Garganacl Card List – (scroll to bottom for gallery view)
Cards not yet revealed