Grotle Pokédex Information
Grotle first appeared in the game Pokémon Diamond and Pearl which released in Japan on September 28th 2006. 
This Pokémon is a four-legged creature that is based on a tortoise. It has a green face, body and legs with yellow feet. It has a yellow shell on its back with bushes growing out of either side. It lives along water in forests. In the daytime, it leaves the forest to sunbathe its tree'd shell.
Contents
Grotle Pokédex Facts
Evolutions
Grotle Pokédex Entries
TCG Cards
Grotle Pokédex Facts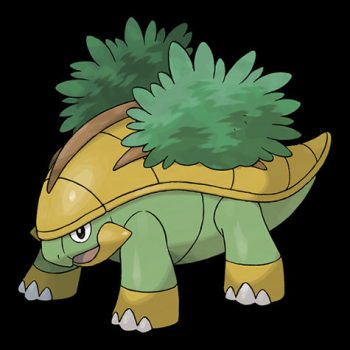 English Name – Grotle
Japanese Name – Hayashigame
First Appearance – 2006 (Pokémon Diamond and Pearl)
Based on – Tortoise
Generation – IV
Pokédex Number – 388
Category – Grove
Height – 1.1 m
Weight – 97 kg
Gender – Male, Female
Type – Grass
Weaknesses – Bug, Fire, Flying, Ice, Poison
Special Abilities – Overgrow
Grotle Evolutions
Evolution – Turtwig evolves to Grotle (level 18); evolves to Torterra (level 32)
Grotle Pokédex Entries / Games
Diamond and Pearl  2006
Platinum  2008
HeartGold and SoulSilver  2009
Pokémon Black and White  2011
Black 2 and White 2  2012
Pokémon X and Y  2014   
Omega Ruby, Alpha Sapphire  2015  
Brilliant Diamond, Shining Pearl  2021
Legends Arceus  2022
Grotle Card List – (scroll to bottom for gallery view)
Diamond and Pearl Base Set 2007

Stage – 1
HP – 90
Level – 21
Card Number – 49/130
DP Majestic Dawn 2008

Stage – 1
HP – 90
Level – 23
Card Number – 37/100
Platinum Base Set 2009

Stage – 1
HP – 90
Level – 26
Card Number – 49/127
HGSS Unleashed 2010

Stage – 1
HP – 90
Speciality – None
Card Number – 31/95
BW Plasma Storm 2013

Stage – 1
HP – 100
Speciality – None
Card Number – 2/135
SM Ultra Prism 2018

Stage – 1
HP – 110
Speciality – None
Card Number – 8/156
SWSH Brilliant Stars 2022

Stage – 1
HP – 100
Speciality – None
Card Number – 007/172
Gallery