Hypno Pokédex Information
Hypno is a Psychic type Pokémon that first appeared in the games Pokémon Red and Blue which released in Japan on 12th September 1999. It evolves from Drowzee.
Hypno is a two-legged Pokémon that is based on a tapir and a hypnotist. It is completely yellow in colour apart from a white ruff around its neck. It has a long bulbous nose, pointed ears and small eyes. It carries a disc suspended by a cord in its left hand which it swings from side to side to hypnotise or put to sleep. When it locks eyes with an enemy, it will use a mix of psi moves, such as Hypnosis and Confusion.
Contents
Hypno Pokédex Facts
Evolutions
Hypno Pokédex Entries
TCG Cards
Hypno Pokédex Facts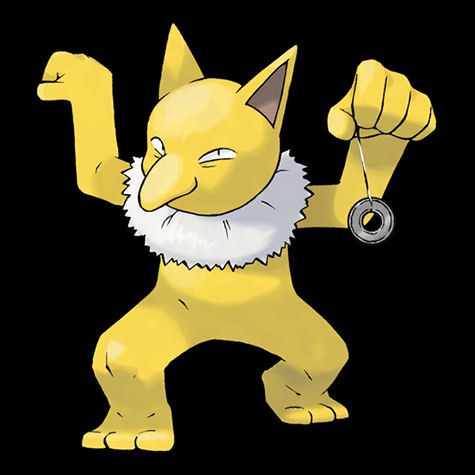 English Name – Hypno
Japanese Name – Surīpā
First Appearance – 1999 (Pokémon Red and Blue)
Based on -Hypnotist / Tapir
Generation – I
Pokédex Number – 0097
Category – Hypnosis
Height – 1.6 m
Weight – 75.6 kg
Gender – Male, Female
Type – Psychic
Weakness – Bug, Dark, Ghost
Special Abilities – Foreworn, Insomnia
Hypno Evolutions
Evolution – Drowzee evolves to Hypno (level 26)
Hypno Pokédex Entries / Games
Pokémon Red and Blue  1999
Pokémon Yellow  2000
Pokémon Stadium  2000
Gold and Silver  1999
Pokémon Crystal 2000
Pokémon Stadium 2 2000
Ruby and Sapphire  2002
Pokémon Emerald  2004
FireRed and LeafGreen  2005
Diamond and Pearl  2006
Platinum  2008
HeartGold and SoulSilver  2009
Pokémon Black and White  2011
Black 2 and White 2  2012 
Pokémon X and Y  2013
Omega Ruby, Alpha Sapphire  2015  
Pokémon Sun and Moon 2016
Ultra Sun and Ultra Moon 2017
Let's Go Pikachu, Let's Go Eevee 2018
Brilliant Diamond, Shining Pearl  2021
Pokémon Scarlet and Violet 2022
Hypno Card List – (scroll to bottom for gallery view)
Pokémon Fossil 1999


Stage – 1
HP – 90
Level – 36
Card Number – 8/62

Stage – 1
HP – 90
Level – 36
Card Number – 23/62
Pokémon Team Rocket 2000

Stage – 1
HP – 60
Level – 26
Card Number – 9/82

Stage – 1
HP – 60
Level – 26
Card Number – 26/82
Pokémon Gym Challenge 2000


Stage – 1
HP – 70
Level – 31
Card Number – 56/132
Pokémon Legendary Collection 2002

Stage – 1
HP – 90
Speciality – None
Card Number – 25/110
Pokémon Aquapolis 2003

Stage – 1
HP – 80
Speciality – None
Card Number – 16/147

Stage – 1
HP – 80
Speciality – None
Card Number – H12/H32
EX FireRed, LeafGreen 2004

Stage – 1
HP – 80
Speciality – None
Card Number – 25/112
EX Team Rocket Returns 2004


Stage – 1
HP – 70
Speciality – None
Card Number – 6/109
EX Delta Species 2005

Stage – 1
HP – 70
Speciality – None
Card Number – 23/113
DP Great Encounters 2008

Stage – 1
HP – 80
Level- 28
Card Number – 19/106
HeartGold SoulSilver Base Set 2010


Stage – 1
HP – 90
Speciality – None
Card Number – 23/123
XY Furious Fists 2014

Stage – 1
HP – 90
Speciality – None
Card Number – 36/111
XY BREAKPoint 2016


Stage – 1
HP – 90
Speciality – None
Card Number – 51/122
Sun and Moon Base Set 2017

Stage – 1
HP – 110
Speciality – None
Card Number – 60/149
SM Unbroken Bonds 2019

Stage – 1
HP –  110
Speciality – None
Card Number – 72/214
SWSH Evolving Skies 2021

Stage – 1
HP –  110
Speciality – None
Card Number – 062/203
SWSH Silver Tempest 2022


Stage – 1
HP –  110
Speciality – None
Card Number – 061/195
Scarlet and Violet Base Set 2023

Stage – 1
HP –  110
Speciality – None
Card Number – 083/198
SV 151 2023

Stage – 1
HP –  70
Speciality – None
Card Number – 097/165
Gallery