Ivysaur Pokédex Information
Ivysaur is a Grass / Poison type Pokémon that first appeared in the game Pocket Monsters Red and Green which were released in Japan on February 27th 1996. It then appeared in the first international games, Pokémon Red and Blue in 1999. Ivysaur evolves from Bulbasaur and evolves to Venusaur.
Ivysaur is a four-legged Pokémon that is based on a frog or a toad. It is pale green with patches of darker green. It has red eyes and a wide mouth with two sharp fangs. Ivysaur has three sharp claws on each foot. The bulb on its back has sprouted into a pink bud surrounded by leaves. As the bulb grows Ivysaur is unable to stand on its hind legs.
Contents
Ivysaur Pokédex Facts
Ivysaur Evolutions
Ivysaur Pokédex Entries
Ivysaur Cards
Ivysaur Pokédex Facts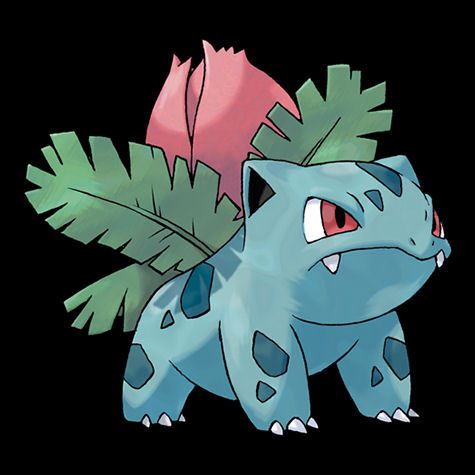 English Name – Ivysaur
Japanese Name – Fushigisou
First Appearance – February 27, 1996 (Pocket Monsters Red and Green)
Generation – I
Pokédex Number – 0002
Based on – Frog / Toad
Height – 1.0 m
Weight – 13.0 kg
Gender – Male or Female
Category – Seed
Primary Type – Grass
Secondary Type – Poison
Weakness – Fire, Psychic, Ice, Flying
Special Ability – Overgrow
Ivysaur Evolutions
Evolution – Bulbasaur evolves to Ivysaur (level 16); evolves to Venusaur (level 32)
| | | |
| --- | --- | --- |
| Bulbasaur | Level 16 | Ivysaur |
| Level 32 | Venusaur | |
Ivysaur Pokédex Entries – Games Featuring Ivysaur
Pokémon Red and Blue  1999
Pokémon Stadium  2000
Pokémon Yellow  2000
Pokémon Gold and Silver  2001
Pokémon Crystal  2001
Pokémon Stadium 2  2001
Pokémon Ruby and Sapphire  2003
FireRed and LeafGreen  2004
Pokémon Emerald  2005
Diamond and Pearl  2007
Pokémon Platinum  2009
HeartGold and SoulSilver  2010
Black and White  2011
Black and White 2  2012
Pokémon X and Y  2013
Omega Ruby, Alpha Sapphire  2014
Let's Go Pikachu and Let's Go Eevee  2018
Sword and Shield  2019
Brilliant Diamond, Shining Pearl  2021
Pokémon Cards Featuring Ivysaur – (scroll to bottom for gallery view)
Base Set (1999)


Stage 1
HP – 60
Level 20
Card Number – 30/102
Base Set 2 (2000)

Stage 1
HP – 60
Level 20
Card Number – 44/130
Southern Islands (2001)


Stage 1
HP – 60
Level 23
Card Number – 5/18
Gym Challenge (2002)


Erika's Ivysaur
Stage 1
HP – 60
Level 22
Card Number – 41/132
Legendary Collection (2002)


Stage 1
HP – 60
Speciality – None
Card Number – 47/110
Expedition Base (2002)

Stage 1
HP – 80
Speciality – None
Card Number – 82/165
EX Fire Red and Leaf Green (2004)


Stage 1
HP – 80
Speciality – None
Card Numbers – 35/112
POP Series 2 (2005)


Stage 1
HP – 80
Speciality – None
Card Number – 7/17
POP Series 3 (2006)


Stage 1
HP – 70
Speciality – None
Card Number – 14/17
EX Crystal Guardians (2006)

Stage 1
HP – 80
Speciality – None
Card Number – 34/100

Stage 1
HP – 70
Speciality – None
Card Number – 35/100
DP Secret Wonders (2007)

Stage 1
HP – 80
Level 24
Card Number – 51/132
Platinum Supreme Victors (2009)


Stage 1
HP – 80
Level 26
Card Number – 62/147
BW Dark Explorers (2012)


Stage 1
HP – 90
Speciality – None
Card Number – 2/108
SM Shining Legends (2017)


Level 1
HP – 100
Speciality – None
Card Number – 2/73
Pokémon Go (2022)


Level 1
HP – 100
Speciality – None
Card Number – 002/078
Scarlet and Violet 151 2023


Stage – 1
HP – 100
Speciality – None
Card Number – 002/165
Stage – 1
HP – 100
Speciality – None
Card Number – 167/165
Gallery