Venusaur Pokédex Information
Venusaur is a Grass / Poison type Pokémon that first appeared in the game Pocket Monsters Red and Green which were released in Japan on February 27th 1996. It then appeared in the first international games, Pokémon Red and Blue. It evolves from Ivysaur and is the final evolution of Bulbasaur.
Venusaur is a four-legged Pokémon that is based on a frog or a toad. In regular form it has pale green skin covered in lumps. It has red eyes and a wide mouth with sharp fangs. Venusaur has three sharp claws on each foot. The bulb on its back has matured and in the sunlight opens to a red leafed flower with a yellow centre on a thick stem.
It evolves to Mega form with Venusaurite and in this form it is bigger and heavier and the flower on its back has grown taller. In order to support its flower, which has grown larger due to Mega Evolution, its back and legs have become stronger.
Venusaur can evolve to Gigantamax form once during a battle when the Dynamax Band is used. In this form it is even larger and heavier and the flower has grown so big that it covers its body. In battle, this Pokémon swings around two thick vines. If these vines slammed into a 10-story building, they could easily topple it.
Contents
Venusaur Pokédex Facts
Evolutions
Venusaur Pokédex Entries
TCG Cards
Venusaur Pokédex Facts
English Name – Venusaur
Japanese Name – Fushigibana
First Appearance – 1996 (Pokémon Red and Blue)
Generation – I
Pokédex Number – 0003
Based on – Frog / Toad
Regular Form
Category – Seed
Height – 2.0 m
Weight – 100.0 kg
Gender – Male or Female
Primary Type – Grass,
Secondary Type – Poison
Weakness – Fire, Psychic, Ice, Flying
Special Ability – Overgrow
Mega Form
Category – Seed
Height – 2.4 m
Weight – 155.5 kg
Gender – Unknown
Primary Type – Grass,
Secondary Type – Poison
Weakness – Fire, Psychic, Ice, Flying
Special Ability – Thick Fat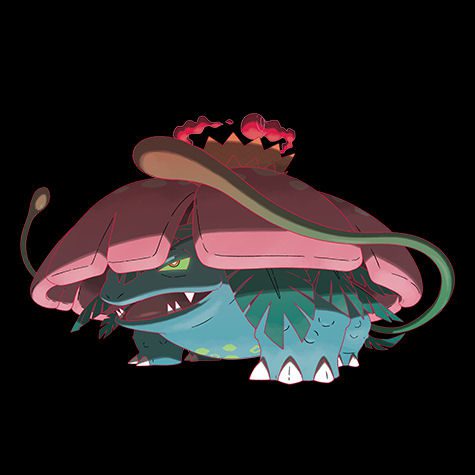 Gigantamax Form
Category – Seed
Height – >24 m
Weight – Unknown
Gender – Male, Female
Primary Type – Grass,
Secondary Type – Poison
Weakness – Fire, Psychic, Ice, Flying
Special Ability – Overgrow
Venusaur Evolutions
Evolution – Bulbasaur evolves to Ivysaur (level 16); evolves to Venusaur (level 32)
| | | |
| --- | --- | --- |
| Bulbasaur | Level 16 | Ivysaur |
| Level 32 | Venusaur | |
Venusaur Pokédex Entries – Games Featuring Venusaur
Pokémon Red and Blue  1999
Pokémon Stadium  2000
Pokémon Yellow  2000
Pokémon Gold and Silver  2001
Pokémon Crystal  2001
Pokémon Stadium 2  2001
Pokémon Ruby and Sapphire  2003
FireRed and LeafGreen  2004
Pokémon Emerald  2005
Diamond and Pearl  2007
Pokémon Platinum  2009
HeartGold and SoulSilver  2010
Black and White  2011
Black and White 2  2012
Pokémon X and Y  2013
Omega Ruby, Alpha Sapphire  2014
Let's Go Pikachu and Let's Go Eevee  2018
Sword and Shield  2019
Brilliant Diamond, Shining Pearl  2021
Pokémon Cards Featuring Venusaur – (scroll to bottom for gallery view)
Base Set (1999)


Stage 2
HP – 100
Level 67
Card Number – 15/102
Wizards of the Coast Promo (1999)

Stage 2
HP – 100
Level 64
Card Number – 13
Base Set 2 (2000)

Stage 2
HP – 100
Level 67
Card Number – 18/130
Gym Challenge (2002)


Erika's Venusaur
Stage 2
HP – 90
Level 45
Card Number – 4/132
Legendary Collection (2002)

Stage 2
HP – 100
Speciality – None
Card Number – 18/110
Expedition Base (2002)


Stage 2
HP – 100
Speciality – None
Card Number – 67/165

Stage 2
HP – 100
Speciality – None
Card Number – 68/165
EX Fire Red and Leaf Green (2004)

Stage 2
HP – 150
Speciality – EX
Card Numbers – 112/112
POP Series 2 (2005)


Stage 2
HP – 120
Speciality – None
Card Number – 6/17
EX Crystal Guardians (2006)


Stage 2
HP – 110
Speciality – None
Card Number – 28/100
DP Secret Wonders (2007)

Stage 2
HP – 130
Level 51
Card Number – 20/132
Platinum Supreme Victors (2009)


Stage 2
HP – 140
Level 55
Card Number – 13/147
Pokémon Rumble (2009)

Stage 2
HP – 140
Level 56
Card Number – 1/16
BW Dark Explorers (2012)

Stage 2
HP – 140
Speciality – None
Card Number – 3/108
XY Promo Cards (2013)


Stage – Basic
HP – 180
Speciality – EX
Card Numbers – XY28


Stage – Basic
HP – 180
Speciality – EX
Card Numbers – XY123
XY Base (2014)

Stage – Basic
HP – 180
Speciality – EX
Card Number – 1/146


Stage – Basic
HP – 180
Speciality – EX
Card Number – 141/146

Stage – Mega
HP – 
Speciality – EX
Card Number – 2/146
XY Generations (2016)


Stage – Basic
HP – 180
Speciality – EX
Card Number – 1/83

Stage – Mega
HP – 230
Speciality – EX
Card Number – 2/83
XY Evolutions (2016)


Stage – Basic
HP – 180
Speciality – EX
Card Number – 1/108

Stage – Mega
HP – 230
Speciality – EX
Card Number – 2/108

Stage – Mega
HP – 230
Speciality – EX
Card Number – 100/108
Sun & Moon Promo Cards (2017 – 2019)

Celebi & Venusaur 
Stage – Basic
HP – 270
Speciality – GX
Card Number – SM167

Venusaur & Snivy
Stage – Basic
HP – 270
Speciality – GX
Card Number – 229/244
SM Shining Legends (2017)


Stage 2
HP – 160
Speciality – None
Card Number – 3/73
SM Team Up (2019)


Celebi & Venusaur
Stage – Basic
HP – 270
Speciality – GX
Card Numbers – 1/181

Celebi & Venusaur
Stage – Basic
HP – 270
Speciality – GX
Card Numbers – 159/181
Celebi & Venusaur
Stage – Basic
HP – 270
Speciality – GX
Card Numbers – 182/181
SM Cosmic Eclipse (2019)

Venusaur & Snivy
Stage – Basic
HP – 270
Speciality – GX
Card Numbers – 1/236
Venusaur & Snivy
Stage – Basic
HP – 270
Speciality – GX
Card Numbers – 210/236

Venusaur & Snivy
Stage – Basic
HP – 
Speciality – GX
Card Numbers – 249/236
Sword & Shield Promo Cards (2019 – 2023)


Stage – Basic
HP – 220
Speciality – V
Card Numbers – SWSH100

Stage – VMAX
HP – 330
Speciality – VMAX
Card Numbers – SWSH102
SWSH Champion's Path (2020)


Stage – Basic
HP – 220
Speciality – V
Card Number – 001/073
SWSH Celebrations 2021


Stage – Basic
HP – 100
Speciality – None
Card Number – 15/102
Scarlet and Violet 151 2023


Stage – 2
HP – 340
Speciality – ex
Card Number – 003/165

Stage – 2
HP – 340
Speciality – ex
Card Number – 182/165

Stage – 2
HP – 340
Speciality – ex
Card Number – 198/165
Gallery