Lickilicky Pokédex Information
Lickilicky is a Normal type Pokémon that first appeared in the game Pokémon Diamond and Pearl which released in Japan on September 28th 2006. It evolves from Lickitung.
This Pokémon is a large, pink, two-legged creature that is based on a lizard, a salamander or a Japanese demon called Akaname. It has yellow markings across its stomach and a white bib marking under its neck. Lickilicky's strange tongue can stretch to many times the length of its body. No one has figured out how Lickilicky's tongue can stretch so far.
Contents
Lickilicky Pokédex Facts
Evolutions
Lickilicky Pokédex Entries
TCG Cards
Lickilicky Pokédex Facts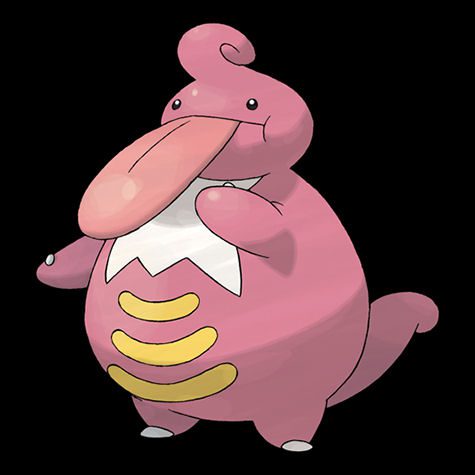 English Name – Lickilicky
Japanese Name -Beroberuto
First Appearance – 2006 (Pokémon Diamond and Pearl)
Generation – IV
Based on – 
Pokédex Number – 0463
Category – Licking
Height – 1.7 m
Weight – 140 kg
Gender – Male, Female 
Primary Type – Normal
Weakness – Fighting
Special Ability – Oblivious, Own Tempo
Lickilicky Evolutions
Evolution – Lickitung evolves to Lickilicky (Level Up knowing Rollout)
| | | |
| --- | --- | --- |
| Lickitung | Level Up knowing Rollout | Lickilicky |
Lickilicky Pokédex Entries / Games
Diamond and Pearl  2006
Platinum  2008
HeartGold and SoulSilver  2009
Pokémon Black and White  2011
Black 2 and White 2  2012
Pokémon X and Y  2014   
Omega Ruby, Alpha Sapphire  2015  
Ultra Sun and Ultra Moon 2017
Sword and Shield  2019
Brilliant Diamond, Shining Pearl  2021
Legends Arceus  2022
Lickilicky Card List – (scroll to bottom for gallery view)
DP Secret Wonders 2007


Stage – 1
HP – 110
Level – 46
Card Number – 12/132
Platinum Base Set 2009

Stage – 1
HP – 120
Level – 52
Card Number – 33/127
Platinum Supreme Victors 2009


Lickilicky C
Stage – 1
HP – 90
Level – 57
Card Numbers – 30/147
HGSS Triumphant 2010


Stage – 1
HP – 100
Speciality – None
Card Numbers – 38/102
XY Furious Fists 2014


Stage – 1
HP – 120
Speciality – None
Card Numbers – 79/111
SM Ultra Prism 2018


Stage – 1
HP – 150
Speciality – None
Card Number – 103/156
SM Unbroken Bonds 2019


Stage – 1
HP – 130
Speciality – None
Card Number – 153/214
SM Unified Minds 2019


Stage – 1
HP – 130
Speciality – None
Card Number – 162/236
SWSH Battle Styles 2021


Stage – 1
HP – 140
Speciality – None
Card Numbers – 114/163
SWSH Lost Origin 2022


Stage – 1
HP – 140
Speciality – None
Card Numbers – 139/196
Gallery