Ludicolo Pokédex Information
Ludicolo first appeared in the game Pokémon Ruby and Sapphire which released in Japan on November 21st 2002. 
Ludicolo is a two-legged character that is most likely based on a combination of a Pineapple,  Duck and a Kappa – a creature from Japanese Folklore. It has a yellow body and head with brown zig zag markings. Its arms and legs are green. On its head is a green disc with a zig zag edge and on top of that is a brown projection with a yellow spiky top. The rhythm of bright, festive music activates Ludicolo's cells, making it more powerful.
Contents
Ludicolo Pokédex Facts
Evolutions
Ludicolo Pokédex Entries
TCG Cards
Ludicolo Pokédex Facts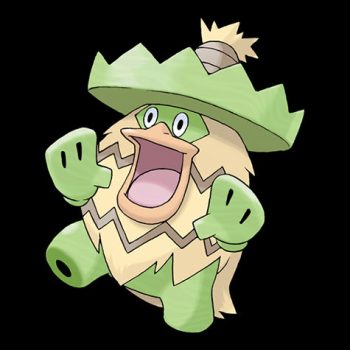 English Name – Ludicolo
Japanese Name – Runpappa
First Appearance – 2003 (Pokémon Ruby and Sapphire)
Based on – Pineapple / Duck
Generation – III
Pokédex Number – 272
Category – Carefree
Height – 1.5 m
Weight – 55 kg
Gender – Male, Female
Primary Type –  Water
Secondary Type – Grass
Weakness – Bug, Flying, Poison
Special Abilities – Rain Dish, Swift Swim
Ludicolo Evolutions
Evolution – Lotad evolves to Lombre (Level 14); evolves to Ludicolo (with Water Stone)
| | | |
| --- | --- | --- |
| Lotad | Level 14 | Lombre |
| Water Stone | Ludicolo | |
Ludicolo Pokédex Entries / Games
Ruby and Sapphire  2002
Pokémon Emerald  2004
FireRed and LeafGreen  2005
Diamond and Pearl  2006
Platinum  2008
HeartGold and SoulSilver  2009
Pokémon Black and White  2011
Black 2 and White 2  2012
Pokémon X and Y  2014   
Omega Ruby, Alpha Sapphire  2015  
Sword and Shield 2019
Brilliant Diamond, Shining Pearl  2021
Ludicolo Card List – (scroll to bottom for gallery view)
Nintendo Promo Cards

Stage – 2
HP –  90
Speciality – None
Card Number – 020
EX Sandstorm 2003

Stage – 2
HP –  90
Speciality – None
Card Number – 7/100
EX Deoxys 2005


Stage – 2
HP –  100
Speciality – None
Card Number – 10/107
Stage – 2
HP –  100
Speciality – None
Card Number – 19/107
EX Crystal Guardians 2006


Stage – 2
HP –  100
Speciality – None
Card Number – 6/100
DP Secret Wonders 2007

Stage – 2
HP –  100
Level – 47
Card Number – 13/132
Platinum Base Set 2009

Stage – 2
HP –  100
Level – 47
Card Number – 34/127
BW Plasma Storm 2013

Stage – 2
HP –  130
Speciality – None
Card Number – 31/135
XY Primal Clash 2015


Stage – 2
HP –  130
Speciality – None
Card Number – 12/160
Stage – 2
HP –  130
Speciality – None
Card Number – 37/160
SM Celestial Storm 2018

Stage – 2
HP –  140
Speciality – None
Card Number – 38/168
SM Detective Pikachu 2019

Stage – 2
HP –  140
Speciality – None
Card Number – 2/18
SWSH Rebel Clash 2020

Stage – 2
HP –  160
Speciality – None
Card Number – 009/192
SWSH Evolving Skies 2021


Stage – 2
HP –  140
Speciality – None
Card Number – 034/203
Gallery