Seedot Pokédex Information
Seedot first appeared in the game Pokémon Ruby and Sapphire which released in Japan on November 21st 2002. 
Seedot is a two-legged character that is based on an acorn. It is mainly brown but has light brown feet and light brown markings around its eyes. On its head is a cap of four concentric circles with a stalk sticking from the top. If it remains still, it looks just like a real nut. It delights in surprising foraging Pokémon.
Contents
Seedot Pokédex Facts
Evolutions
Seedot Pokédex Entries
TCG Cards
Seedot Pokédex Facts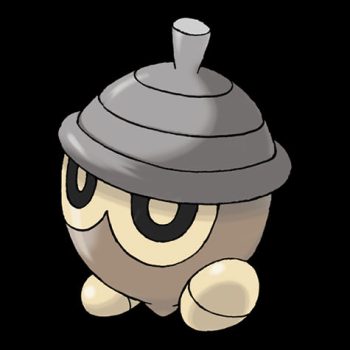 English Name – Seedot
Japanese Name – Tanebō
First Appearance – 2003 (Pokémon Ruby and Sapphire)
Based on – Mythological Tengu
Generation – III
Pokédex Number – 273
Category – Acorn
Height – 0.5 m
Weight – 4 kg
Gender – Male, Female
Type –  Grass
Weakness – Bug, Fire, Flying, Ice, Poison
Special Abilities – Chlorophyll, Early Bird
Seedot Evolutions
Evolution – Seedot evolves to Nuzleaf (Level 14); evolves to Shiftry (with Leaf Stone)
| | | |
| --- | --- | --- |
| Seedot | Level 14 | Nuzleaf |
| Leaf Stone | Shiftry | |
Seedot Pokédex Entries / Games
Ruby and Sapphire  2002
Pokémon Emerald  2004
FireRed and LeafGreen  2005
Diamond and Pearl  2006
Platinum  2008
HeartGold and SoulSilver  2009
Pokémon Black and White  2011
Black 2 and White 2  2012
Pokémon X and Y  2014   
Omega Ruby, Alpha Sapphire  2015  
Sword and Shield 2019
Brilliant Diamond, Shining Pearl  2021
Seedot Card List – (scroll to bottom for gallery view)
EX Sandstorm 2003

Stage – Basic
HP –  40
Speciality – None
Card Number – 76/100
Stage – Basic
HP –  40
Speciality – None
Card Number – 77/100
EX Hidden Legends 2004

Stage – Basic
HP –  40
Speciality – None
Card Number – 71/101
EX Deoxys 2005

Stage – Basic
HP –  40
Speciality – None
Card Number – 71/107
EX Legend Maker 2006

Stage – Basic
HP –  40
Speciality – None
Card Number – 61/92
EX Crystal Guardians 2006

Stage – Basic
HP –  40
Speciality – None
Card Number – 60/100
EX Power Keepers 2007

Stage – Basic
HP –  40
Speciality – None
Card Number – 60/108
Diamond and Pearl Base Set 2007

Stage – Basic
HP –  50
Level – 9
Card Number – 97/130
Platinum Rising Rivals 2009

Stage – Basic
HP –  40
Level – 8
Card Number – 78/111
BW Next Destinies 2012

Stage – Basic
HP –  40
Speciality – None
Card Number – 2/99
XY Flashfire 2014

Stage – Basic
HP –  50
Speciality – None
Card Number – 5/106
XY BREAKPoint 2016

Stage – Basic
HP –  50
Speciality – None
Card Number – 4/122
XY Steam Siege 2016

Stage – Basic
HP –  50
Speciality – None
Card Number – 9/114
SM Celestial Storm 2018

Stage – Basic
HP –  40
Speciality – None
Card Number – 11/168
Stage – Basic
HP –  60
Speciality – None
Card Number – 12/168
SWSH Vivid Voltage 2020

Stage – Basic
HP –  60
Speciality – None
Card Number – 010/185
SWSH Evolving Skies 2021

Stage – Basic
HP –  50
Speciality – None
Card Number – 005/203
SWSH Lost Origin 2022

Stage – Basic
HP –  50
Speciality – None
Card Number – 011/196
Gallery