Milotic Pokédex Information
Milotic is a Water type Pokémon that first appeared in the game Pokémon Ruby and Sapphire which released in Japan on November 21st 2002. 
Milotic is based on a sea snake and has a long body that tapers off and ends in a tail comprised of four blue discs with red centres. Its head and upper body is cream in colour, it then changes to a blue and red scaled pattern. It has two red feelers and red eyes. Beginning above its eyes are two long, red, ribbon-like tendrils. Milotic has provided inspiration to many artists. It has even been referred to as the most beautiful Pokémon of all.
Contents
Milotic Pokédex Facts
Evolutions
Milotic Pokédex Entries
TCG Cards
Milotic Pokédex Facts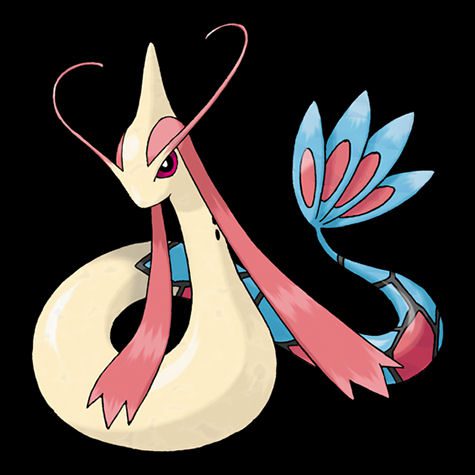 English Name -Milotic
Japanese Name – Mirokarosu
First Appearance – 2002 (Pokémon Ruby and Sapphire)
Based on – Sea Snake
Generation – III
Pokédex Number – 0350
Category – Tender
Height – 6.2 m
Weight – 162 kg
Gender – Male and Female
Type – Water
Weaknesses – Electric, Grass
Special Abilities – Competitive, Marvel Scale
Milotic Evolutions
Evolution – Feebas evolves to Milotic (level up with High Beauty, Trade holding Prism Scale)
| | | |
| --- | --- | --- |
| Feebas | Level Up / Trade | Milotic |
Milotic Pokédex Entries / Games
Ruby and Sapphire  2002
FireRed, LeafGreen  2004
Pokémon Emerald  2004
Diamond and Pearl  2006
Platinum  2008
HeartGold and SoulSilver  2009
Pokémon Black and White  2011
Black 2 and White 2  2012
Pokémon X and Y  2014   
Omega Ruby, Alpha Sapphire  2015 
Sun and Moon  2016
Ultra Sun and Ultra Moon  2017
Sword and Shield  2019
Brilliant Diamond, Shining Pearl  2021
Scarlet and Violet 2022
Milotic Card List – (scroll to bottom for gallery view)
EX Hidden Legends  2004


Stage – 1
HP – 100
Speciality – None
Card Number – 12/101
EX Emerald 2005


Stage – 1
HP – 90
Speciality – None
Card Number – 8/106

Stage – 1
HP – 130
Speciality – ex
Card Number – 96/106
EX Dragon Frontiers 2006


Stage – 1
HP – 90
Speciality – None
Card Number – 5/101
DP Great Encounters  2008

Stage – 1
HP – 90
Level – 47
Card Number – 25/106
Platinum Supreme Victors 2009


Stage – 1
HP – 90
Level – 58
Card Number – 35/147

Stage – 1
HP – 90
Level – 49
Card Number – 70/147

Stage – 1
HP – 80
Level – 52
Card Number – SH7
BW Dragons Exalted 2012


Stage – 1
HP – 110
Speciality – None
Card Number – 28/124
XY Flashfire 2014

Stage – 1
HP – 100
Speciality – None
Card Number – 23/106
XY Primal Clash 2015


Stage – 1
HP – 110
Speciality – None
Card Number – 144/160
SM Crimson Invasion  2017

Stage – 1
HP – 120
Speciality – None
Card Number – 27/111
SM Dragon Magesty 2018


Stage – 1
HP – 120
Speciality – None
Card Number – 29/70
SWSH Rebel Clash 2020

Stage – Basic
HP – 210
Speciality – V
Card Number – 043/192
Stage – Basic
HP – 210
Speciality – V
Card Number – 179/192
SWSH Darkness Ablaze 2020

Stage – 1
HP – 120
Speciality – V
Card Number – 039/189
SWSH Evolving Skies  2021

Stage – 1
HP – 120
Speciality – None
Form – Rapid Strike
Card Number – 038/203
SWSH Silver Tempest 2022

Stage – 1
HP – 130
Speciality – None
Card Number – 040/195
Stage – 1
HP – 130
Speciality – None
Card Number – TG02/TG30
SV Paradox Rift 2023

Stage – 1
HP –  120
Speciality – None
Card Number – 036/182
Gallery