Castform Pokédex Information
Castform is a Normal type Pokémon that first appeared in the game Pokémon Ruby and Sapphire which released in Japan on November 21st 2002. 
Castform is based on a Weather Doll that changes depending on the weather. It is a small pale grey character with a large head, virtually non-existent body, two legs a prominent protrusion on top of its head. It has white around its eyes which makes it look like it is wearing a white mask. Although its form changes with the weather, that is apparently the result of a chemical reaction and not the result of its own free will.
Contents
Castform Pokédex Facts
Evolutions
Castform Pokédex Entries
TCG Cards
castform Pokédex Facts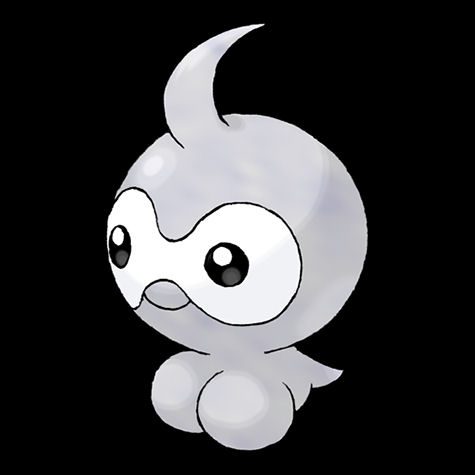 English Name -Castform
Japanese Name – Powarun
First Appearance – 2002 (Pokémon Ruby and Sapphire)
Based on – Weather Doll
Generation – III
Based on – Weather Doll
Pokédex Number – 0351
Category – Weather
Height – 0.3 m
Weight – 0.8 kg
Gender – Male and Female
Type – Normal
Weaknesses – Fighting
Special Ability – Forecast
Castform Evolutions
Evolution – Castform does not evolve
Castform Pokédex Entries / Games
Ruby and Sapphire  2002
FireRed, LeafGreen  2004
Pokémon Emerald  2004
Diamond and Pearl  2006
Platinum  2008
HeartGold and SoulSilver  2009
Pokémon Black and White  2011
Black 2 and White 2  2012
Pokémon X and Y  2014   
Omega Ruby, Alpha Sapphire  2015 
Sun and Moon  2016
Ultra Sun and Ultra Moon  2017
Brilliant Diamond, Shining Pearl  2021
Castform Card List – (scroll to bottom for gallery view)
EX Hidden Legends  2004


Stage – Basic
HP – 60
Speciality – None
Form – Rain
Card Number – 23/101
Stage – Basic
HP – 70
Speciality – None
Form – Snow
Card Number – 25/101

Stage – Basic
HP – 70
Speciality – None
Form – Sunny
Card Number – 26/101

Stage – Basic
HP – 60
Speciality – None
Form – Normal
Card Number – 30/101
EX Delta Species 2005


Stage – Basic
HP – 70
Speciality – None
Form – Rain
Card Number – 26/113
Stage – Basic
HP – 60
Speciality – None
Form – Snow-Cloud
Card Number – 29/113

Stage – Basic
HP – 70
Speciality – None
Form – Sunny
Card Number – 31/113

Stage – Basic
HP – 60
Speciality – None
Form – Normal
Card Number – 34/113
EX Holon Phantoms 2006

Stage – Basic
HP – 50
Speciality – None
Card Number – 44/110
DP Legends Awakened  2008


Stage – Basic
HP – 60
Level – 35
Form – Normal
Card Number – 48/146

Stage – Basic
HP – 70
Level – 35
Form – Rain
Card Number – 49/146

Stage – Basic
HP – 70
Level – 35
Form – Snow
Card Number – 50/146

Stage – Basic
HP – 70
Level – 35
Form – Sunny
Card Number – 51/146
SM Guardians Rising  2017

Stage – Basic
HP – 70
Speciality – None
Form – Normal
Card Number – 105/145
SWSH Chilling Reign  2021

Stage – Basic
HP – 70
Speciality – None
Form – Sunny
Card Number – 022/198
Stage – Basic
HP – 70
Speciality – None
Form – Rain
Card Number – 033/198
Stage – Basic
HP – 70
Speciality – None
Form – Snow
Card Number – 034/198
Stage – Basic
HP – 70
Speciality – None
Form – Normal
Card Number – 121/198
SWSH Brilliant Stars  2022


Stage – Basic
HP – 70
Speciality – None
Form – Normal
Card Number – 116/172
SWSH Lost Origin 2022


Stage – Basic
HP – 70
Speciality – None
Form – Normal
Card Number – TG11/TG30
Gallery