Mime Jr Pokédex Information
Mime Jr is a Psychic / Fairy type Pokémon that first appeared in the game Pokémon Diamond and Pearl which released in Japan on September 28th 2006. 
This Pokémon is a small two-legged character that is based on a mime artist / dancer. It has blue legs and hat and a pink body and head. It has a round red nose and a round bump on its belly. It mimics everyone it sees, but it puts extra effort into copying the graceful dance steps of Mr. Rime as practice.
Contents
Mime Jr Pokédex Facts
Evolutions
Mime Jr Pokédex Entries
TCG Cards
Mime Jr Pokédex Facts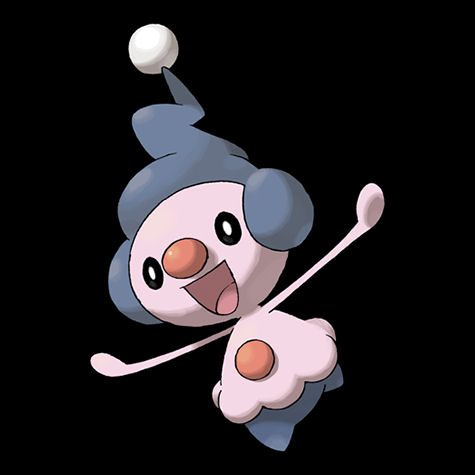 English Name – Mime Jr
Japanese Name – Manene
First Appearance – 2006 (Pokémon Diamond and Pearl)
Generation – IV
Pokédex Number – 439
Category – Mime
Height – 0.6 m
Weight – 13 kg
Gender – Male, Female
Primary Type – Psychic
Secondary Type – Fairy
Weakness – Ghost, Poison, Steel
Special Abilities – Filter, Soundproof
Mime Jr Evolutions
Evolution – Mime Jr evolves to Mr Mime (level up knowing Mimic); evolves to Mr Rime  (Galar Region only, level 42)  
| | | |
| --- | --- | --- |
| Mime Jr | Level Up with Mimic | Mr Mime |
| Galarian Mr Mime | Level 42 | Galarian Mr Rime |
Mime Jr Pokédex Entries / Games
Diamond and Pearl  2006
Platinum  2008
HeartGold and SoulSilver  2009
Pokémon Black and White  2011
Black 2 and White 2  2012
Pokémon X and Y  2014   
Omega Ruby, Alpha Sapphire  2015  
Ultra Sun and Ultra Moon 2017
Sword and Shield  2019
Brilliant Diamond, Shining Pearl  2021
Legends Arceus  2022
Mime Jr Card List – (scroll to bottom for gallery view)
Diamond and Pearl Promo Cards 2007 – 2009


Stage – Basic
HP – 40
Level – 5
Card Number – DP22
Diamond and Pearl Base Set 2007


Stage – Basic
HP – 40
Level – 5
Card Number – 90/130
Platinum Supreme Victors  2009

Stage – Basic
HP – 50
Level – 8
Card Number – 115/147
HGSS Call of Legends 2011

Stage – Basic
HP – 30
Speciality – None
Card Number – 47/95
Gallery