Mr Rime Pokédex Information
Mr Rime is an Ice / Psychic type Pokémon that first appeared in the games Pokémon Sword and Shield which released Worldwide in November 2020. It evolves from Galarian Mr Mime.
Mr Rime is a two-legged humanoid Pokémon that is based on a mime artist / dancer. The dark blue, red and white colouring on its body makes it appear to be wearing a jacket that is too small for it. Its legs are blue and it has oversized shoes on its feet. Its arms are stick-thin, while its white hands resemble gloves. It carries a cane in its left hand. Its head is white with big, yellow eyes and a dark blue inverted V that looks like a moustache. On its head is a large dark blue bowler hat with antler-like protrusions on either side. It's highly skilled at tap-dancing. It waves its cane of ice in time with its graceful movements.
Contents
Mr Rime Pokédex Facts
Evolutions
Mr Rime Pokédex Entries
Mr Rime Cards
Mr Rime Pokédex Facts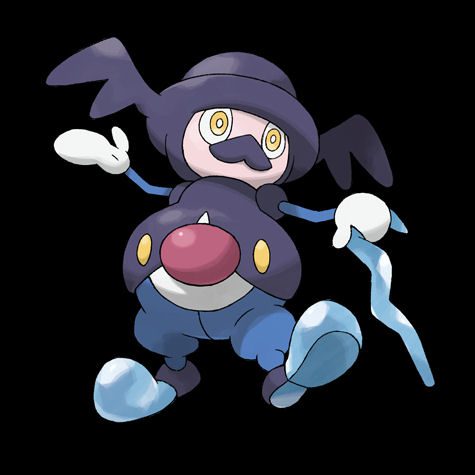 English Name – Mr Rime
Japanese Name – Barikōru
First Appearance – 2020 (Pokémon Sword and Shield)
Generation – VIII
Based on – Mime Artist / Dancer / Comedian
Pokédex Number – 0866
Category – Comedian
Height – 1.5 m
Weight – 58.2 kg
Gender – Male or Female 
Primary Type – Ice
Secondary Type – Psychic 
Weakness – Bug, Dark, Fire, Ghost, Rock, Steel
Special Ability – Tangled Feet, Screen Cleaner
Mr Rime Evolutions
Evolution – Mime Jr evolves to Mr Mime (Level Up with Mimic); In Galar region, Galarian Mr Mime evolves to Galarian Mr Rime (Level 42)
| | | |
| --- | --- | --- |
| Mime Jr | Level Up with Mimic | Mr Mime |
| Galarian Mr Mime | Level 42 | Galarian Mr Rime |
Mr Mime Pokédex Entries / Games
Pokémon Sword and Shield  2019
Mr Rime Cards List – (scroll to bottom for gallery view)
Sword and Shield Promo Cards 2020 – 

Stage – 1
HP – 120
Speciality – None
Form – Galarian
Card Numbers – SWSH079
SWSH Rebel Clash 2020

Stage – 1
HP – 110
Speciality – None
Form – Galarian
Card Numbers – 038/192
SWSH Darkness Ablaze 2020

Stage – 1
HP – 120
Speciality – None
Form – Galarian
Card Numbers – 036/189
SWSH Shining Fates 2021

Stage – 1
HP – 120
Speciality – None
Form – Galarian
Card Number – SV021/SV122
SWSH Battle Styles 2021

Stage – 1
HP – 110
Speciality – None
Form – Galarian
Card Number – 035/163
SWSH Astral Radiance 2022

Stage – Basic
HP – 110
Speciality – V
Form – Galarian, Fusion Strike
Card Number – 049/189
Gallery