What are Celebrations Mini Tins?
The Celebrations Mini Tins collection is a set of eight pocket-sized tins that have been produced to commemorate the 25th Anniversary of the Pokémon franchise.
The tins were originally scheduled to release on the launch date for the Celebrations expansion set, but were delayed by one weeks and released on 15th October 2021. 
The eight mini tins each measure 7.6 x 12.4 x 2.5 cm (3 x 4.9 x 1 in) and are constructed from metal.
Each tin features one of the eight Pokémon regions and three characters from that generation.
Generation I – Kanto region – Charmander, Bulbasaur and Squirtle
Generation II – Johto region – Chikorita, Cyndaquil and Totodile
Generation III – Hoenn Region – Treeko, Torchic and Mudkip
Generation IV – Sinnoh Region – Turtwig, Chimchar and Piplup
Generation V – Unnova Region – Snivy, Tepig and Oshawott
Generation VI – Kalos Region – Chespin, Fennekin and Froakie
Generation VII – Alola Region – Rowlett, Litten and Popplio
Generation VIII – Galar Region – Grookey, Scorbunny and Sobble
What's in a Celebrations Mini Tin?
Each tin  includes:
2 Pokémon Celebrations Booster Packs
1 Darkness Ablaze Booster Pack
An art card featuring a unique scene for each tin
A special metal 25th Anniversary coin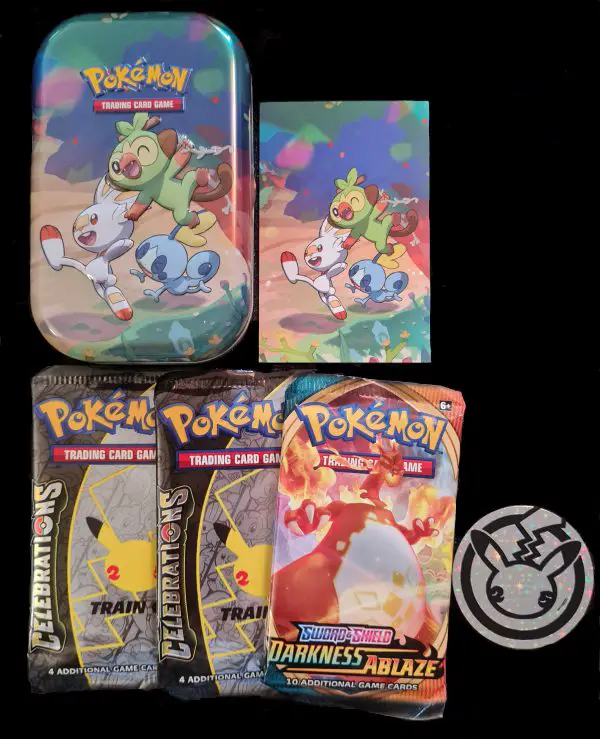 Each Celebrations booster pack contains four cards. Although this is significantly less than the ten cards found in regular booster packs, the Celebrations set does not contain non-holo cards. This means that the four cards will be either holo, half art or full art cards.
Are the Celebrations Mini Tins Value for Money? 
Pokémon Celebrations mini tins have a recommended retail price of £9.99 ($13.75) but were sold on presale for around £8.99 ($12.30).
Each tin contains three booster packs – one Darkness Ablaze and two special Celebrations packs. Booster packs generally retail for around £4 ($5.50) so to purchase three packs would work out at £12 ($16.50).
The tins themselves are highly collectible with their unique depiction of the eight Pokémon regions. Sealed product always increases in value but it is likely that even a set of empty tins will gain value over the years.
Adding in the special 25th Anniversary coin that is included in the tins and it seems that these tins are pretty good value for money.