What are Psychic Energy Cards?
Psychic Energy Cards are one of the nine Basic Energy Cards that are used in the Pokémon Trading Card Game (TCG). They were introduced when the game was launched in Japan in 1996 and have been a feature of the TCG ever since.
See also: What are Basic Energy Cards?
Although there have been many design changes over the years, Psychic Energy Cards are always predominantly purple and always feature the Psychic symbol of a black eye on a purple circle. (Scroll to bottom for timeline and gallery of all designs to date).
Psychic Energy corresponds to Psychic, Poison and Ghost type Pokémon and their cards always include the Psychic Energy symbol in the top right hand corner. In order to use an Attack Move of a Psychic Energy type Pokémon, the player will need to attach the specified number of Psychic and/or Colorless Energy Cards. The numbers required are indicated by the symbols to the left of the Attack Move.
A Psychic Energy Card can also be used when the Colorless Energy symbol appears because Colorless Energy can be any type of Energy.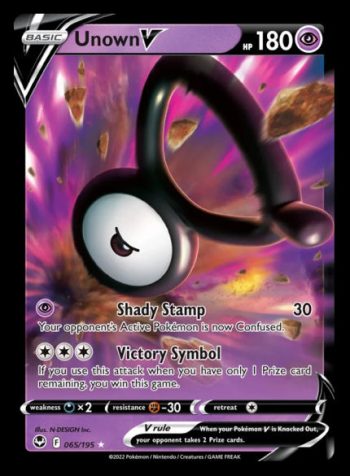 The Unown V card from Silver Tempest has two Attacks. To use Shady Stamp the player must attach one Psychic Energy. To use Victory Symbol, three Colorless Energy are required.
Timeline of Psychic Energy Cards:
To date there have been 18 different designs of Psychic Energy Cards. Energy Cards were given numbers up to the release of the Sun and Moon series in 2017. The only Basic Energy cards to be given numbers from 2017 onwards are those that are released as Secret Rares.
Pokémon Base Set
First Released 1999
Card Number –
101/102
Expedition Base Set
First Released 2002
Card Number –
164/165
EX Ruby and Sapphire
First Released 2003
Card Number –
107/109

EX Emerald
First Released 2005
Card Number –
105/106

EX Holon Phantoms
First Released 2006
Card Number –
109/110
EX Power Keepers
First Released 2007
Card Number –
107/108 

Diamond and Pearl
First Released 2007
Card Number –
127/130 

HeartGold, SoulSilver
First Released 2010
Card Number –
119/123 
Black and White
First Released 2011
Card Number –
109/114 

XY Base Set
First Released 2014
Card Number –
136/146 

XY Generations
First Released 2016
Card Number –
79/83 
XY Evolutions
First Released 2016
Card Number –
95/108

Sun and Moon
First Released 2017
Card Number –
no number

Sun & Moon Base
First Released 2017
Card Number –
162/149

SM Team Up
First Released 2019
Card Number –
no number
Sword and Shield
First Released 2020
Card Number –
no number

SWSH Chilling Reign
First Released 2021
Card Number –
232/198

SWSH Brilliant Stars
First Released 2022
Card Number –
no number

SWSH Crown Zenith (Holo)
First Released 2023
Card Number –
156/159

Scarlet and Violet Base Set
First Released 2023
Card Number –
no number
Gallery