Slakoth Pokédex Information
Slakoth is a Normal / Fighting type Pokémon that first appeared in the game Pokémon Ruby and Sapphire which released in Japan on November 21st 2002. It evolves to Vigoroth.
Slakoth is a two-legged character that is based on a Sloth. It is covered in light brown fur with three dark brown stripes on its back. Its round eyes are ringed with dark brown and its snout nose is pink. It has two sharp claws on each of its hands and feet. Slakoth lolls around for over 20 hours every day. Because it moves so little, it does not need much food. This Pokémon's sole daily meal consists of just three leaves.
Contents
Slakoth Pokédex Facts
Evolutions
Slakoth Pokédex Entries
TCG Cards
Slakoth Pokédex Facts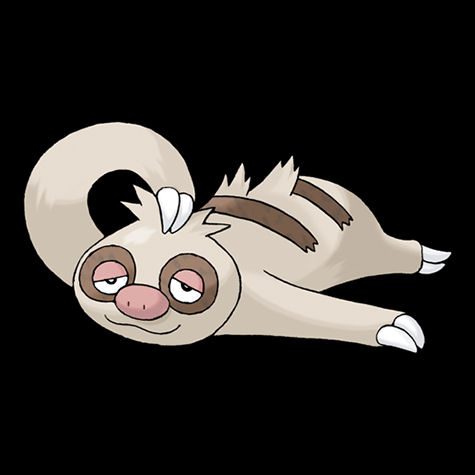 English Name – Slakoth
Japanese Name – Namakero
First Appearance – 2003 (Pokémon Ruby and Sapphire)
Based on – Sloth / Monkey
Generation – III
Pokédex Number – 287
Category – Slacker
Height – 0.8 m
Weight – 24 kg
Gender – Male, Female
Type –  Normal
Weakness – Fighting
Special Abilities – Truant
Slakoth Evolutions
Evolution – Slakoth evolves to Vigoroth (Level 18); evolves to Slaking (Level 36)
| | | |
| --- | --- | --- |
| Slakoth | Level 18 | Vigoroth |
| Level 36 | Slaking | |
Slakoth Pokédex Entries / Games
Ruby and Sapphire  2002
Pokémon Emerald  2004
FireRed and LeafGreen  2005
Diamond and Pearl  2006
Platinum  2008
HeartGold and SoulSilver  2009
Pokémon Black and White  2011
Black 2 and White 2  2012
Pokémon X and Y  2014   
Omega Ruby, Alpha Sapphire  2015  
Brilliant Diamond, Shining Pearl  2021
Scarlet and Violet 2022
Slakoth Card List – (scroll to bottom for gallery view)
EX Ruby and Sapphire 2003


Stage – Basic
HP –  40
Speciality – None
Card Number – 45/109
EX Sandstorm 2003

Stage – Basic
HP –  40
Speciality – None
Card Number – 80/100
EX Deoxys 2005

Stage – Basic
HP –  40
Speciality – None
Card Number – 73/107
EX Power Keepers 2007

Stage – Basic
HP –  40
Speciality – None
Card Number – 63/108
DP Mysterious Treasures 2007

Stage – Basic
HP –  50
Level – 7
Card Number – 99/123
Platinum Base Set 2009


Stage – Basic
HP –  50
Level – 11
Card Number – 95/127
BW Dragons Exalted 2012

Stage – Basic
HP –  60
Speciality – None
Card Number – 101/124
XY Furious Fists 2014

Stage – Basic
HP –  60
Speciality – None
Card Number – 81/111
SM Celestial Storm 2018


Stage – Basic
HP –  60
Speciality – None
Card Number – 113/168
SM Unified Minds 2019

Stage – Basic
HP –  50
Speciality – None
Card Number – 167/236
Stage – Basic
HP –  70
Speciality – None
Card Number – 168/236
SWSH Evolving Skies 2021

Stage – Basic
HP –  70
Speciality – None
Form – Single Strike
Card Number – 129/203
SV Paldea Evolved 2023


Stage – Basic
HP –  70
Speciality – None
Card Number – 160/193
Gallery