Vigoroth Pokédex Information
Vigoroth first appeared in the game Pokémon Ruby and Sapphire which released in Japan on November 21st 2002. 
Vigoroth is a two-legged character that is based on a Sloth and a Monkey. It is covered in white shaggy fur with grey markings on its back. It has a tuft of red fur just above its small red nose. There are two claws on each hand and foot. Vigoroth is always itching and agitated to go on a wild rampage. It simply can't tolerate sitting still for even a minute. This Pokémon's stress level rises if it can't be moving constantly.
Contents
Vigoroth Pokédex Facts
Evolutions
Vigoroth Pokédex Entries
TCG Cards
Vigoroth Pokédex Facts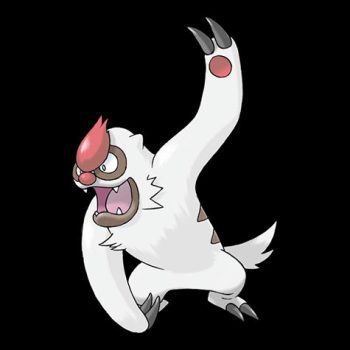 English Name – Vigoroth
Japanese Name – Yarukimono
First Appearance – 2003 (Pokémon Ruby and Sapphire)
Based on – Sloth / Monkey
Generation – III
Pokédex Number – 288
Category – Wild Monkey
Height – 1.4 m
Weight – 46.5 kg
Gender – Male, Female
Type –  Normal
Weakness – Fighting
Special Abilities – Vital Spirit
Vigoroth Evolutions
Evolution – Slakoth evolves to Vigoroth (Level 18); evolves to Slaking (Level 36)
| | | |
| --- | --- | --- |
| Slakoth | Level 18 | Vigoroth |
| Level 36 | Slaking | |
Vigoroth Pokédex Entries / Games
Ruby and Sapphire  2002
Pokémon Emerald  2004
FireRed and LeafGreen  2005
Diamond and Pearl  2006
Platinum  2008
HeartGold and SoulSilver  2009
Pokémon Black and White  2011
Black 2 and White 2  2012
Pokémon X and Y  2014   
Omega Ruby, Alpha Sapphire  2015  
Brilliant Diamond, Shining Pearl  2021
Scarlet and Violet 2022
Vigoroth Card List – (scroll to bottom for gallery view)
EX Ruby and Sapphire 2003


Stage – 1
HP –  70
Speciality – None
Card Number – 47/109
EX Sandstorm 2003

Stage – 1
HP –  70
Speciality – None
Card Number – 52/100
EX Deoxys 2005


Stage – 1
HP –  80
Speciality – None
Card Number – 50/107
EX Power Keepers 2007

Stage – 1
HP –  70
Speciality – None
Card Number – 41/108
DP Mysterious Treasures 2007


Stage – 1
HP –  80
Level – 24
Card Number – 68/123
Platinum Base Set 2009

Stage – 1
HP –  80
Level – 28
Card Number – 64/127
BW Dragons Exalted 2012

Stage – 1
HP –  80
Speciality – None
Card Number – 102/124
XY Furious Fists 2014


Stage – 1
HP –  90
Speciality – None
Card Number – 82/111
SM Celestial Storm 2018

Stage – 1
HP –  80
Speciality – None
Card Number – 114/168
SM Unified Minds 2019

Stage – 1
HP –  90
Speciality – None
Card Number – 169/236
SWSH Evolving Skies 2021

Stage – 1
HP –  90
Speciality – None
Form – Single Strike
Card Number – 130/203
Gallery