Solrock Pokédex Information
Solrock is a Rock / Psychic type Pokémon that first appeared in the game Pokémon Ruby and Sapphire which released in Japan on November 21st 2002. It does not evolve.
Solrock is a spherical character that is based on a meteorite and the sun. Its spherical centre is orange, studded with small yellow rocks. It has two red eyes that can be seen peeping through its almost closed yellow eye lids. Around the edge are eight pointed rocks that resemble the suns rays. When it rotates itself, it gives off light similar to the sun, thus blinding its foes. 
Contents
Solrock Pokédex Facts
Evolutions
Solrock Pokédex Entries
TCG Cards
Solrock Pokédex Facts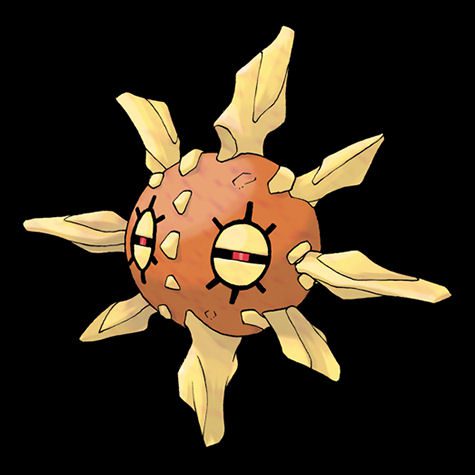 English Name – Solrock
Japanese Name – Sorurokku
First Appearance – 2002 (Pokémon Ruby and Sapphire)
Based on – Sun / Meteorite
Generation – III
Pokédex Number – 338
Category – Meteorite
Height – 1.2 m
Weight – 154 kg
Gender – Unknown
Primary Type – Rock
Secondary Type – Psychic
Weaknesses – Bug, Dark, Ghost, Grass, Ground, Steel, Water
Special Abilities – Levitate
Solrock Evolutions
Evolution – Solrock does not evolve.
Solrock Pokédex Entries / Games
Ruby and Sapphire  2002
FireRed, LeafGreen  2004
Pokémon Emerald  2004
Diamond and Pearl  2006
Platinum  2008
HeartGold and SoulSilver  2009
Pokémon Black and White  2011
Black 2 and White 2  2012
Pokémon X and Y  2014   
Omega Ruby, Alpha Sapphire  2015 
Sword and Shield  2019
Brilliant Diamond, Shining Pearl  2021
Solrock Card List – (scroll to bottom for gallery view)
EX Sandstorm 2003


Stage – Basic
HP – 70
Speciality – None
Card Number – 13/100
EX Deoxys 2005


Stage – Basic
HP – 70
Speciality – None
Card Number – 47/107
EX Legend Maker 2006


Stage – Basic
HP – 70
Speciality – None
Card Number – 25/92
DP Great Encounters 2008


Stage – Basic
HP – 70
Level – 29
Card Number – 85/106
Platinum Supreme Victors 2009


Stage – Basic
HP – 80
Level – 49
Card Number – 45/147
HGSS Triumphant 2010


Stage – Basic
HP – 70
Speciality – None
Card Number – 9/102
BW Plasma Storm 2013

Stage – Basic
HP – 90
Speciality – None
Card Number – 74/135
XY Base Set 2014


Stage – Basic
HP – 90
Speciality – None
Card Number – 64/146
XY Primal Clash 2015


Stage – Basic
HP – 80
Speciality – None
Card Number – 83/160
SM Burning Shadows 2017


Stage – Basic
HP – 90
Speciality – None
Card Number – 69/147
SM Celestial Storm 2018


Stage – Basic
HP – 90
Speciality – None
Card Number – 62/168
SWSH Darkness Ablaze 2020


Stage – Basic
HP – 90
Speciality – None
Card Number – 092/189
SWSH Pokémon Go 2022


Stage – Basic
HP – 90
Speciality – None
Card Number – 039/078
SWSH Crown Zenith 2023


Stage – Basic
HP – 90
Speciality – None
Card Number – 069/159

Stage – Basic
HP – 90
Speciality – None
Card Number – GG15/GG70
SV Obsidian Flames 2023


Stage – Basic
HP – 90
Speciality – None
Card Number – 093/197
Gallery