Stunky Pokédex Information
Stunky first appeared in the game Pokémon Diamond and Pearl which released in Japan on September 28th 2006. 
This Pokémon is a four legged character that resembles a skunk. It has dark purple fur with a cream underbelly and cream whiskers. It has a large bushy tail that is dark purple with cream highlights. From its rear, it sprays a foul-smelling liquid at opponents. It aims for their faces, and it can hit them from over 16 feet away.
Contents
Stunky Pokédex Facts
Evolutions
Stunky Pokédex Entries
TCG Cards
Stunky Pokédex Facts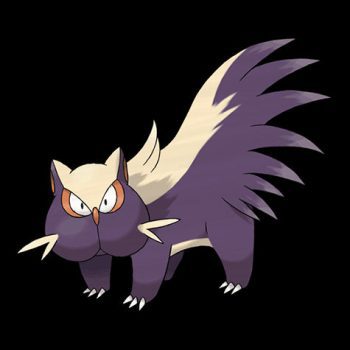 English Name – Stunky
Japanese Name – Sukanpū
First Appearance – 2006 (Pokémon Diamond and Pearl)
Based on – Skunk
Generation – IV
Pokédex Number – 434
Category – Skunk
Height – 0.4 m
Weight – 19.2 kg
Gender – Male, Female
Primary Type – Poison
Secondary Type – Dark
Weakness – Ground
Special Abilities – Aftermath, Stench
Stunky Evolutions
Evolution – Stunky evolves to Skuntank (level 34)
Stunky Pokédex Entries / Games
Diamond and Pearl  2006
Platinum  2008
HeartGold and SoulSilver  2009
Pokémon Black and White  2011
Black 2 and White 2  2012
Pokémon X and Y  2014   
Omega Ruby, Alpha Sapphire  2015  
Sword and Shield  2019
Brilliant Diamond, Shining Pearl  2021
Legends Arceus  2022
Stunky Card List – (scroll to bottom for gallery view)
Diamond and Pearl Base Set 2007

Stage – Basic
HP – 60
Level – 17
Card Number – 102/130
DP Majestic Dawn 2008


Stage – Basic
HP – 60
Level – 14
Card Number – 76/100
DP Stormfront 2008


Stage – Basic
HP – 60
Level – 18
Card Number – 76/100
HGSS Undaunted 2010


Stage – Basic
HP – 60
Speciality – None
Card Number – 69/90
BW Dragons Exalted 2012

Stage – Basic
HP – 60
Speciality – None
Card Number – 76/124
XY Flashfire 2014


Stage – Basic
HP – 60
Speciality – None
Card Number – 53/106

Stage – Basic
HP – 60
Speciality – None
Card Number – 54/106
SM Ultra Prism 2018


Stage – Basic
HP – 70
Speciality – None
Card Number – 75/156
SWSH Rebel Clash 2020

Stage – Basic
HP – 70
Speciality – None
Card Number – 114/192
Gallery