Totodile Pokédex Information
Totodile is a Water type Pokémon that first appeared in the games Pokémon Gold and Silver which were released in Japan in November 1999. It evolves from Totodile and evolves to Feraligatr.
Totodile is a two-legged reptile that is based on a young crocodile. It has a predominantly blue body with a yellow chevron under its neck. It has a wide snout and a big, toothy grin that exposes its sharp, fang-like teeth even when its mouth is closed. Despite the smallness of its body, Totodile's jaws are very powerful. While the Pokémon may think it is just playfully nipping, its bite has enough power to cause serious injury.
Contents
Totodile Pokédex Facts
Evolutions
Totodile Pokédex Entries
TCG Cards
Totodile Pokédex Facts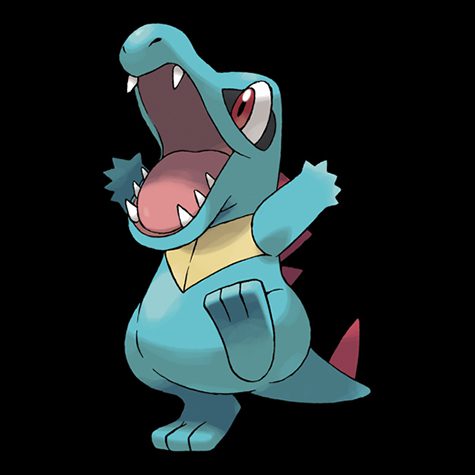 English Name – Totodile
Japanese Name – Waninoko
First Appearance – 1999 (Pokémon Gold and Silver)
Generation – II
Based on – Crocodile
Pokédex Number – 0158
Category – Big Jaw
Height – 0.6 m
Weight – 9.5 kg
Gender – Male, Female 
Type – Water
Weakness – Electric, Grass
Special Abilities – Torrent
Totodile Evolutions
Evolution – Totodile evolves to Croconaw (Level 18); evolves to Feraligatr (Level 30)
| | | |
| --- | --- | --- |
| Totodile | Level 18 | Croconaw |
| Level 30 | Feraligatr | |
Totodile Pokédex Entries / Games
Gold and Silver  1999
Pokémon Crystal 2000
Pokémon Stadium 2 2000
Ruby and Sapphire  2002
Pokémon Emerald  2004
FireRed and LeafGreen  2005
Diamond and Pearl  2006
Platinum  2008
HeartGold and SoulSilver  2009
Pokémon Black and White  2011
Black 2 and White 2  2012 
Pokémon X and Y  2013
Omega Ruby, Alpha Sapphire  2015  
Brilliant Diamond, Shining Pearl  2021
Totodile Card List – (scroll to bottom for gallery view)
Neo Genesis 2000

Stage – Basic
HP – 40
Level – 13
Card Number – 80/111

Stage – Basic
HP – 50
Level – 20
Card Number – 81/111
Neo Destiny 2002


Stage – Basic
HP – 50
Level – 18
Card Number – 85/105
Expedition Base Set 2002


Stage – Basic
HP – 50
Speciality – None
Card Number – 134/165

Stage – Basic
HP – 50
Speciality – None
Card Number – 135/165
EX Hidden Legends 2004


Stage – Basic
HP – 50
Speciality – None
Card Number – 79/101
EX Unseen Forces 2005


Stage – Basic
HP – 50
Speciality – None
Card Number – 78/115
EX Dragon Frontiers 2006


Stage – Basic
HP – 40
Speciality – None
Card Number – 67/101
DP Mysterious Treasures 2007

Stage – Basic
HP – 50
Level – 15
Card Number – 106/123
HeartGold SoulSilver 2010


Stage – Basic
HP – 60
Speciality – None
Card Numbers – 86/123
HGSS Call of Legends 2011


Stage – Basic
HP – 60
Speciality – None
Card Numbers – 74/95
XY Phantom Forces 2014

Stage – Basic
HP – 60
Speciality – None
Card Numbers – 15/119
McDonald's Collection 2016

Stage – Basic
HP – 60
Speciality – None
Card Numbers – 5/12
SM Shining Legends 2017


Stage – Basic
HP – 70
Speciality – None
Card Numbers – 18/73
SM Dragon Majesty 2018


Stage – Basic
HP – 60
Speciality – None
Card Numbers – 22/70
McDonald's 25th Anniversary Collection 2021

Stage – Basic
HP – 60
Speciality – None
Card Numbers – 18/25
SWSH Fusion Strike 2021

Stage – Basic
HP – 70
Speciality – None
Card Numbers – 055/264
Gallery