Ursaring Pokédex Information
Ursaring is a Normal type Pokémon that first appeared in the games Pokémon Gold and Silver which were released in Japan in November 1999. 
Ursaring is a large, two-legged bear that is covered with brown fur. It has a yellow circle on its stomach and a yellow muzzle. The claws on its feet and hands are very sharp. It usually wears a hardened expression, but when it's licking up honey—which it loves—the joy it feels will cause it to break into a wide grin.
Contents
Ursaring Pokédex Facts
Evolutions
Ursaring Pokédex Entries
TCG Cards
Ursaring Pokédex Facts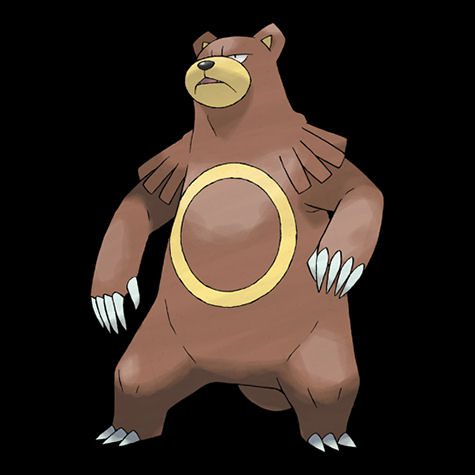 English Name – Ursaring
Japanese Name – Ringuma
First Appearance – 1999 (Pokémon Gold and Silver)
Based on – Bear
Generation – II
Pokédex Number – 0217
Category – Hibernator
Height – 1.8 m
Weight – 125.8 kg
Gender – Male, Female
Type –  Normal
Weakness – Fighting
Special Abilities – Guts, Quick Feet
Ursaring Evolutions
Evolution – Teddiursa evolves to Usaring (level 30); evolves to Ursaluna (with peat block during a full moon)
| | | |
| --- | --- | --- |
| Teddiursa | Level 30 | Ursaring |
| Peat Block during Full Moon | Ursaluna | |
Ursaring Pokédex Entries / Games
Gold and Silver  1999
Pokémon Crystal 2000
Pokémon Stadium 2 2000
Ruby and Sapphire  2002
Pokémon Emerald  2004
FireRed and LeafGreen  2005
Diamond and Pearl  2006
Platinum  2008
HeartGold and SoulSilver  2009
Pokémon Black and White  2011
Black 2 and White 2  2012 
Pokémon X and Y  2013
Omega Ruby, Alpha Sapphire  2015  
Brilliant Diamond, Shining Pearl  2021
Pokémon Legends Arceus 2022
Scarlet and Violet 2022
Ursaring Card List – (scroll to bottom for gallery view)
Neo Discovery 2001


Stage – 1
HP –  80
Speciality – None
Card Number – 15/75
Stage – 1
HP –  80
Speciality – None
Card Number – 34/75
Neo Destiny 2002


Stage – 1
HP –  60
Speciality – None
Card Number – 21/105
Skyridge 2003


Stage – 1
HP –  80
Speciality – None
Card Number – 110/144
EX Unseen Forces 2005


Stage – 1
HP – 80
Speciality – None
Card Number – 18/115
DP Mysterious Treasures 2007


Stage – 1
HP – 100
Level – 38
Card Number – 38/123
HGSS Unleashed 2010


Stage – 1
HP – 100
Speciality – None
Card Number – 27/95

Stage – 1
HP – 110
Speciality – None
Card Number – 89/95
HGSS Call of Legends 2011

Stage – 1
HP – 100
Speciality – None
Card Number – 37/95
BW Plasma Blast 2013


Stage – 1
HP – 130
Speciality – None
Card Number – 76/101
BW Radiant Collection 2013


Stage – 1
HP – 130
Speciality – None
Card Number – RC16/RC25
XY BREAKThrough 2015

Stage – 1
HP – 130
Speciality – None
Card Number – 122/162
SM Cosmic Eclipse 2019


Stage – 1
HP –  140
Speciality – None
Card Number – 172/236
SWSH Darkness Ablaze 2020

Stage – 1
HP –  140
Speciality – None
Card Number – 139/189
SWSH Evolving Skies 2021

Stage – 1
HP –  140
Speciality – None
Card Number – 127/203
SWSH Astral Radiance 2022

Stage – 1
HP –  130
Speciality – None
Card Number – 123/189
Gallery